Chimichurri Portobello Mushroom Wraps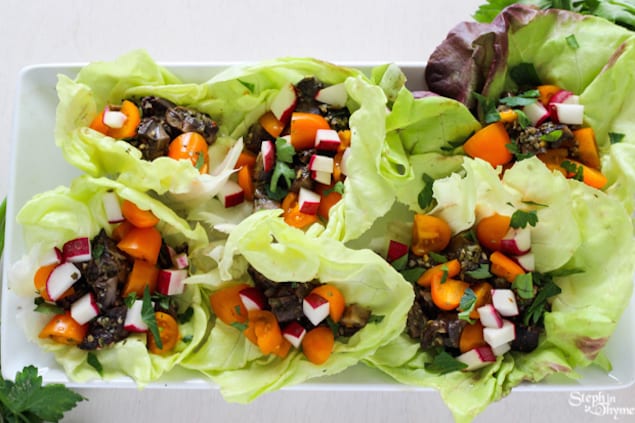 Grilled portobello mushrooms are first marinated in a zesty chimichurri and then served in a Bibb lettuce wrap with tomatoes and radishes. This is a easy summer meal that is light and refreshing.
By Stephanie Kirkos
Bibb lettuce and other Butterhead varieties of lettuce – have delicate leaves that naturally form little bowls perfect for stuffing. Add summertime flavors and fresh veggies, and you have a healthy lunch or appetizer – Chimichurri Portobello Mushroom Wraps.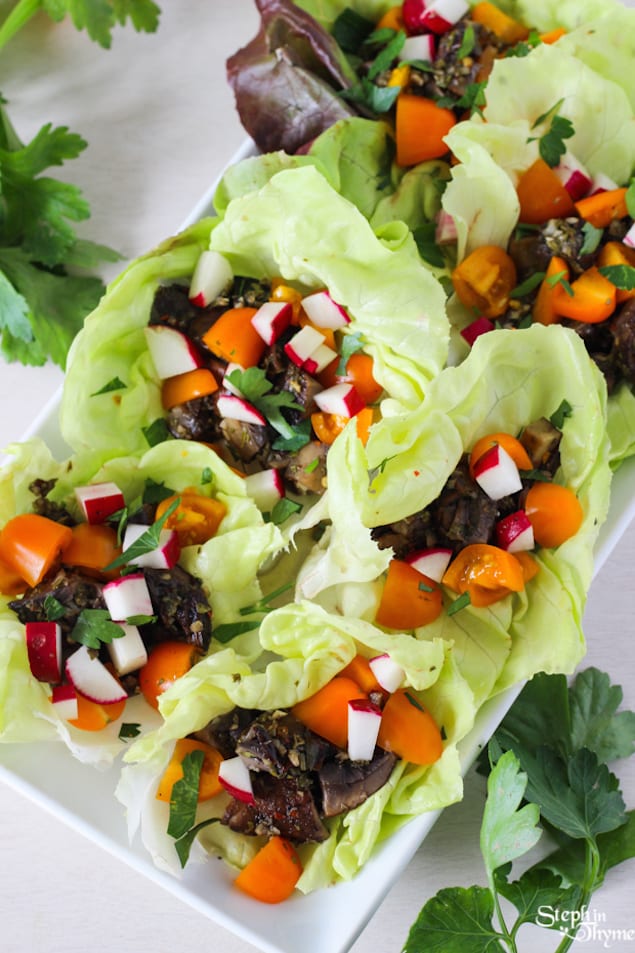 Hearty, meaty portobello mushrooms are one of my favorite vegetables to grill. They become tender and juicy under the flames, tasting like charred glory of summer. Before grilling the mushrooms, I marinate them in a zesty chimichurri of parsley, oregano, garlic, crushed red pepper, red wine vinegar, and olive oil.
After grilling the mushrooms, I slice the caps into bite-sized pieces and stuff into lettuce cups. For both a splash of color and another layer of texture, I pair the mushrooms with crunchy, diced radishes and soft, sweet bites of orange cherry tomatoes I recently read described aptly as "garden candy."
The sweetness of these petite tomatoes with the garden fresh earthiness of the radishes balance the zesty, spicy marinated portobello mushrooms all in one bite.
Find more flavorful vegetarian recipes here.

Chimichurri Portobello Mushroom Wraps
Grilled portobello mushrooms are first marinated in a zest chimichurri and then served in a Bibb lettuce wrap with tomatoes and radishes. This is a easy summer meal that is light and refreshing.
Recipe Type:
Main, Appetizer
Ingredients
4 portobello mushrooms, cleaned and destemmed
2 tbsp fresh oregano leaves
¼ cup fresh Italian flat leaf parsley leaves
3 cloves garlic
¼ tsp crushed red pepper
3 tbsp red wine vinegar
¼ cup extra virgin olive oil
1 head Boston or Bibb lettuce
½ cup diced radishes
1 cup quartered sweet orange cherry tomatoes
Instructions
In a food processor, pulse the oregano, parsley, and garlic until finely minced. Add the red wine vinegar and crushed red pepper, pulse to combine. Scrape the contents of the food processor into a small bowl. Gently stir in the olive oil. Let sit for 10 minutes.
Divide the chimichurri among the four clean portobello mushrooms, pouring into the cap gill-side up.
Spray the grates of a grill with canola oil cooking spray. Light the grill and pre-heat to medium-high.
Place the marinated mushrooms in the center of the grill. Cook with the grill lid closed until mushrooms soften and are tender, about 7-10 minutes (no need to flip)
Remove mushrooms from grill and let cool for 5 minutes. Meanwhile, remove individual lettuce leaves from the head of lettuce, setting aside the ones that tear or are super small.
Slice the portobello mushrooms into small bite-sized pieces, Arrange in the center of each lettuce cup. Sprinkle diced radishes and quartered sweet orange cherry tomatoes over top each of the mushroom wraps. Season to taste with salt and pepper. Serve immediately.
Stephanie Kirkos
Steph is an adventurous foodie, cooking class connoisseur, former military brat, and newlywed eating and blogging from Boston. With her blog, Steph in Thyme, she explores creative, delicious, and wholesome approaches to gluten-free, vegetarian, and vegan fare to inspire a healthy lifestyle.