A barley salad is a simple, hearty side dish packed with beans and fresh dill, tossed with lemon and olive oil. It makes a perfect lunch or light dinner, and is loaded with fresh flavor.
By Marcie Bidou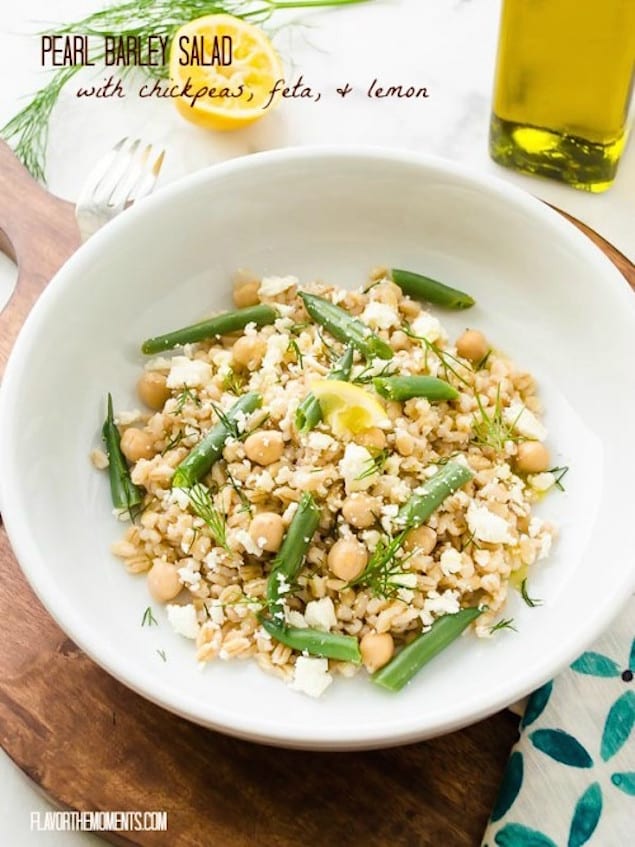 Barley gives this salad it's heartiness, and is loaded with fiber and nutrients that help you feel full. It's chewy, nutty, and heart-healthy, so it's a win. It cooks up in about 45 minutes or less, then it's tossed with the other ingredients and some olive oil.
See Also
This fresh, hearty salad is perfect as a side dish with grilled meats, or as a vegetarian meal. I love this for lunch, and can easily eat it every single day until it's gone.

Chickpea and Barley Salad with Feta and Lemon
A simple, hearty side dish packed with beans and fresh dill, tossed with lemon and olive oil. A perfect lunch loaded with fresh flavor.
Ingredients
1 cup pearl barley, uncooked
1 pound fresh green beans, washed, trimmed, and cut into 2" pieces
(1) 15 ounce can chickpeas, rinsed and drained
4 ounce container crumbled feta
½ cup chopped fresh dill
juice of 2 lemons
⅓ - ½ cup extra virgin olive oil*
salt and pepper, to taste
Instructions
Prepare the pearl barley according to package instructions. When finished cooking, place in large bowl.
While the barley is cooking, place the green beans in a large pot of boiling water and bring back to a boil. Reduce the heat to medium and cook until crisp tender, about 3 minutes. Drain well.
Add the green beans, chickpeas, feta, dill, lemon juice, and ? cup of the oil with salt and pepper to taste, and stir gently to combine. If the salad seems dry, add a bit more oil and adjust the seasoning as necessary. Serve warm and enjoy!
Notes
This salad is wonderful as leftovers, but you will need to add more olive oil as the barley absorbs the oil as it sits.

I like this salad very lemony with plenty of dill! If you don't like a huge citrus pop and lots of fresh herbs, start with half the amounts listed and add more to taste.
Marcie Bidou
I'm a wife, mother, and food blogger, residing in the San Francisco Bay Area. I graduated from culinary school in March 2014, and I'm a food blogger at flavorthemoments.com, where I publish a combination of my own recipes and adaptions of others. My style of food is fresh, seasonal, and always homemade.