Let this impressive roast be the star of your table with its robust flavor and fun sauce to accompany.
By Cheyanne Holzworth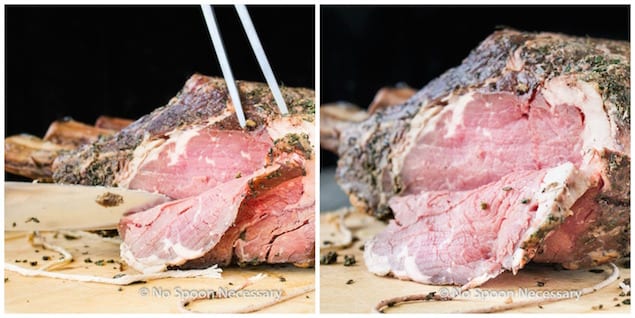 This roast should most definitely be the star of your dinner table. I mean look at it! It screams "kiss the cook". This beefy, magnificent roast can, and will, take your breath away. It is something you make when you are aiming for a "wow" factor, and when you are striving to impress.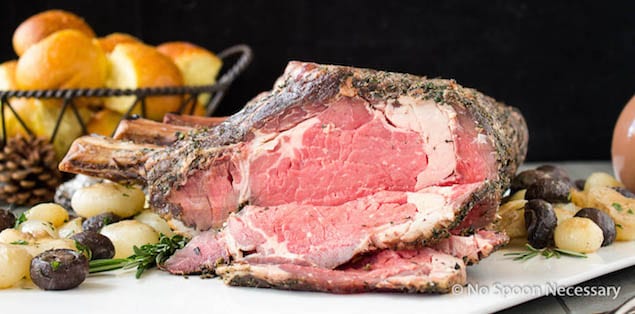 I kept the herb rub on this roast pretty simple, because something this large and in charge doesn't need a whole lot of help. The rosemary, thyme, parsley, garlic, salt and pepper allow the beef to really shine and they simply enhance the roasts juicy delectability.
A tricked out gravy infused with horseradish, red wine, and demi-glace. The gravy is creamy and bursting with robust beef flavor from the demi-glace. It is rich and savory from the red wine, and has a slight kick on the back end thanks to the addition of horseradish. This gravy perfectly complements its ruby red, delicious rib roast companion. I served my rib roast with delicious roasted baby bella mushrooms and cipolini onions.
Print
Herbed Rib Roast with Red Wine Gravy and Horseradish
Let this impressive roast be the star of your table with its robust flavor and fun sauce to accompany.
Author:

Cheyanne Holzworth

Yield:

6

-

8

servings

1

x
Category:

Main
For The Rib Roast:
2

TBS Olive Oil

2

TBS Italian Parsley – finely chopped

1

TBS Thyme Leaves – finely chopped

3

TBS Rosemary Leaves – finely chopped

5

Cloves of Garlic – minced

1 ½

TBS Kosher Salt

1

TBS Freshly Ground Pepper

1

(3 Bone) Standing Beef Rib Roast (about

6

–

8

Pounds)
For The Gravy: (yield 4 ½ Cups)
1

TBS Butter

3

Large Shallots (about

½ cup

) – finely chopped

½ tsp

Dried Thyme

2

Cloves of Garlic – minced

1

(750 ml) Bottle Dry Red Wine

2

Fresh Rosemary Sprigs

1

Bay Leaf

4 Cups

Demi-Glace

½ Cup

Heavy Whipping Cream

1

TBS Dijon Mustard

2 tsp

Prepared Horseradish
Fresh Cracked Black Pepper and Salt, to taste
You Will Also Need:
Kitchen Twine
Roasting Rack and Pan
Thermometer
Instructions
ONE DAY IN ADVANCE
For the Rub:
Mix all of the rub ingredients together in a small bowl until well combined.
Generously apply the rub onto the meat and all over the roast. Place roast, fat cap up, on a wire rack insert on a sheet pan. Place in the refrigerator, UNCOVERED, overnight.
THE DAY OF COOKING:
To Roast:
Remove the roast from the refrigerator and place, with the fat cap still facing up, on a rack insert in a roasting pan. Allow to sit at room temperature for 1 hour before roasting.
Arrange oven rack to the lowest possible position and preheat to 200 degrees F.
Roast in the oven for about 3-4 hours, or until desired temperature is achieved. 125 degrees F for medium rare, 135 degrees F for medium, 145 degrees F for medium well.
Reserve the juices in the roasting pan (if any) and transfer the roast to a clean cutting board, or work surface, and tent loosely with foil. Allow the roast to rest for at least 20 minutes, up to 45 minutes.
Meanwhile, Make the Sauce:
Melt butter in a large saucepan over medium heat. Add the shallots and saute until translucent, about 3-4 minutes. Add the dried thyme and garlic. Cook until fragrant, about 30 seconds. Add the bottle of red wine, the rosemary sprigs and bay leaf. Increase heat to medium high and bring to a boil. Cook until mixture is reduced to 1 cup, about 15-18 minutes.
Add Demi Glace and continue to boil until reduced to 3 cups, about 25-30 minutes. Set aside. Until Roast is cooked and resting.
Place the roasting pan, with juices, across two burners over medium heat. Add the set aside gravy mixture and bring to a boil. Cook for 2 minutes, while scraping up the brown bits stuck to the bottom of the roasting pan.
Remove roasting pan from heat and transfer to a fine mesh strainer set over a saucepan (same pot you used before). Place sauce pan over medium high heat and bring to a boil. . Cook until reduced and thickened, about 7 minutes. Taste and adjust for seasoning.
Meanwhile, whisk the heavy cream, mustard, and horseradish in a small bowl.
Off heat, add cream mixture to the saucepan and whisk to combine.
To Serve:
Move the oven rack to the middle position and increase the oven temperature to the highest possible setting (mine was 550 degrees F).
Remove the foil from the roast and return the standing rib roast to the rack insert in roasting pan.
Roast until exterior is crisped and browned, about 10 minutes. Remove from oven.
Transfer to a clean cutting board to carve into ½'' thick slices. Arrange slices of roast elegantly on the serving platter with the gravy on the side. (the roast does NOT need to rest again before carving)
Optional before carving: Place Rib Roast, whole, Ribs facing upwards on a serving table for presentation at table.
Notes
*Recommended ordering method: Ask for the first cut (loin side) of the standing rib roast. One "bone" will feed 2 people, so a 3 bone roast will feed about 6.
*For easier carving, have your butcher remove the bones from the roast and truss them back to roast.
*Even if you do NOT have the butcher remove bones from roast, you still need to truss the roast to ensure even cooking.
*You do not need a blow torch for this reverse sear method. If you have one, this is a great recipe to use it! If you dont, no worries just follow the recipe as written
Cheyanne Holzworth
Hi there! My name is Cheyanne. I am an avid foodie, culinary school graduate, recipe developer and newbie blogger. I find peace and joy being in the kitchen and am obsessed with feeding anyone who has an appetite. I am also a lover of food porn. I picked up a camera one day and fell in love with food photography. Then I got a wack-a-me-me idea to start a food blog and the rest is history. No Spoon Necessary is a place where I share my passion for food and photography with all who care to join me. I also rant, ramble on and share my life a little. In a world filled with so many talented food bloggers, I am simply trying to carve my space in www dot com land, take you all with me on the crazy ride and cook 'n eat some delicious food along the way! So, strap on that apron and work some culinary magic with me. Cheers!