This is perfect for weeknight meals or impromptu lunches, and can be made milder or hotter based on preference.
By Jehanne Ali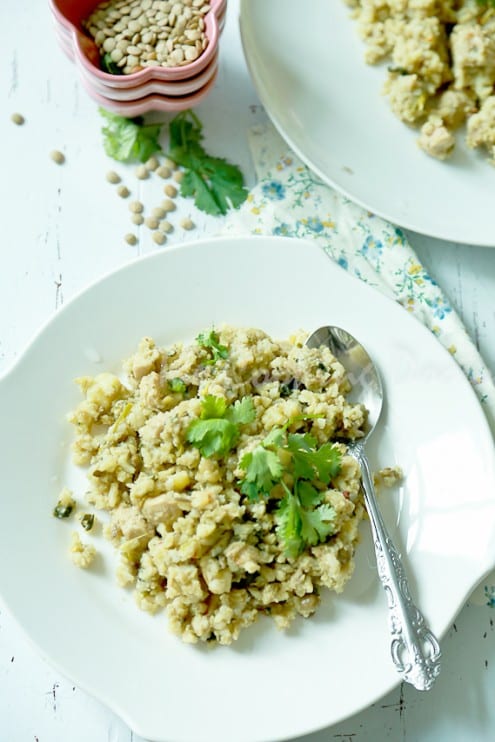 Chicken and Green Lentil Brown Rice
This is perfect for weeknight meals or impromptu lunches, and can be made milder or hotter based on preference.
Ingredients
1 cup brown rice- washed and drained
¾ cup green lentils- soaked for 2 hours
½ cup chickpeas
1 chicken breast fillet- cut into cubes
3 cups water
3 shallots- diced
1 tsp ginger-garlic paste
1 medium sized red chilli- cut small
1 tbsp coriander powder
½ tsp turmeric powder
1 tsp cumin powder
1 tsp paprika powder
1 cinnamon stick
3 cloves
½ cup coriander leaves
3 tbsp parsley leaves-chopped
3 tbsp extra virgin olive oil
Instructions
In a small bowl, mix all the spices with 2 tbsp water and set aside.
Heat the olive oil in a dutch oven. Temper the cinnamon stick and cloves until fragrant.
Fry the shallots, red chilli and ginger garlic paste until golden brown.
Add the chicken and spices. Coat the chicken well with spices and cook for around 10 minutes until chicken are almost golden.
Add the chickpeas, green lentils and brown rice. Once all the ingredients are well combined, splutter the coriander and parsley leaves on top, and pour in the water.
Cook on medium heat until water is absorbed and the rice is thoroughly cooked.
Prior to serving, garnish with more coriander leaves or a wedge of lemon.
Jehanne Ali
Jehanne is an enthusiastic baker, food blogger, mother and wife all in one. She swaps her scalpel from her day job as a doctor to kitchen utensils in the evening and creates magical treatment of healthy treats for her family, which she shares in her blog, The Cooking Doctor. She is a firm advocate of healthy eating and always believes that honest and healthy food will steer you clear from the doctors.