Scallion cornbread waffles are topped with crispy, spicy chicken and served with a cool homemade ranch sauce.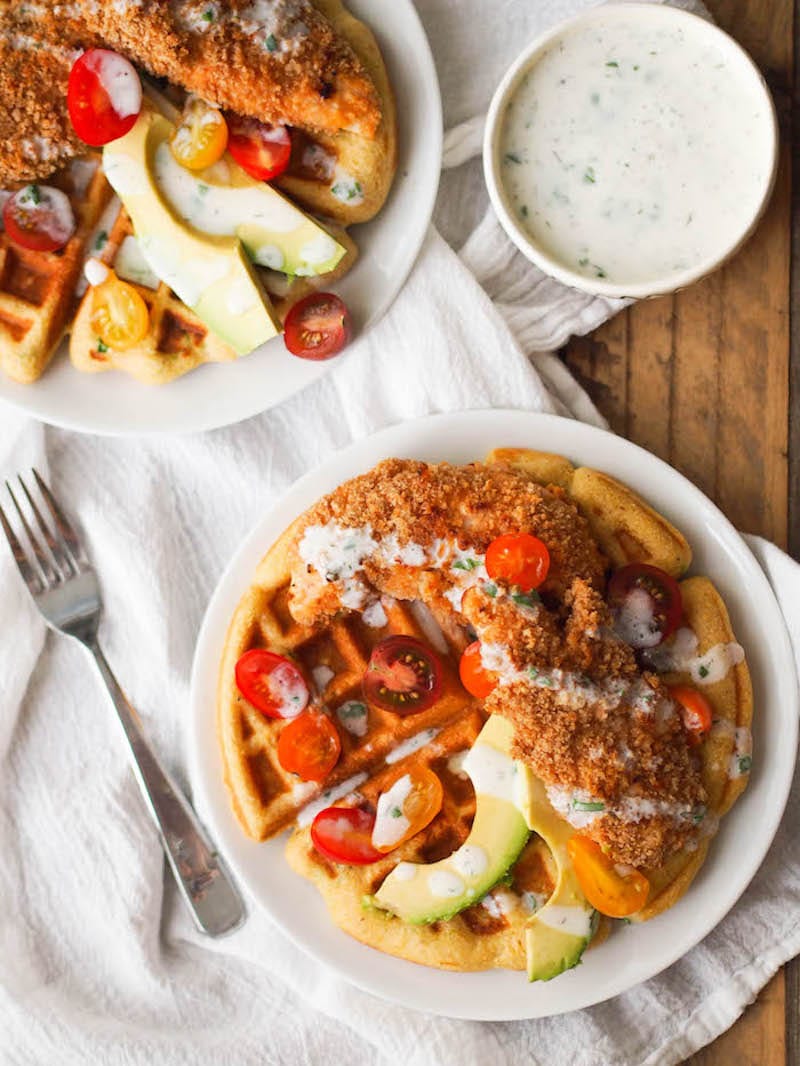 God bless the wonderful soul who decided fried chicken and waffles have a place together on the dinner table.
Normally, I would leave a dish like this to the pros, but I was stuck with this idea for chicken and waffles with fresh flavors from bright, juicy tomatoes and a tangy buttermilk ranch dressing. Plus avocado for obvious reasons.
To make the crispy chicken, I did a classic triple dip method that yields a super crispy crust. First dip in flour spiked with lots of spices, then spicy buttermilk, and finally whole grain panko. You could make these crispier first by pan frying and finishing them off in the oven, but I skipped that step to save myself another dish to wash.
I first made this ranch dressing for my crispy barbecue cauliflower salad. I really don't love ranch dressing, but this mayo-less version with a bright tangy flavor is pretty fabulous.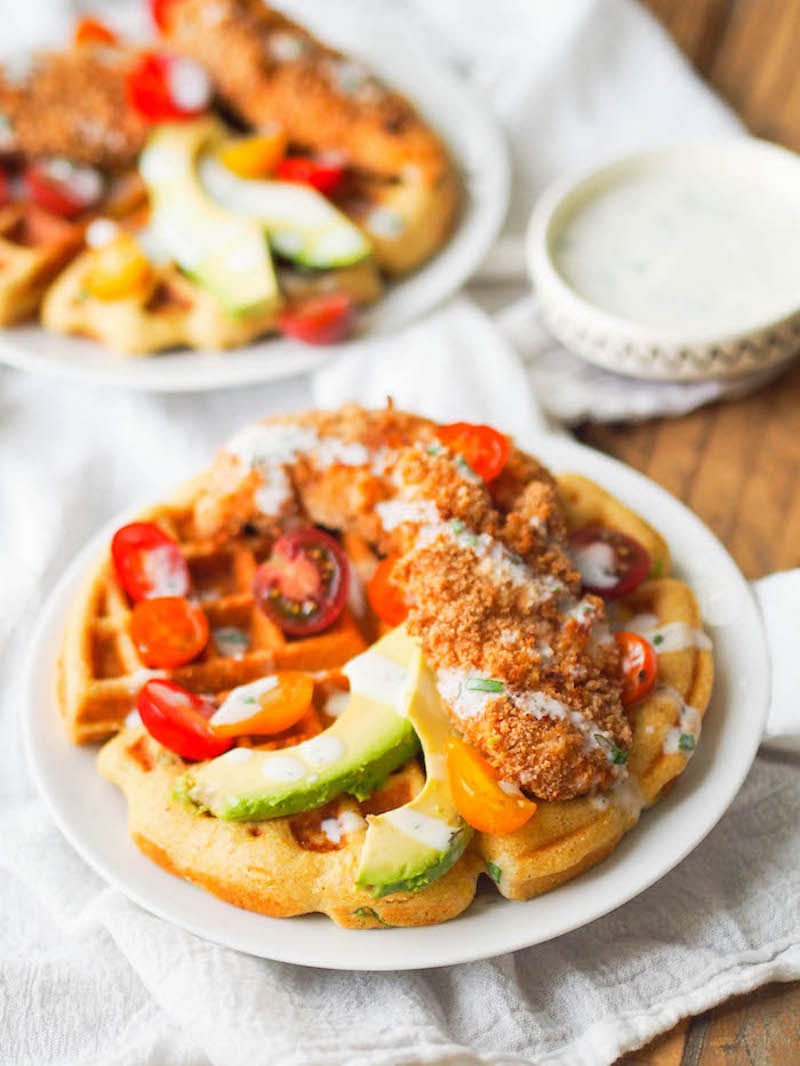 Chicken and Cornbread Waffles
Scallion cornbread waffles are topped with crispy, spicy chicken and served with a cool homemade ranch sauce. Try topping with a fried egg, avocado and hot sauce, too!
Ingredients
Ranch Dressing:
1 cup plain yogurt
⅓ cup unsweetened almond milk, buttermilk or kefir
¼ teaspoon dried dill
1 tablespoon chopped parsley
¼ teaspoon garlic powder
¼ teaspoon onion powder
1 teaspoon honey
Chicken:
½ cup whole wheat flour
1 teaspoon garlic powder
1 teaspoon cayenne
1 teaspoon smoked paprika
1 teaspoon salt
½ teaspoon pepper
1 cup buttermilk or kefir
1 egg
2 tablespoons sriracha
1 cup whole wheat panko
1½ lb chicken tenders
Olive oil spray
Waffles:
1 cup whole wheat flour
1½ cup cornmeal
2 teaspoon baking powder
1 teaspoon baking soda
1 teaspoon salt
1¾ cup buttermilk or kefir
2 eggs
¼ cup plus 2 tablespoons extra-virgin olive oil or canola oil
1 tablespoon honey
2 scallions, chopped
1 pint cherry tomatoes, halved
1 avocado, peeled and sliced
Instructions
First, whisk together ingredients for ranch dressing. Season with salt and pepper and refrigerate until ready to use.
Preheat oven to 425 degrees.
In a medium bowl, whisk together flour, garlic, cayenne, smoked paprika, salt and pepper. In another medium bowl, whisk together buttermilk/kefir, egg, sriracha. Place panko in another medium bowl.
Spray baking sheet with olive oil spray. Dip chicken tenders in flour, then buttermilk mixture, then panko. Place on a baking sheet and repeat with remaining chicken. Spray chicken with olive oil spray. Bake 15 minutes until golden and cooked through, flipping halfway.
Next, make waffles. Whisk together flour, cornmeal, baking powder, baking soda and salt. In another bowl, whisk together buttermilk, eggs, oil, honey. Whisk wet into dry. Whisk in scallions.
Heat a waffle iron. Pour about ? cup batter into the iron and cook until crispy and golden. Carefully remove from skillet and set aside.
Top waffle with chicken, tomatoes, avocado and drizzle with ranch.