Castello Summer of Blue — Chicken and Blue Cheese Cobb Salad with Spicy Buttermilk Dressing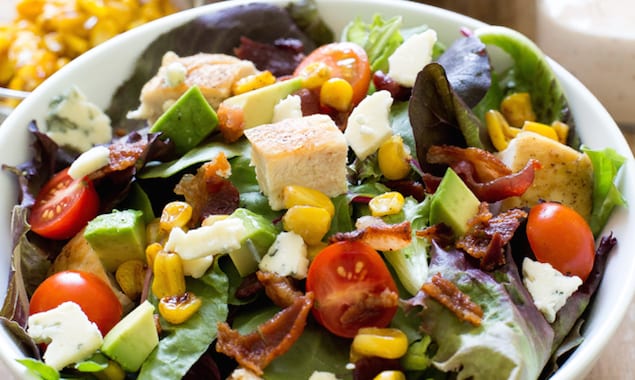 PARTNER POST – Get inspired with creatively crafted Castello Blue Cheese as we celebrate a Summer of Blue with #BluesdayTuesday.
Grilled chicken is served in a Cobb salad, drizzled with a spicy buttermilk and topped with a creamy blue cheese. A cool salad that is great for these last summer days, but hearty enough for a crisp fall afternoon.
By Kelley Simmons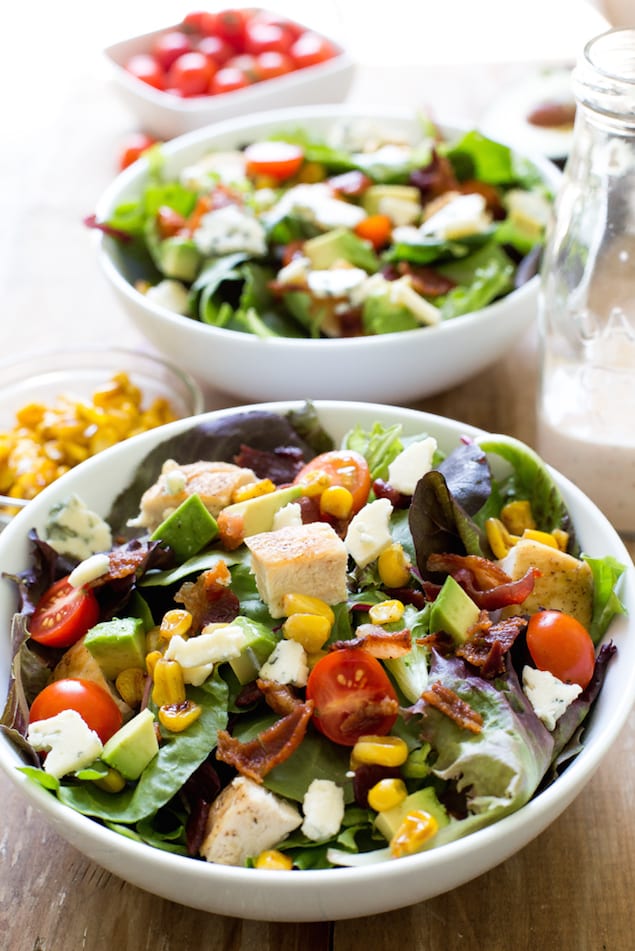 This salad is similar to a traditional cobb salad but with a spin. Grilled chicken and corn are added to this salad and it all is drizzled with an AMAZING spicy buttermilk ranch dressing. Loaded with cayenne pepper and tabasco for a hint of spice.
The Castello Blue Cheese makes this salad. It's super creamy and tangy. Plus they are in slices which makes them perfect for sandwiches, salads or just for snacking! Castello has a wide range of unique blue cheeses.
See Also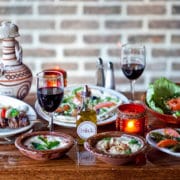 Castello Summer of Blue — Chicken and Blue Cheese Cobb Salad with Spicy Buttermilk Dressing
Grilled chicken is served in a Cobb salad, drizzled with a spicy buttermilk and topped with a creamy blue cheese. A cool salad that is great for these last summer days, but hearty enough for a crisp fall afternoon.
Ingredients
Chicken Cobb Salad
4 cups mixed greens
1 cooked chicken breast, cubed
¼ cup corn, grilled
¼ cup cherry tomatoes, halved
¼ cup bacon, crumbled
2 tablespoons Castello Burger Blue Cheese, crumbled
½ avocado, diced
Spicy Buttermilk Ranch Dressing
¼ cup milk
1 teaspoon lemon juice
2 tablespoons mayonnaise
2 tablespoons sour cream
⅛ teaspoon cayenne pepper
¼ teaspoon dried dill
¼ teaspoon ground mustard
1 teaspoon hot sauce
Instructions
Chicken Cobb Salad
To assemble the salad fill two bowls with mixed greens.
Top with chicken, corn, tomatoes, bacon, blue cheese and avocado.
Serve immediately with a drizzle of spicy buttermilk ranch dressing!
Spicy Buttermilk Ranch Dressing
Combine milk and lemon juice in a small bowl. Let sit for 5 minutes.
Add in mayonnaise, sour cream, cayenne, dill, ground mustard and hot sauce. Whisk to combine.
Season with salt and pepper and place in the refrigerator until ready to serve. I find it tastes better when it has time to sit, at least an hour.
Kelley Simmons
Kelley is a twenty something writer hailing from Delaware, and photographer behind chefsavvy.com. She started blogging in the beginning of 2014 and has been hooked ever since. She takes the worry out of cooking and helps reader's conquer their cooking fears with simple, easy to follow recipes.