These chewy cookies are delicious with their browned butter, toasted vanilla sugar, and hearty, dark rye flavor.
By Natasha Steinberg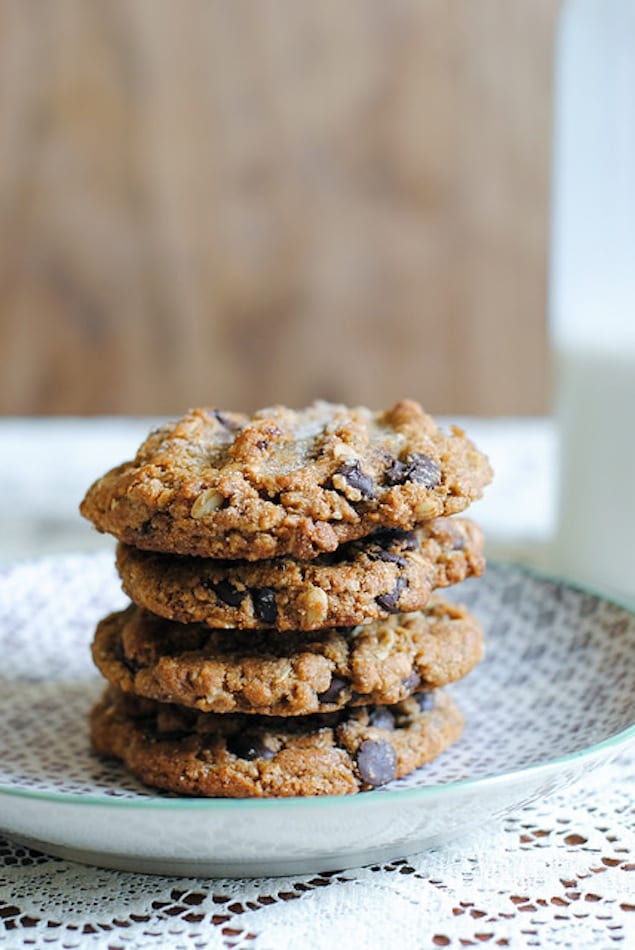 Browning butter, whisking flower, folding chocolate and maple flakes then watching the dough slowly sink then puff then set is a wholly satisfying and calming experience for me. Then when the result is as perfect as these cookies, well, I just can't complain. I've made these cookies three times in the past month. They are just so so good – chewy, chubby, sweet, light crumb, and especially lovely sprinkled with some toasted vanilla sugar.

Chewy Chocolate Chip Cookies with Rye and Maple
These chewy cookies are delicious with their browned butter, toasted vanilla sugar, and hearty, dark rye flavor.
Author:
Natasha Steinberg
Serves:
12-14 medium cookies
Ingredients
140 g (1/2 cup + 2 Tbsp) butter
110 g (3/4 cup + 2 Tbsp) whole wheat pastry flour
60 g (1/2 cup) whole grain (dark) rye flour
50 g (1/2 cup) rolled oats
¾ tsp baking powder
¾ tsp baking soda
3 Tbsp maple flakes (optional but delicious)
large pinch salt
100 g (1/2 cup) raw sugar
100 g (1/2 cup) light muscovado sugar
1 egg
1½ tsp vanilla extract
1½ tsp maple extract
120 g (1 cup) dark chocolate chips
Instructions
Brown the butter in a small saucepan set over medium heat. The butter will foam and bubble. Continue heating until the sizzling subsides, and the butter begins to turn a light amber color and smells nutty and toasty. Immediately remove the butter from the heat and pour into a heatproof bowl.
Set aside to cool.
In a large bowl, whisk together the dry ingredients (flours through sugars).
In a separate bowl, whisk together the egg and extracts.
Once butter has cooled enough to where it's not hot to the touch, whisk it into the egg mixture.
Pour wet into dry and stir together with a wooden spoon or spatula until almost combined.
Stir in chocolate until distributed, being careful not to overmix.
Using a standard ice cream scoop, form balls of dough. Place balls of dough in an airtight container and refrigerate for a few hours or up to two days.
To bake, preheat oven to 400 F. Line a cookie sheet with parchment paper and stack atop another cookie sheet (double stacking prevents overbrowning on the bottom of the cookies). Position balls of dough about two inches apart on the cookie sheet and bake for 6 minutes. Using a spatula, squish the cookies down just slightly and bake for another 3 minutes, until set on the edges but still soft in the middle.
Let cool on the cookie sheet for 5 minutes then remove to a wire rack to cool completely. Cookies will keep in airtight container at room temperature for about a week.