Every family has there own recipe for empanadas.
Chef Daniel Golinelli of Rufino Restaurant, located in the basement of Hotel Mio brings a little finesse to otherwise a very traditional Parrilla-culture where grilled meats on an open fire are served with seasonal vegetables.
While many parrilla`s in Argentina are unsurprisingly when it comes to sides, Chef Daniel likes adds a classy touch to delicious sweet potatoes, feta-tossed baked cauliflower and charred meats ( get the Cured Ribs and Rib-Eye for the perfect dinner).
There is something very upscale and refined to how Chef Daniel presents his food in a country where boiled vegetables with little or not seasonal easily makes it onto the table at even some of the higher-end restaurants. Watch out for Daniel on the BA food scene.
The Humita Empanadas are a stable in the Argentinean community and here chef Daniel shares his recipe for deliciously crispy empanadas with creamy corn filling.
Humita ( Corn ) 

Empanada

 

Ingredients: Makes 4 delicious empanads
120 grs. raw onion 
12 grs. butter
120 grs. of creamy corn (la campagnola is the brand we use in Argentina)
60 grs. cooked corn husked- slightly charred
7 grs. flour
7 grs. butter
9 grs. green onions / scallions finely cut
15 grs. feta cheese
C / N salt, pepper and nutmeg
4 empanada pastries for frying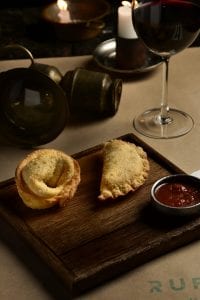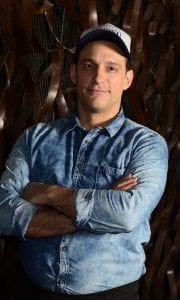 Blanch the whole corn in boiling water and then drain – slightly charring the corn in a pan with a splash of olive oil. Set aside  
In a medium pan, heat 1 tablespoon of olive oil and slightly cook the onions without browning – add a pinch of salt. 
In a separate pot, make the roux by mixing and melting the butter with the flour – stirring quickly before adding in the creamy corn and continue to stir to make the roux. 
Add in the corn  
Add in nutmeg, salt and pepper to taste.  
Add in the scallions and feta cheese.  
Make the empanadas by filling each pastry with the filling before turning over and tightly to ensure no filling comes out.  
Fry the empanadas in medium-hot oil until golden brown. 
Serve with tomato sauce and enjoy.
Michelle Tchea
Michelle Tchea is a 4-time bestselling author. Her books include, Building a Perfect Meal, My Little SoHo Kitchen, Signature Dishes (Australia's Best) and Chefs Collective. Her work can be found in other leading luxury travel and food magazines including Travel+Leisure Asia, SMILE, NUVO Magazine and The Telegraph