Perfect with coffee or a glass of Port, buttery, crispy custard bites, Pastel de Nata, from Portugal are a dream to make and eat.
By Michelle M. Winner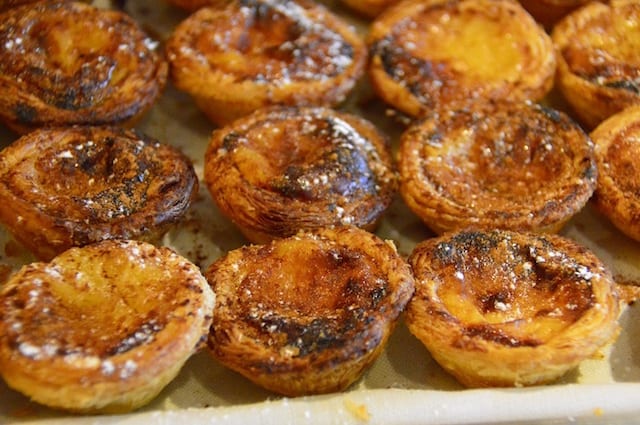 Traveling on a Viking River Cruise called the "River Of Gold" recently, we cruised from Porto into the regions along the Douro River known for growing the grapes of the famous Portuguese Port. Each day we were treated to pastries. These Portuguese delights from a "secret" recipe originally created by an 18th century religious order in a Lisbon monastery ( yes those!) have a tender, flaky crust filled with a creamy egg custard filling.
Late in the cruise, the ship's Executive Chef Pedro Ribeiro did a demo on how to make these Pastel de Nata and won our hearts. Chef Pedro, as he is known onboard, graciously shared this recipe and some tips for success. Don't be put off; if you can make a custard  you can make these. And every bite is worth it! Perfect with coffee, tea or equally famous Douro Port wine.

Pastel de Nata From Viking Cruises Executive Chef Ribeiro
Viking Cruise's Executive Chef Ribeiro's flaky pastry crust holds a puddle of creamy yellow egg custard, perfect for afternoon tea, coffee or a glass of Port.
Author:
Executive Chef Pedro Ribeiro
Ingredients
1 packet frozen puff pastry thawed according to package instructions
1 cup whole milk
1 tablespoon cake flour
7 oz granulated sugar
½ vanilla bean (seeds intact) or 1 teaspoon vanilla extract
6 egg yolks
Instructions
Pre-heat oven to 375 degrees F.
Lightly grease a 12 cup muffin tin.
Lay out the pastry on a flt sheet pan and roll from the shorter edge one turn.
Cut about a 2" piece of pastry and work it into the bottom and up the sides of each cup of the muffin tin. TIP: wet your finger to push up the dough evenly.
In a saucepan, combine milk, cake flour, sugar, and vanilla.
Cook, stirring constantly with a whist until mixture thickens.
Place egg yolks in a medium bowl.
Whisk together.
Slowly whisk HALF of hot milk mixture into yolks.
Gradually add yolk mixture back into the remaining half of hot milk whisking constantly.
Cook stirring constantly for 5 minutes or until thickened.
Remove the vanilla bean.
Fill pastry-lined muffin tins with mixture and bake for 20 minutes or until pastry is golden brown and filling is lightly browned on top.
Michelle M. Winner
Michelle was born with a fork in her hand. As a culinary travel writer and confirmed foodophile she delights in the world-wide discovery of new flavor profiles, spices, salts and herbs. Based in one of the world's foodie meccas; Portland, Oregon, not far from "Pinot Noir Heaven" Michelle shares culinary travel and chef's recipes. Her photography has appeared in Saveur Magazine and she has contributed culinary travel articles to Forbes online, WSJ online, Business Insider, Condé Nast Digital Media, Islands magazine and many others. A confirmed globetrotter, she still keeps her bags packed and fork in hand (well . . . except through airport security.)