Fine Pastry Chef of FIKA in New York City, Maria Östberg shows her love for her sweet passion with each and every baked delight she creates. Discover the road to her success as she participates in NORTH Festival this fall.
By Annelise McAuliffe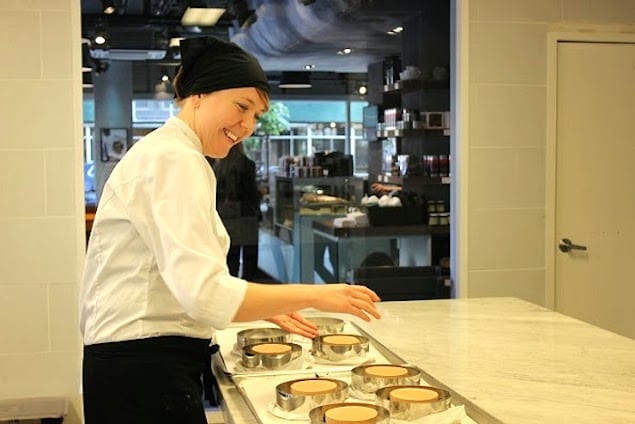 http://www.newyorkmybite.com
After high school, Maria fell in love with the world of sweets. Since then, she has worked hard to create a successful career for herself in the world of baked goodness. We checked in with Maria, participating chef of NORTH Festival, to find out more about the candy-coated land she lives in.
How did you begin in the creative baking and pastry industry?
M: "It was by chance actually. I got a job at a ski resort the winter after high school and they needed extra help in the bakery so I was allowed to do simple stuff like rolling chocolate balls and sprinkling sugar on buns. After that, I was hooked!"
As the commander of a bustling patry kitchen, what is your favorite part of your daily routine?
M: "By far, my favorite step is putting the finishing touches on my pastries and giving them the love they deserve."
Do you have a favorite New York City restaurant that you love to frequent for the sweets?
M: "Given my dedication to the pastry kitchen, I don't really get out that much, sadly. I have been to ABC Kitchen a few times and I really enjoy their desserts and the beautiful atmosphere."
You will be hosting a cooking class at The International Culinary Center during NORTH Festival. What will you be focusing on during your time with the guests?
M: "I want to show them the simplicity, yet, the beauty of Swedish pastries. I hope students understand and see the results of using excellent ingredients both in the looks and the taste of the delicious baked goods. It's hard work being a pastry chef but it's also rewarding seeing people enjoy what I do and appreciate it not only by taste but also by look. At the end of the day, I hope people recognize the great passion I have for baking and carry that back to their own kitchens."
What pushed you from being a young adult in a ski resort bakeshop to being the Fine Pastry Chef of an acclaimed New York City eatery?
M: "It really was the people around me. People started to believe in me and trusting me and in the way that I believed in myself. And I find joy in teaching others what I know, so it came easily to me. We are a team at FIKA and we are always learning from each other. When I am creating in the kitchen or helping someone with a new idea I always try to remember three steps: Try! Breathe! Do it again! If you have an idea, go for it, make mistakes and learn and do it again. Perfection!"
Maria left us with a few words for all the aspiring pastry chefs of the world:
M: "If you want to be a pastry chef just remember that it is a tough industry. It's hard work, but it is also so much fun! You can never know everything. Take chances to learn from others, and be a team, life is not a race. And eat a lot of treats, not only to keep up with what flavor is in season but just because it's so damn good!"
Join Maria, of FIKA NYC, at NORTH Festival in September. She will be teaching a Nordic pastry class you do not want to miss!
Date – September 14, 2014
Time – 12pm-3pm
Where – International Culinary Center, 462 Broadway, New York – 10013
How – 3 hour Nordic pastry class led by chef Maria Östberg, presented by FIKA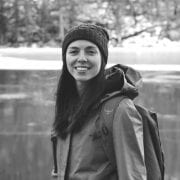 Annelise McAuliffe
Mandatory family outings to the Detroit farmers' market and nightly home-cooked meals cultivated Annelise's respect and curiosity for food. A graduate of The Culinary Institute of America, she spends her free time in New York City recipe testing, eating breakfast all day, and dreaming up international culinary adventures.