PARTNER POST: Reinvent classic potato dishes to create a new holiday tradition. This year, forget the tried and true recipes and show off your cooking skills with a twist on an old favorite.
Making cheese and potato filled pierogi is a fun holiday tradition, not unlike making cut-out cookies. Served with fried leeks and butter for a great texture and a stunning presentation.
By Carlynn Woolsey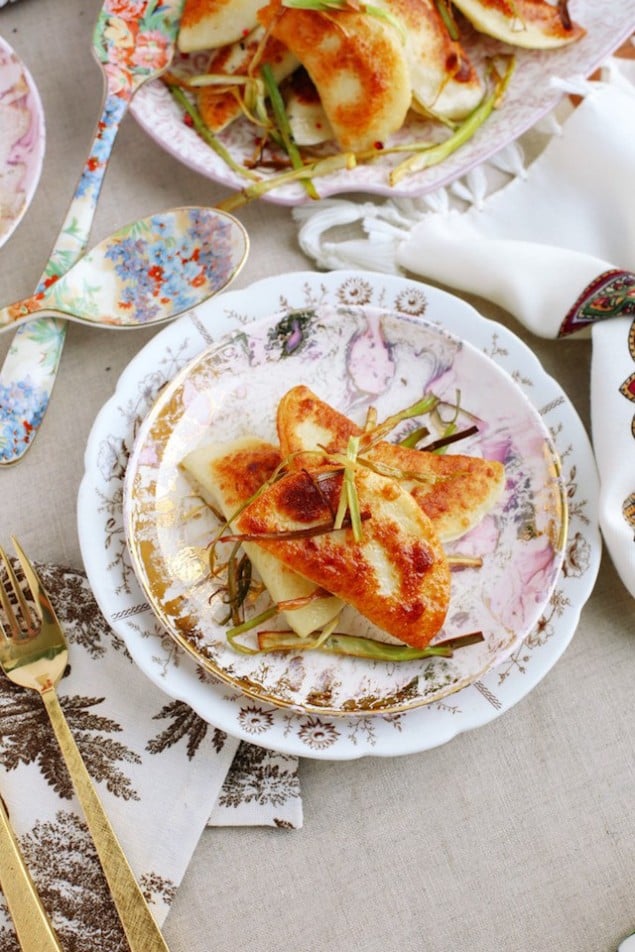 Here I am today, sharing my Polish/Ukrainian mother's time-honored recipe with you – which she learned from her mother who learned from her mother before – in the hope that perhaps you might want to try it too!
Make it a new Christmas tradition, like it is our, to make pierogi on Christmas Eve with family and then serve on Christmas day.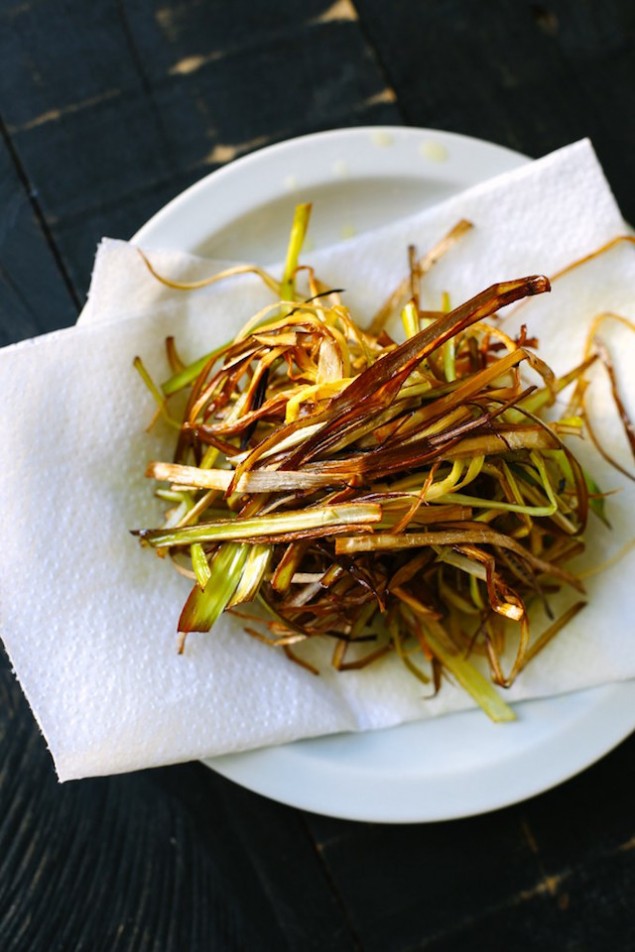 When it comes to preferred pierogi fillings, allegiances tend to vary between sweet and savory varieties. I for one am a fan of both sweet blueberry versions as well as savory cabbage versions. My favorite, however, will always be a classic potato and cheese combination. The potato – or 9th Wonder of the World – is seasoned with salt and a generous sprinkle of black pepper, mashed, and combined with Farmer Cheese. I like to use red potatoes in this case as they have a nice semi-firm texture and a mild sweetness to them, which is a perfect complement to the cheese. To these ingredients I add sautéed leek, and several sprigs of fresh dill for a spin on the standard. Once the filling is wrapped in a noodle-like dough, the individual pierogi are boiled and placed in a pool of warm butter – or pan-fried and browned with a few additional leeks. You cannot go wrong with either preparation!
And, as I was standing in my kitchen preparing this batch, with my Mom next to me – mash, stuff, pinch, repeat – I felt very excited; to eat all of the potato deliciousness coming our way, and to embrace our tradition for years to come!
See Also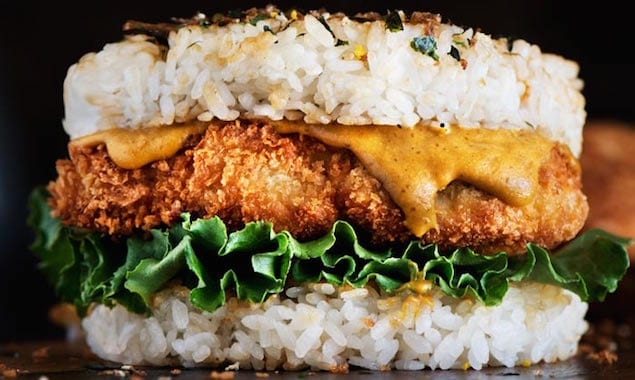 Visit the US Potato Board by clicking on the banner above for more creative potato recipes for your holiday table! Also check out the recipe for Danish potatoes below.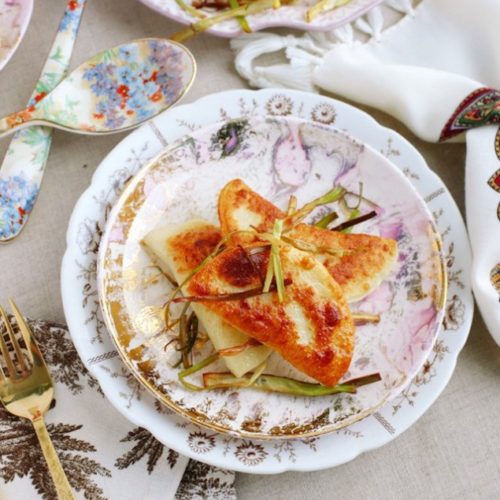 Cheese and Potato Pierogi with Fried Leeks
Carlynn Woolsey
Making cheese and potato filled pierogi is a fun holiday tradition, not unlike making cut-out cookies. Served with fried leeks and butter for a great texture and a stunning presentation.
Ingredients
For the Pierogi Filling:
2

tablespoons

butter

1

leek

white and green parts, cleaned and diced

10-12

medium-size red potatoes

1

cup

Farmer Cheese

or other mild, soft, white cheese

¼

cup

milk of choice

fat content does not matter
For the Pierogi Dough:
1 ½

cups

flour

+ additional for rolling

½

teaspoon

salt

2

large eggs

1

cup

sour cream
For the Frizzled Leeks:
1

leek

white and green parts, cleaned

¼

cup

vegetable oil
Instructions
To make the pierogi filling (Up to 1 day in advance):
Melt the butter in a skillet set over medium-heat. Add the leeks to the skillet and cook, stirring occasionally, for approximately 5 minutes, until tender.

Put the potatoes into a pot and add just enough cold water to cover. Bring to a boil and cook until the potatoes are soft, approximately 20 minutes.

Drain the potatoes in a colander and press out any remaining moisture. Add the cooked leeks, cheese and milk to the potatoes and mash together, until smooth (You can also do this in a stand mixer, with the paddle attachment).

Refrigerate the mixture until cold, for approximately one hour or up to one day in advance (The filling is much easier to work with when chilled).
To make the dough:
In a large bowl or stand mixer (with the paddle attachment), mix the flour and salt. Add the eggs and sour cream and combine. The dough should feel slightly tacky and have an elastic consistency to it.

Turn the dough out onto a lightly floured surface, and pat it into a disc. Cover the dough in plastic wrap and refrigerate for at least one hour.

Once the dough has chilled, roll it out into a thin circle, approximately ? inch thick - This will take some effort given its elasticity.

Using a standard biscuit cutter, cut the dough into rounds. Continue rolling and cutting until all of the dough is used. You will have approximately 20-25 rounds.

In the palm of your hand, take one round at a time, and fill the center with a generous tablespoon of the potato mixture. Gently fold the round in half, pulling the edges away and pinching to enclose the filling. Work from one end to the other, ensuring that the entire dumpling is sealed.

As you work, set the filled pierogi aside on a lightly floured surface.

Bring a large pot of water to a boil. Working in batches, drop no more than 6 pierogi at a time into the water. You will know they are done when they float to the surface. Remove with a slotted spoon and place on a towel to drain and cool.

The pierogi are best served immediately, with melted butter. Alternately, pan-fry the pierogi in a skillet with butter or olive oil.
To make the frizzled leeks:
Cut the leek in half crosswise, and then cut each piece in half lengthwise, so that you have four long sections. Cut each section into thin strips.

Heat the oil in a large pot set over medium-high heat. Once the oil is very hot, drop the leeks into it, and fry for 1-2 minutes, until lightly browned and crisp. Remove the leeks from the pot using a slotted spoon, and place on a paper towel-lined plate to absorb any excess oil. To serve, sprinkle the frizzled leeks over the top of the pierogi.
Carlynn Woolsey
JJBegonia is a silly nickname that my equally silly Dad gave me when I was a little girl. Needless to say, it stuck. My real name is Carlynn and I started my blog in September of 2012 to chronicle all of the things I love, and the things that inspire me, in one place. Over the course of the past ten years, I have lived in Boston, New York City, and L.A., and am currently in Upstate New York [where I grew up]. I graduated from Boston College with a double major in English and Psychology, and later returned to BC to obtain an MBA in Brand Management. My professional background is in Magazine Publishing/Advertising Sales, however I have always had a creative streak which is the driving force behind my blog. I am heavily influenced by food primarily because I love to eat (!), but also because I grew up in the restaurant industry. While I write and showcase many recipes, I adore sharing my favorite products, best style finds, and my life in general.