Celery and Parmesan Salad
From the dressing to the garnishes, everything in this salad manages to add interesting and complex flavors while putting the celery on a pedestal of celebratory awesomeness.
By Brittany Everett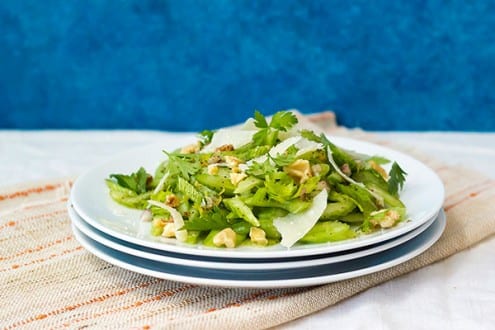 I'm here to tell you that the only thing you need to splurge on for this recipe is organic celery. Even then, it isn't really necessary. I just figure if celery is going to be the star, get some good celery!

Celery and Parmesan Salad
From the dressing to the garnishes, everything in this salad manages to add interesting and complex flavors while putting the celery on a pedestal of celebratory awesomeness.
Ingredients
½ cup olive oil
2 teaspoons grated lemon zest
¼ cup plus 1 tablespoon freshly squeezed lemon juice (3 lemons)
2 tablespoons minced shallots
1 teaspoon celery seed
½ teaspoon celery salt
½ teaspoon anchovy paste
Kosher salt and freshly ground black pepper
5 cups thinly sliced celery hearts, tender leaves included, sliced on an angle (about 12 stalks)
4-ounce chunk Parmesan cheese
⅔ cup toasted walnuts, coarsely chopped
Whole flat-leaf parsley leaves
Instructions
At least 1 hour before you plan to serve the salad, whisk together the olive oil, lemon zest, ¼ cup of lemon juice, the shallots, celery seed, celery salt, anchovy paste, 2 teaspoons salt, and 1 teaspoon pepper. Place the celery in a mixing bowl and toss it with the remaining 1 tablespoon of lemon juice and ½ teaspoon of salt. (Even though these ingredients are in the dressing, believe me-this step makes a difference.) Add enough dressing to moisten well. Cover and refrigerate for at least an hour to allow the celery to crisp and the flavors to develop.
When ready to serve, arrange the celery on a platter, shave the Parmesan onto the celery with a vegetable peeler, then sprinkle with walnuts, parsley leaves, salt, and pepper and serve immediately.
Brittany Everett
A graphic designer by day, Brittany enjoys cooking, eating, photographing and discussing food with every other waking moment. She created Kitchenette, a food blog dedicated to making delicious comfort foods from scratch and with love.