Make risotto with soft cauliflower stirred right in and top the creamy dish with crispy bacon or pancetta.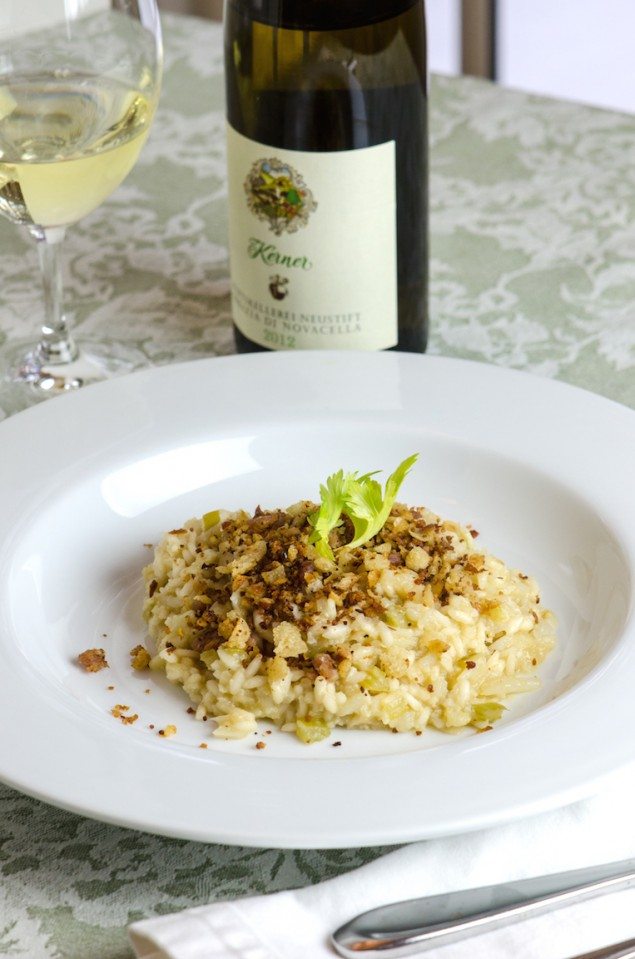 We are visiting Sudtirol on a couple of cycling tours next season, our Bike the Wine Roads of Trentino-Alto Adige adventure. We cycle along lovely bike paths that follow the Adige river, predominately flat, but surrounded by majestic steep hills. We see acres of apple orchards along the way, and many terraced vineyards cut into the hills. But hidden amongst the vineyards and apples are farms producing a wide variety of fruits and vegetables – strawberries, raspberries, cabbage, radicchio, lettuce, potatoes.
One doesn't always think of this type of terrain being conducive to cultivating vegetables. But with over 300 days of sunshine a year, Sudtirol offers a particularly beneficial climate for quality produce. Warm days with lots of sunshine ensure the vegetables ripen, but the cooler nights slow this process down just enough to allow flavors and aromas to develop. The farmers in this region are committed to sustainable farming methods, moving towards totally organic, assisted by the fact that many pests cannot tolerate the higher elevations.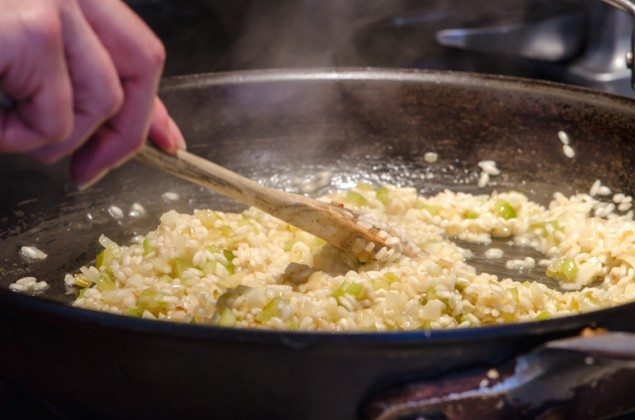 On our ride down through the Val Venosta, we pass through many small towns, each known for a favorite specialty – Pala pears in Glorenza, strawberries in the Martello Valley, white asparagus in Castelbello, apricots and cabbage in Lasa. Lasa, or Laas, as all towns in Sudtirol have both Italian and German names, is the largest area of cauliflower cultivation anywhere in Italy. Cauliflower is also grown Eisack and Puster valleys and on the Ritten plateau.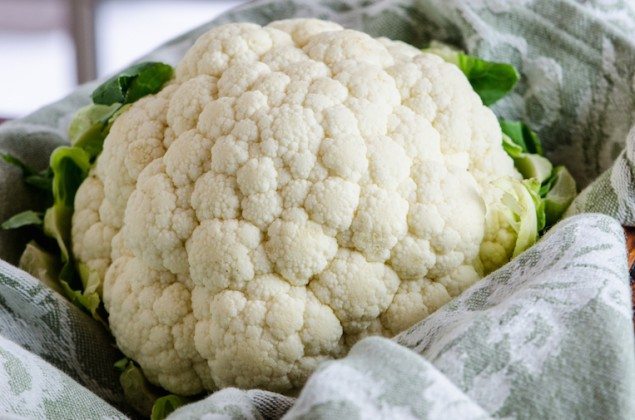 There are many ways of preparing cauliflower – roasting, steaming, poaching, or enjoying it raw. I found a very interesting recipe for a cauliflower risotto in Jamie's Italy cookbook by Jamie Oliver. The cauliflower is poached in the risotto stock, and becomes so soft you can crush it and it disappears, becoming part of the creamy risotto – delicious! I've adapted it a bit here, replacing the anchovy flavored breadcrumbs with bacon or pancetta flavored, more in keeping with the traditional cuisine of Sudtirol.
Enjoy with a nice crisp white wine from Alto Adige, such as this wonderful aromatic Kerner from Abbazia di Novacella.
Print

---
1 cup

stale bread pieces

2

slices pancetta or bacon or speck from Alto Adige

1 teaspoon

hot red pepper flakes

2 tablespoons

extra virgin olive oil (divided)

1

head cauliflower

2 tablespoons

butter (divided)

6 cups

vegetable or chicken broth

1

onion (cut into

1/4

" dice)

2

stalks celery (peeled and cut into 1/4" dice)

1 cup

risotto rice (Vial

one

Nano, Carnaroli, Arborio)

1/2 cup

white wine
Kosher salt and freshly ground pepper

1 tablespoon

chopped fresh parsley

1/2 cup

grated aged grana cheese
---
Instructions
Place the bread, pancetta and hot red pepper flakes in the bowl of a food processor and pulse until finely chopped. Heat 1 tablespoon of the olive oil in a sauté pan and fry the breadcrumbs, stirring and tossing until golden brown. Remove from heat.
Trim the leaves off the cauliflower and cut out the stalk. Finely chop the stalk and cut the florets into small pieces, about 1 inch in size.
Bring the stock to a simmer in a large pot, and add the cauliflower florets.
Combine the remaining olive oil and butter in a heavy, large skillet over medium-high heat. Add the diced onion, celery and chopped cauliflower stalk and slowly cook over low heat until soft and translucent, about 15 minutes. Stir in the rice to coat with the oil, and cook for 1 minute.
Add the white wine and stir, cooking until absorbed by rice. Begin to add the broth, 1/2 cup at a time, stirring after each addition and waiting until the broth is absorbed by the rice before adding the next 1/2 cup.
After about 10 minutes of cooking, when the grains of rice are beginning to soften, begin to add in the cauliflower florets as you add the stock. The florets should be quite soft at this point, and you can crush them into the rice. Continue to add the stock and cauliflower until the rice is cooked – it should be tender, but still firm to the bite, al dente. You may not use all of the stock – you should cook just until done, not until the stock is gone! The amount of cooking time will depend greatly on the type of rice, the age, and relative humidity, so use your judgement.
Turn off the heat. Add in a last 1/4 cup of broth, the remaining tablespoon of butter, parsley and the grated cheese. Cover the pan and allow to sit for 2 minutes. Season with salt and pepper, garnish with the seasoned bread crumbs and some celery leaves, and serve immediately.
Category:

Main, Primi

Cuisine:

Italian
Kathy Bechtel
Kathy Bechtel's obsession with food and cooking began as a teenager. After years following a traditional career path as a telecommunications engineer, she left to attend culinary school and wine training, and is now combining her passions for food and wine, the outdoors, and travel as owner and Culinary Tour Director of Italiaoutdoors. In this role, Kathy leads small bicycle, skiing and walking tours that explore the authentic regional cuisines, local products and undiscovered wines of Northeastern Italy.