PARTNER POST – Get inspired with creatively crafted Castello Blue Cheese as we celebrate a Summer of Blue with #BluesdayTuesday.
The classic flavors of buffalo chicken hit a burger and are topped with a creamy blue cheese slaw. A stack that is perfect for a summer grill-out.
By Pamela Braun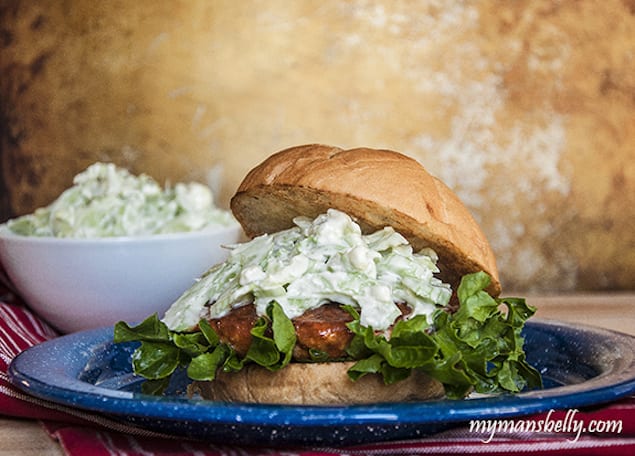 How about some juicy buffalo chicken burgers piled high with blue cheese slaw?
Buffalo chicken usually comes with bones, in the form of wings, but why not bust out something a little bit different with those same great flavors?
These buffalo chicken burgers are lean and juicy (so they're actually good for you) then they're brushed all over with a nice thick coat of buffalo wing sauce. What happens to them next is practically magic. The old favorite partner for buffalo chicken is blue cheese, but we don't just toss it onto the burgers. Nope this blue cheese gets turned into a slaw that uses celery, instead of the usual cabbage, to make sure that the buffalo sauce doesn't miss its buddy blue cheese.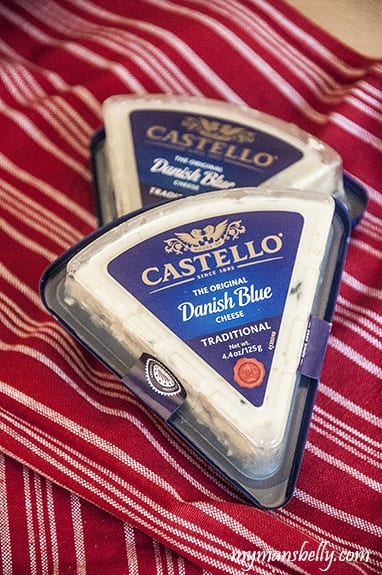 One of the great things about this chicken patty recipe is that it's sturdy enough for you to be able to grill them (with the hot dogs and hamburgers) or cook them in a frying pan on the stove top. I know that can be a problem sometimes when you're grilling chicken burgers and they fall through the grates…these won't do that.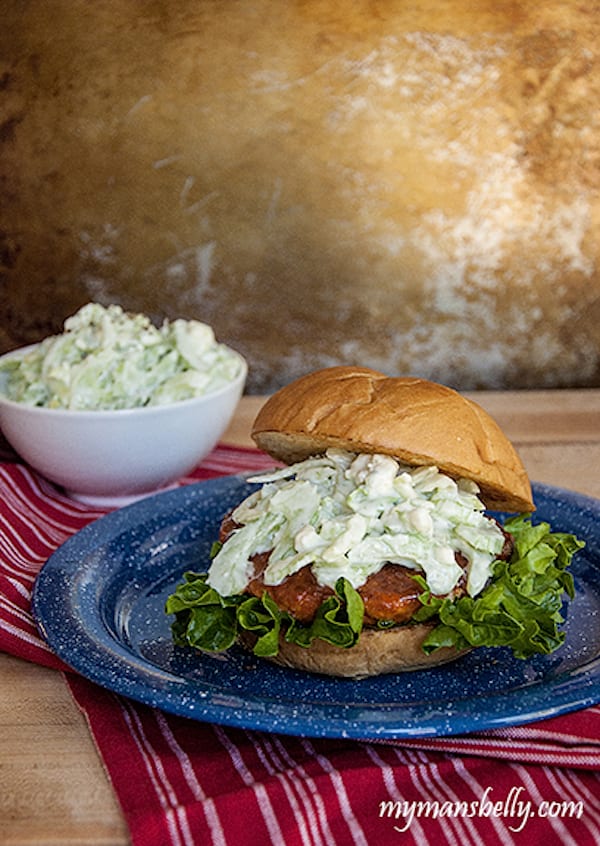 Now about that blue cheese slaw. I know it sounds a little bit crazy, but it's crazy delicious! Blue cheese dressing can be pretty heavy all by itself. By adding in the chopped up celery, you're able to lighten up the sauce and make the sandwich not feel heavy either. Plus, the type of blue cheese you use can really make a difference. Castello blue cheeses are epicurean delights. The tangy characteristics are balanced with delicious sweet and salty flavors that are ideal to top a grilled burger or bring a complex flavor to summer vegetables. From crumbled, soft, and spreadable, to a sliced blue cheese perfect for melting with floral notes, Castello has a wide range of unique blue cheeses. I used their traditional Danish blue in this recipe.
We really enjoyed these burgers on a toasted bun with a few leaves of lettuce. When we started adding onion (way too strong with the blue cheese) and tomato (to gushy) the sandwich just wasn't right. Simple is best when it comes to this one.
You can whip up a batch of these Buffalo chicken burgers in about 20 minutes and have them off the grill in about 10-15 minutes.
Castello Summer of Blue — Buffalo Chicken and Blue Cheese Slaw Burgers
The classic flavors of buffalo chicken hit a burger and are topped with a creamy blue cheese slaw. A stack that is perfect for a summer grill-out.
Ingredients
For the Blue Cheese Slaw
1 4 Ounce Package Castello Traditional Danish Blue Cheese, crumbled
2 Tablespoons of Mayonnaise
3 Tablespoons of Sour Cream
1 Tablespoon Champagne (or white wine) Vinegar
Pinch of Kosher Salt
Few Grinds of Black Pepper
6-7 Celery Ribs (including any leaves), trimmed
For the Buffalo Sauce
¼ Teaspoon Black Pepper
½ Teaspoon Cayenne Pepper
½ Teaspoon Worcestershire Sauce
½ Teaspoon Hot/Smoked Paprika
½ Teaspoon Granulated Garlic
2 Teaspoons Salt
2 Teaspoons Sugar
3 Tablespoons White Vinegar
¾ Cup Frank's Hot Sauce
For the Chicken Burgers
1 Pound Ground Chicken
1 Cup Bread Crumbs
¼ Cup Milk
½ Teaspoon Kosher Salt
Instructions
For the Blue Cheese Slaw
Whisk all of the ingredients, except for the celery, together in a large bowl.
Cut the celery on the diagonal in ?"-1/4" thick pieces. Then drop all the celery into the bowl and stir to combine.
Place bowl into the refrigerator until you're ready to use it. (Not a minute longer or I promise you someone will come along and eat all of it.)
For the Buffalo Sauce
Add all of the ingredients to a bowl and whisk to combine.
Set aside until needed.
For the Chicken Burgers
Add all of the ingredients into a large bowl and mix (I found using my hands to be the easiest) everything together thoroughly.
Divide mixture into quarters and form into uniformly shaped patties.
If cooking in a frying pan, add a bit of oil and cook on medium heat for 5-7 minutes per side.
If cooking on a grill, cook for about 5 minutes per side (depending on how hot your grill is).
To put it all together, place any lettuce you want on the bottom bun. Sauce the chicken patty, with a sauce brush (on both sides) with the Buffalo sauce and place onto the lettuce. Now spoon the blue cheese slaw on top of the patty and top with a bun.
Serve.
Pamela Braun
Pamela writes the blog My Man's Belly to help women get the upper hand in the dating world. You can be a saint on the street & a sinner in the bed, put up with his friends and rock six inch stilettos like a pro. But if you can cook, you've got the entire package. If you can chew gum and walk at the same time, you can cook. After all, the best way to a man's heart is still through his stomach.