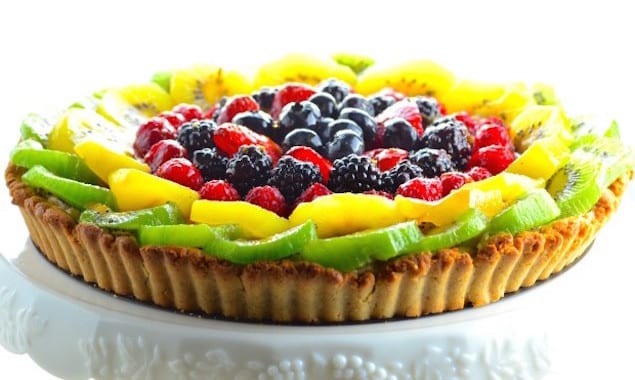 A nutty cashew cream fills this beautiful dairy and gluten free tart topped with stunning fresh fruit. A delicious dessert for all of your guests.
By Vicky Cohen and Ruth Fox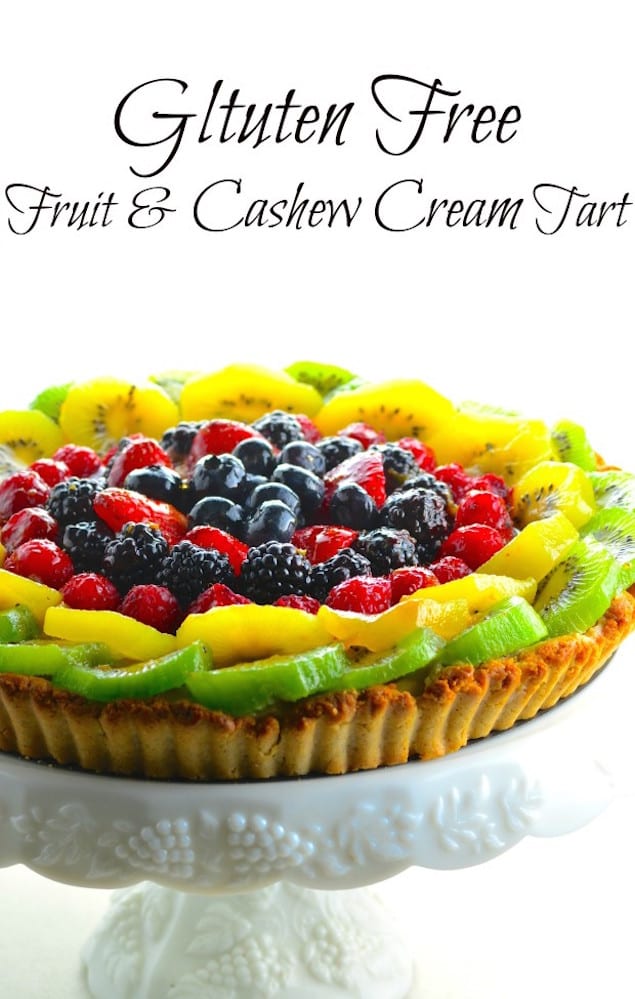 We love to challenge ourselves in the kitchen. And if you've been following us for a while, you know that of all things we try, Ruth likes to challenge herself most with baking projects. When she's in a baking mood, watch out!
What was shocking was just how pretty this recipe turned out in addition to tasting absolutely amazing. The taste of this Gluten Free Fruit & Cashew Cream Tart, in addition to its presentation, makes this is the perfect dessert to serve skeptics who think that gluten free and vegan recipes are boring or lack the same level of flavor that they can find in their gluten filled, dairy- laden recipes. Just look at that mouth­watering fruit!
Of course, we have to admit, creating a great vegan and gluten ­free dessert has become a lot easier thanks to the wide variety of high quality products available in the market. Vegan alternatives to milk, dairy, and egg products are a huge asset in the kitchen, as are the various gluten­ free flours and other baking aids that we have come across.
As you can see, the fruit used to top the tart can vary widely. We decided to utilize a variety of fruit and berries, but you could easily change up the selection based on what is in season or your own personal flavor preferences.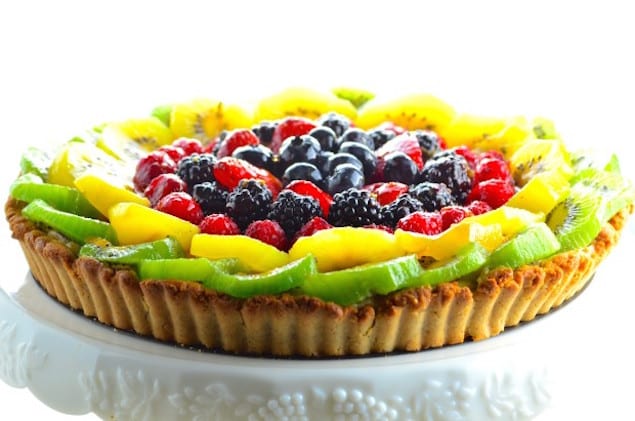 Cashew Cream Fruit Tart
A nutty cashew cream fills this beautiful dairy and gluten free tart topped with stunning fresh fruit. A delicious dessert for all of your guests.
Author:
Vicky Cohen and Ruth Fox
Recipe Type:
Dessert, Baking
Ingredients
For the crust:
1 cup 1 to 1 gluten free flour (here we used Bob's Red Mil)
½ cup cashew meal
3 tbsp coconut oil
2 tbsp cashew butter
1 tbsp maple syrup
Pinch of salt
5 tbsp unsweetened vanilla cashew milk (here we used So Delicious
For the cashew cream:
1½ cups unsweetened cashew milk
2 tbsp maple syrup
3 tbsp corn starch
1 tsp natural vanilla extract
3 tbsp cashew butter
Optional:
½ cup vegan chocolate chips
1 tsp coconut oil
Fresh fruit (here we used green and golden kiwi, raspberries, blackberries, blueberries and strawberries)
Instructions
Preheat oven to 350F
Combine flour, cashew meal, coconut oil, cashew butter, maple syrup and salt in a food processor. Pulse a few times until well combined
Add cashew milk, 1 tablespoon at a time, and keep pulsing until it forms a dough. (Note: if the crumbs don't come together in the food processor, but they do when you pinch them with your fingers, place them on a floured surface and knead with your hands until it forms a soft dough)
Press the dough evenly on a non-stick 11"x1.5" with removable bottom tart pan, so the dough comes up the sides of the pan. Refrigerate for 15 minutes.
Carefully prick the bottom and sides with a fork several times to avoid air bubbles while baking (you can also use pie weights if you have them)
Bake at 350F for 25 minutes until golden brown. Set aside to cool
In the meantime, prepare the cashew cream. In a small saucepan, heat 1 cup of cashew milk and maple syrup just until small bubbles start to appear on the sides.
In a small bowl, whisk together remaining ½ cup cashew milk, corn starch and vanilla extract until well incorporated
Off the heat, add corn starch mixture to warm milk. Bring saucepan back to the stove and cook the cream at medium-low heat, whisking constantly, until it thickens (this will happen quickly, in 30 to 45 seconds). Turn off heat and add cashew butter, mixing well until it's completely incorporated. Set aside to cool, but do not refrigerate. Cover the surface with plastic wrap (so it touches the cream)
Melt chocolate chips and coconut oil (you can do this in the microwave, in 20 second increments stirring well each time). Pour melted chocolate over the cooled tart shell and refrigerate for a few minutes until the chocolate hardens (SEE NOTE)
To assemble the tart, spread cooled cashew cream over chocolate covered tart bottom. Arrange fruit on top and refrigerate for at least 2 hours, until the cream has set.
Notes
Adding a layer of melted chocolate on the bottom of the tart shell will keep it from getting soggy from the moisture of the cream. This step can be skipped, but keep in mind it might soften the tart shell.

Cashew meal, milk and butter can be substituted for almond if necessary
Vicky Cohen and Ruth Fox
We are two sisters born and raised in Barcelona, Spain, with Sephardic and Middle Eastern roots. We grew up eating the best, most flavorful, comforting home-cooked meals prepared by our mom, who taught us everything we know about cooking. When we moved here to the U.S. we felt it was really important to keep our traditions and background alive, and we've done so by sharing it with everyone we've met throughout the years. After all, what better way to make new friends and share our love and culture than through food, right? Our friends have come to enjoy our food and gatherings so much that are always asking us for our recipes. That inspired us to start a cooking blog called "May I have that recipe" where we share recipes we've created inspired by our multicultural background.