Carrot Green and Sunflower Seed Pesto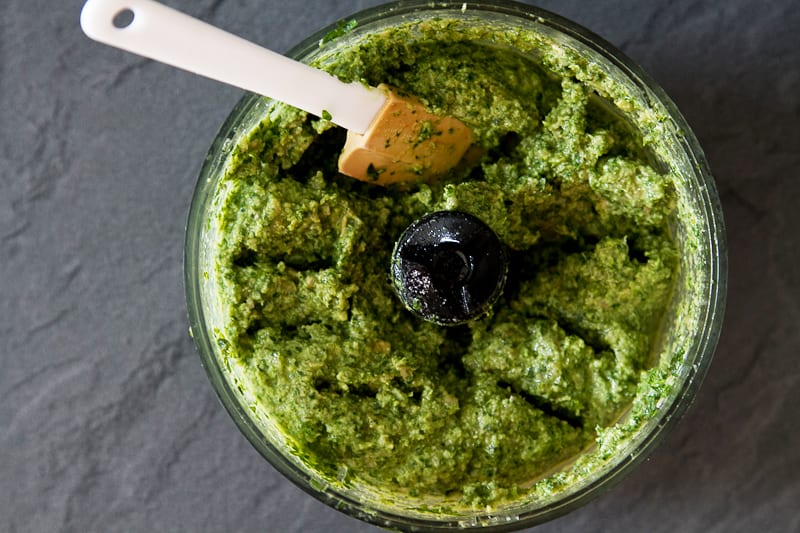 Carrot greens and sunflower seeds are a new take on a versatile pesto spread that pairs well with hearty crackers.
By Katherine Sacks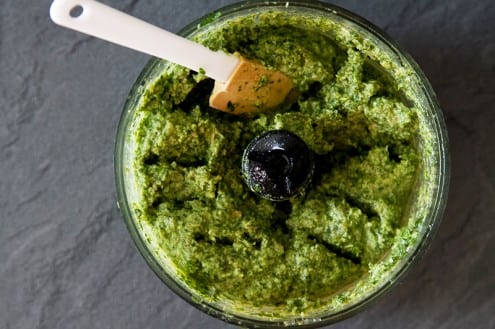 I've mentioned before that you can make pesto out of just about anything, but I'm always surprised when friends are stunned by different variations on the herb spread. My favorite is with beet greens, spicy radish greens, and most recently, this carrot greens pesto.
We've received lovely carrots from the CSA this year, and I usually keep the greens in the freezer, along with my other trim, to use to make vegetable stock. When this batch arrived I was in the mood for pesto, and it was as easy as that. We had a big jar of sunflower seeds so I subbed those for the nuts, plus the regular olive oil, lemon juice, cheese, and garlic mix. A quick buzz in the food processor and we had a nice pesto to snack on. It was lovely with the radishes, which also came from the farm, on top of wheat crackers.

Carrot Green and Sunflower Seed Pesto
Carrot greens and sunflower seeds are a new take on a versatile pesto spread that pairs well with hearty crackers.
Ingredients
1 bunch carrot greens and stems, washed and dried
1 garlic clove
¼ cup sunflower seeds
¼ cup Parmigiano Reggiano
½ cup olive oil
2 tablespoons freshly squeezed lemon juice
Salt
Freshly ground black pepper
Instructions
Combine the carrot greens, stems, garlic clove, sunflower seeds, and cheese in a food processor.
Buzz until a chunky texture begins to form, then add in the olive oil and lemon juice and process until the mixture is thoroughly combined and desired consistency.
Season with salt and pepper.
Katherine Sacks
Katherine Sacks is a Berlin-based freelance writer and recipe developer specializing in travel, food, lifestyle, and health topics. A graduate of Drexel University's culinary arts department and Northwestern University's Medill School of Journalism, Katherine combines seven years of restaurant experience with her reporting and editing background. Her work has appeared in Chicago magazine, the Chicago-Sun Times, and FoodandWine.com, among other publications. She also contributes to culinary trade publication StarChefs.com, Forbes Travel Guide, and Snooth Eats, and blogs at LaVitaCucinare.com.