Chef Tomi Björk explores and explains the wide array of street food options in Helsinki.
By Mariaana Nelimarkka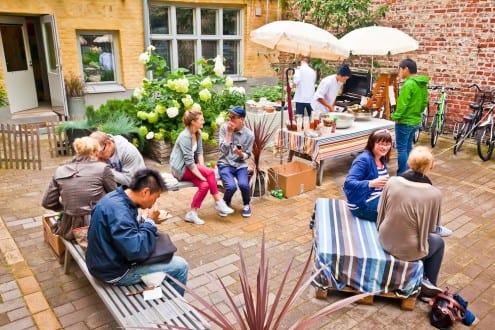 Street food is craved by connoisseurs and budget travellers alike. Street food also provides a quick introduction to the national culinary culture, presenting local flavours in their simplest forms. At its best, street food can be refined into delicious cuisine.
The new street food culture in Helsinki offers an easy way to explore the flavours of the world. A tour with local chef Tomi Björk in the city centre takes us to Mexico, Vietnam and the Middle East. When Tomi himself travels, he always samples the local street food.
"I love to tour the world and taste the authentic flavours. Of course I visit the restaurants that have been recommended to me, but I also always taste the street food that the locals eat. The stalls often serve different types of food in daytime and at night, so I often pay them repeat visits throughout the day," Tomi tells us.
Mexican food at Cholo
The tiny Mexican restaurant Cholo on Lönnrotinkatu has established quite a reputation in just a few months. Its menu is short and to the point: beef, chicken or vegetarian burritos.
"Burritos have to be fresh and made to order. I don't mind waiting for quarter of an hour if necessary, as long as I get a freshly made burrito!"

After a long morning of Brazilian jujutsu, Tomi Björk satisfies his appetite with a beef burrito that is perfectly spicy without obliterating the flavour.
"You can taste the main ingredient, but there is a lot more too. Beans, salad, avocado and sauce give it a kick and make it nice and filling. Everything is really fresh," Tomi enthuses.
Unlike the Mexican street food that is usually served in the US, the ingredients used at Cholo have been refrigerated all the way from the source, so the freshness is guaranteed. In terms of flavour, the burritos served by Cholo compare favourably with the best that Tomi has tasted around the world.
The owner of Cholo also runs the Patrona Modern Mexican Kitchen on Annankatu, which has become super popular in just a short space of time. Tomi Björk has managed to get a table there once in a while and considers its lamb dishes in particular to represent the very best street food.
"The lamb broth and lamb tacos is a dish that is very well thought out by the chefs and really brings out the flavour."
Manu, the owner of Cholo and Patrona, tells us that this kind of lamb dish is typical street food in his hometown of Mexico City and is very popular after a night of partying.
Tomi Björck loves how Helsinki's new street food vendors are offering places to eat to suit all kinds of different occasions.