Carrot bars made healthy with whole wheat flour, applesauce, coconut oil, and Greek yogurt in the frosting.
By Taylor Kadlec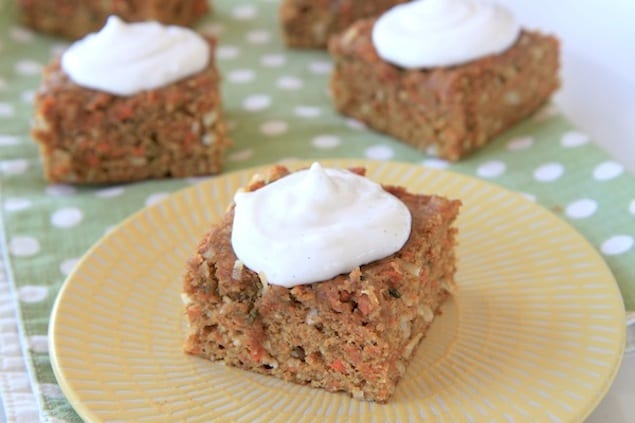 This cake, unlike most oily carrot cakes, has much less grease to it. Since carrot cake is a pretty hefty cake to begin with, with all of the shredded carrots, coconut, nuts, raisins, whatever else you care to throw in there, I didn't think that using mostly whole wheat flour would make much of a difference. I traded 3/4 of the all-purpose for whole wheat and didn't even blink an eye at the texture of the cake. You could try using all whole-wheat flour but I don't mind a little of the regular stuff.
I also traded most of the oil for unsweetened applesauce and for the remaining amount of oil I used melted coconut oil which went perfectly with the shredded coconut. I also cut the sugar in half and these were still amazingly sweet. In the frosting I used half low-fat cream cheese and half plain Greek yogurt. The frosting isn't quite as thick as your typical cream cheese frosting because of the yogurt, but still worthy of licking straight from the beater. Which is, obviously, the true test of a good frosting or batter. For my add-ins I nixed the nuts and raisins but you could definitely throw some in there if that's your thang. I'm just not a fan.
After all of these healthy substitutions, these bars were still delicious! They would be great on Easter when you want some carrot cake but perhaps something a little lighter after a meal of ham and scalloped potatoes. We ate them for dessert, for a snack, and even for breakfast. There are, afterall, vegetables in them which automatically qualifies it as breakfast-acceptable.

Carrot Cake Bars with Greek Yogurt Frosting
Carrot bars made healthy with whole wheat flour, applesauce, coconut oil, and Greek yogurt in the frosting! This recipe can easily be halved and made in an 8x8" pan.
Ingredients
For the Bars
1½ cups whole wheat flour
½ cup all-purpose flour
1½ tsp baking powder
1 tsp baking soda
1 tsp salt
2 tsp cinnamon
¼ tsp ground nutmeg
1 cup sugar
1 cup unsweetened applesauce
¼ cup coconut oil, melted
4 eggs
1 tsp pure vanilla extract
4 cups grated carrots
½-1 cup shredded coconut, depending on how much coconut you like
For the frosting:
8 oz cream cheese
8 oz Greek yogurt
1 cup powdered sugar (or more if you want it sweeter)
1 tsp pure vanilla extract
Instructions
Preheat oven to 350 degrees F.
Grease 9x13" pan with cooking spray. Set aside.
In large bowl combine flours, baking powder, baking soda, salt, cinnamon, and nutmeg. Stir well to combine.
In smaller bowl, whisk together sugar, applesauce, oil, eggs, and vanilla extract.
Fold in carrots.
Add wet carrot mixture to flour mixture and stir until just combined.
Fold in coconut.
Pour into prepared pan and spread out evenly.
Bake in preheated oven for 35-40 minutes, or until a toothpick comes out of the middle clean.
Let cool completely.
To make the frosting:
Beat together cream cheese, Greek yogurt, powdered sugar, and vanilla until well combined.
Spread or pipe over cooled bars.
Taylor Kadlec
Taylor Kadlec is a lover of all things food including baking, cooking, and of course, eating. She is a self-taught baker and cook, and she shares her kitchen adventures on her blog Greens & Chocolate, where healthy cooking meets sinful indulgence.