A weeknight meal kicked up a notch with pasta tossed with creamy Burrata cheese, caramelized fennel, and shallots in a savory dish with subtle sweetness.
By Stephanie Kirkos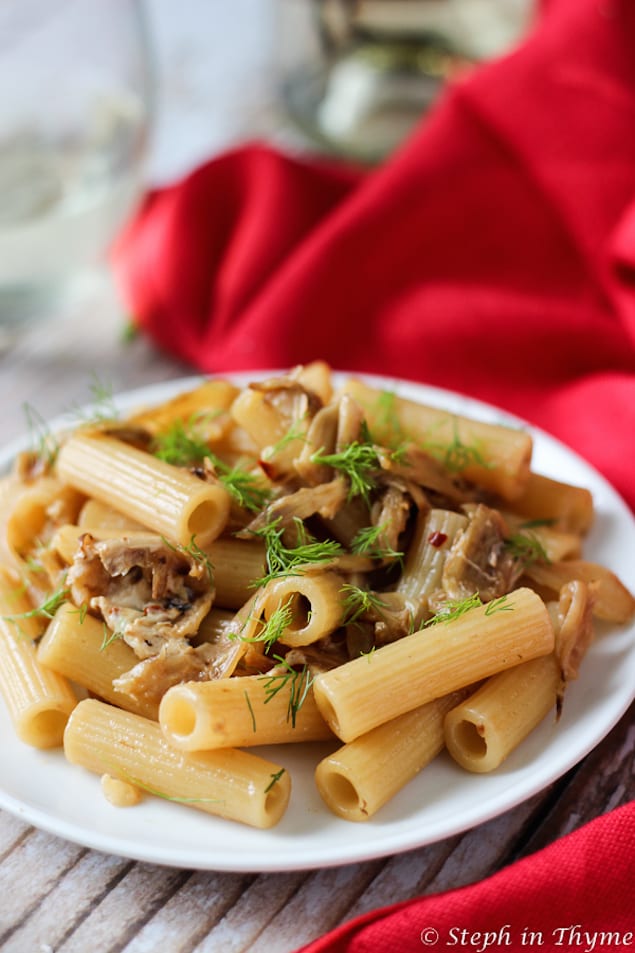 Fennel makes me SWOON. I know that's a silly statement, but "like" and "I'm a fan" just don't do fennel justice. Fennel continues to amaze me with its versatility. If you're willing to try new things and get a little creative, you can never get bored with fennel. Raw in salads? Yes. Puréed in soup? Yes. Caramelized and melted with Burrata pasta? Oh my.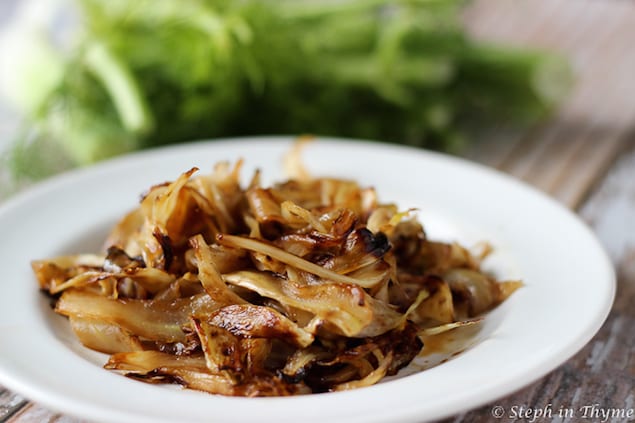 The result is a beautiful pile of caramelized fennel. It's both savory and sweet at the same time. I could have easily eaten this entire plate without completing the recipe. Caramelized fennel would make an elegant addition to a cheese plate, garnish for a bed of roasted vegetables, or even sandwiched between raspberries and brie for an gourmet grilled cheese.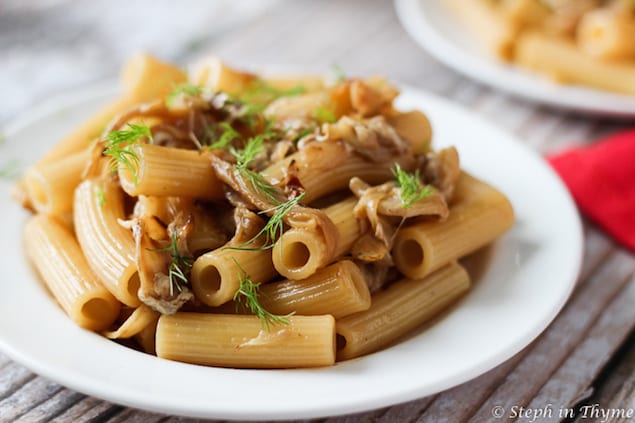 In addition to the fennel caramelized in maple syrup, diced shallot is also cooked with a touch of maple syrup. Both are added to a pot of cooked gluten-free rigatoni with a bit of reserved, salted pasta water to help those caramelized juices stick to the noodles. Burrata – a heavenly combination of mozzarella and cream – melts quickly and clings to the caramelized fennel and shallots for a bite that is both sweet, savory, and creamy at the same time. Swoon, indeed.
Print
Caramelized Fennel and Shallot Pasta with Creamy Burrata
A weeknight meal kicked up a notch with pasta tossed with creamy Burrata cheese, caramelized fennel, and shallots in a savory dish with subtle sweetness.
Author:

Stephanie Kirkos

Yield:

2

servings

1

x
Category:

Main

Cuisine:

can be made gluten-free
Caramelized Fennel
1

large fennel bulb, ends & core removed, sliced thin

1 tsp

coconut oil, divided

1 tsp

maple syrup, divided

1/4 tsp

kosher salt, divided

1 tsp

fennel fronds, reserved
Burrata Pasta
5 oz

uncooked gluten-free rigatoni or penne (can contain glu

ten

if you desire)

1/4 tsp

coconut oil

1 tbsp

minced shallot

1/2 tsp

maple syrup

1/8 cup

reserved pasta water

2 oz

fresh Burrata

1/8 tsp

red pepper flakes
Salt and pepper, to taste
Instructions
To prepare the fennel:
Wash the bulb and trim both ends (the thick base and the top stem with the fronds). Set aside a few fronds for final garnishing. Slice the fennel bulb down the middle lengthwise. Cut out the core from the center bottom of each fennel half. Thinly slice each half from top to bottom, either with a knife or mandoline.
As you caramelize the fennel, bring a large pot of salted water to a boil to get it ready for the pasta. Heat the pot to about medium so the water is boiling just as you are finishing the fennel.
Heat a large non-stick skillet over medium high heat and melt 1/2 tsp of coconut oil. Take half of the fennel slices and arrange in a single layer on the bottom of the skillet, ensuring none are overlapping. Sprinkle with 1/8 tsp salt.
Cook the fennel slices, untouched, until the bottoms are golden brown, about 3-4 minutes. Flip over onto the other side and cook, untouched, until golden brown, another 3-4 minutes. Drizzle 1/2 tsp of maple syrup over the fennel and toss to coat. Cook for an additional minute, then remove from the pan onto a separate plate. Repeat for the remaining half of fennel slices (if you do not have a skillet large enough, work in smaller batches, adjusting the salt/coconut oil/maple syrup quantities as needed).
Pasta
Cook the pasta according to package directions. As the pasta cooks, heat a small non-stick pan over medium. Melt the coconut oil, then add the diced shallot. Cook until softened, about 2-3 minutes. Add 1/2 tsp of maple syrup and cook for one minute more. Remove from heat and set aside.
Reserve 1/8 cup of hot pasta water before draining the pasta. Drain, then return the pasta to the same pot. Place the pot back on the stove, reducing the heat to medium low.
Add the cooked shallot, caramelized fennel, red pepper flakes, Burrata, and reserved pasta water to the pot. Stir to combine and season with salt and pepper, to taste. Cook for 2-3 minutes until the Burrata is melted.
Remove pot from heat and divide pasta into two bowls. (If the fennel/Burrata have melted into clumps as you are serving, just separate with a fork.) Garnish with 1 tsp of reserved fennel fronds. Serve immediately.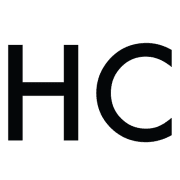 Honest Cooking
The Honest Cooking editorial team handpicks inspiring culinary stories to share with you that we think are beautiful. We strive to create an inspiring place for culinary exploration, salivating recipes, interesting personalities and stories.