These caramelized onions are delicious, sweet and savory with a bit of vinegary bite and the sauce emulates Italian agrodulce.
By Kathy Gori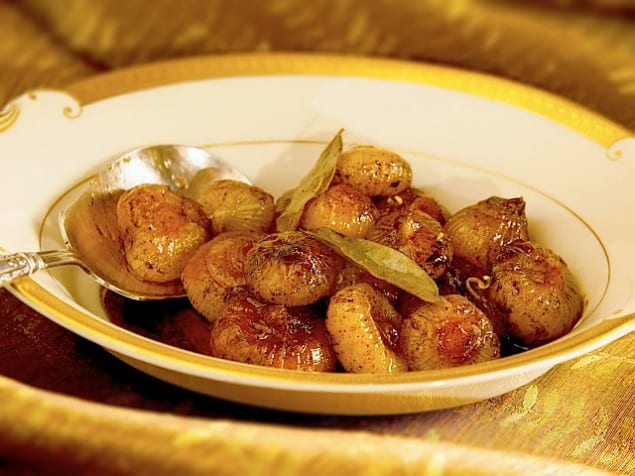 Small, flat and mild tasting, cipollini onions are perfect for roasting and also for caramelizing in balsamic vinegar for a great sweet and sour flavor.

Caramelized Cipollini Onions
Ingredients
1 and ½ lb cipollini onions
⅓ cup of sugar
4 Tbs unsalted butter
1 Tbs water
½ cup balsamic vinegar
zest of 1 lemon
4 bay leaves
3 cups chicken or vegetable broth
salt and pepper to taste
Instructions
Boil a large pot of water. When the water boils, toss in the onions.
Par boil them for about 1 minute and then drain.
Rinse them in cold water to stop the cooking process.
Set them aside to cool a bit.
Zest 1 lemon.
Mix the lemon zest with the bay leaves.
When the onions have cooled a bit, slip them out of their outer skin by cutting off the tip of the onion and slipping off the skin.
Put ⅓ cup of sugar in a skillet in a little mound.
Add 1 tbs of water to it.
Gently melt the sugar water under a moderate heat without stirring it. I rotated the pan around on the heat, sliding the dissolved sugar around until it forms a light amber colored caramel.
Take the pan off the heat and carefully stir in the butter and balsamic vinegar.
Be careful adding the vinegar, as the caramel will harden up and you'll have hard crunchy bits of sugar.
Put the pan back on the heat and stir until the caramel is melted again.
When the caramel has melted down again, add in the onions, the lemon zest, and the bay leaves.
Stir everything around, and add in the broth.
Bring the whole thing to a boil, then add salt and pepper to taste, turn the heat down and let everything simmer over a low heat until the onions are glazed and the liquid is syrupy. This takes about 1 and ½ hours.