Just the right amount of spice paired with creamy soft potatoes, crunchy peppers and fragrant basil.
By Sawsan Abu Farha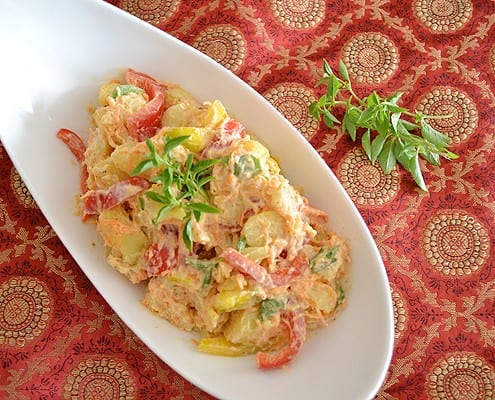 There are times when I complain about things not going the way I want them to in my life.Whenever I do my dad reminds me of the 100 theory..
In short, it is that each one of us has a total score of 100 for  the various aspects of  life( health, intelligence,  looks, family, marriage, kids, money…etc).For each and every person out there, the total is always 100 . Some people score high in intelligence and family but on the other hand they are not doing so well in the looks department. Others have money and beauty but their marriage is falling apart or maybe they have a great family, money and looks but they are sick..
I have my days when I wish I had it all  or when the longing for what I miss takes over.Then my dad reminds me of that theory and I feel a little better because I know that no matter how much I whine, deep down I wouldn't exchange the blessings I have  for the things that I miss.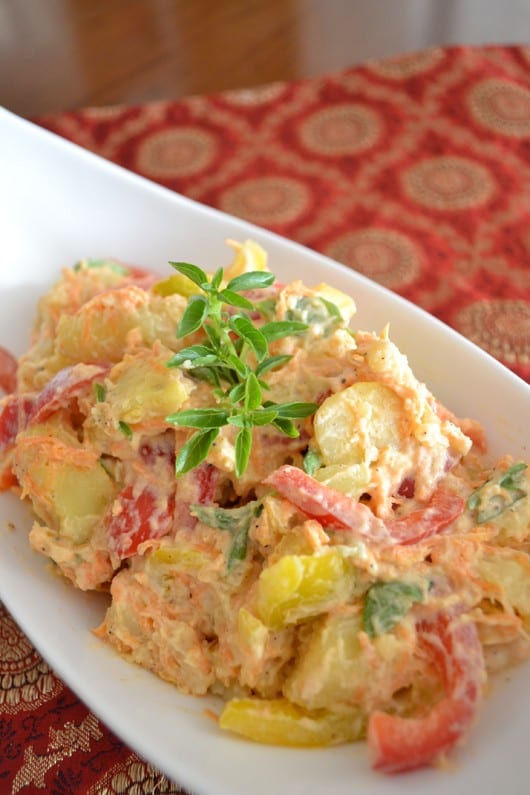 Keeping with the 100 theme, I wanted to make a healthy potato salad and if you had ever tried to make a healthier version of any recipe you would know that when you take out the fat, a big part of the flavor goes with it. I wanted a potato salad that was healthy but I also wanted it to be flavorful and satisfying. The answer was to use bold strong flavors so as not to miss the fat and the richness and so the cajun inspired potato salad was born.
Cajun Inspired Potato Salad
Just the right amount of spice paired with creamy soft potatoes, crunchy peppers and fragrant basil
Ingredients
4-5 medium potatoes peeled cubed and boiled
2-3 (28-43 g)teaspoons of the home made Cajun spice (recipe follows)
½ red pepper cut into strips
½ yellow pepper cut into strips
2 tablespoons (30g )light mayonnaise
2 tablespoons (30 g) greek yogurt
a small bunch of basil
home-made Cajun Spice
1 tablespoon (15 g) sweet paprika
1 tablespoon (15 g)coarse sea salt
1 tablespoon(15 g) freshly ground black pepper
1 tablespoon (15 g)garlic powder
1 tablespoon (15 g)onion powder
2 teaspoons (30g)creole seasoning
teaspoon (2.5g)ground allspice
Instructions
Boil the potatoes in salted water until fork tender
drain them and sprinkle Cajun spices on them while still hot
Add the pepper ,mayonnaise,yogurt and basil
Toss gently to combine
chill before serving..
enjoy