What to do with a massive three day vacation? Hit the food market of course.
By Elizabeth Ellory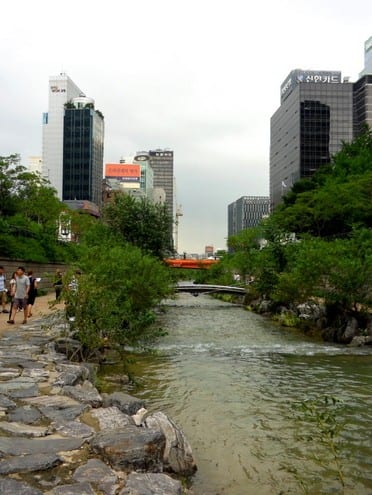 We enjoyed a massive three day vacation this summer from our jobs in Masan, South Korea. This gave us the motivation to really make the most of our time off and explore some of the finer food hotspots of Korea.
My boyfriend, Tom and I headed up to Seoul with our friends and although we missed our bullet train by 5 mins (we saw it pulling out the station from the taxi) we managed to get up there for the early afternoon  with a standing ticket. I spent rather a lot of our next pay cheque in the clothes shops of Myeongdong! On Sunday, we headed down for a washed out but very fun rock festival held at Jisan. There was a torrential downpour and we had fun and games trying to get back to our motel in Seoul afterwards as we eventually ended up paying 90,000won with a random Korean man to get a taxi back to Seoul as all the buses were full until morning!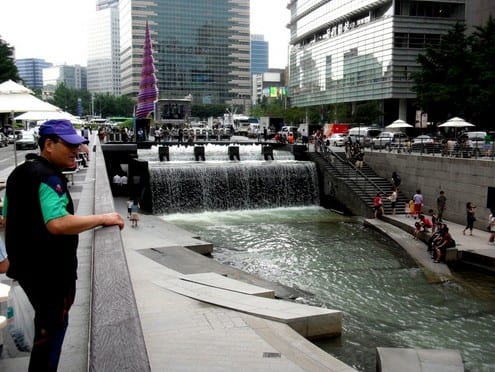 Anyway, after a very busy couple of days we took a day to explore one area of Seoul namely the Cheonggyecheon Stream area in the centre of Seoul. The stream itself used to be a decimated shanty town in the 1960s before being paved over and turned into a motorway. Dust and emissions in this busy area eventually ruined the road and in 2003 work commenced to revamp the old waterway. It is now a really pleasant place to take a walk and the stream provides a natural haven within the city. While we walked along there were many office workers dipping their feet in the water for a cooling respite from the humid weather. There are 22 bridges and 12 subway stations along the way so the walk takes a great deal out of you. We walked from the west to the east and ended up half way at Kwangjang market. What a find!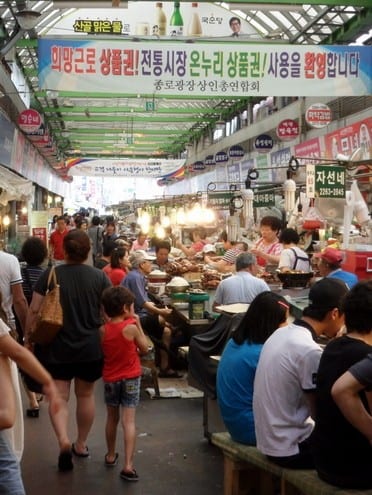 Kwangjang market, according to the uninspiring tourist information woman, is like any other market. "The guide book is exaggerating – it's nothing special," great way to promote your country to foreign tourists! It was however well worth the visit. Not only was there a maze of fabrics flamboyantly patterned to rival any of the old women's shirts in Masan, but there was also a food stall area with over 200 active and bustling vendors!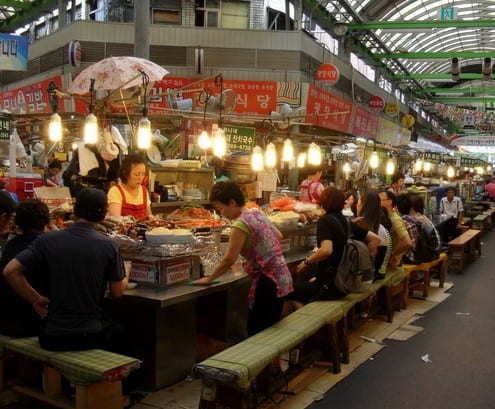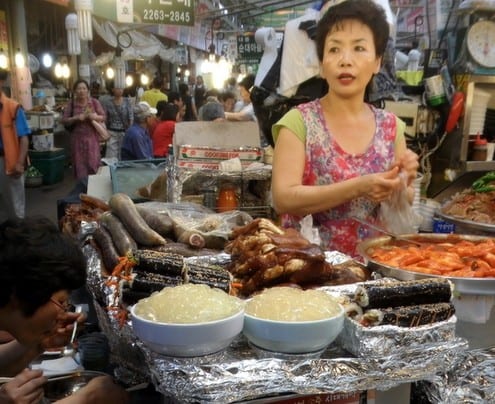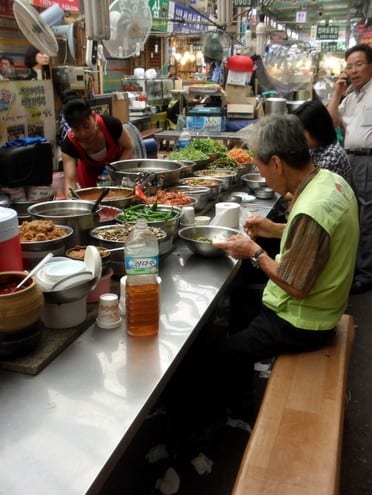 There was a 'make-your-own bibimbap' vendor where you could select your veggies from the large bowls on the counter and mix them in with your rice, whatever you fancy! There were raw seafoods, savoury pancakes, and a whole host of other traditional Korean foods including a tray of pork bits and a snout!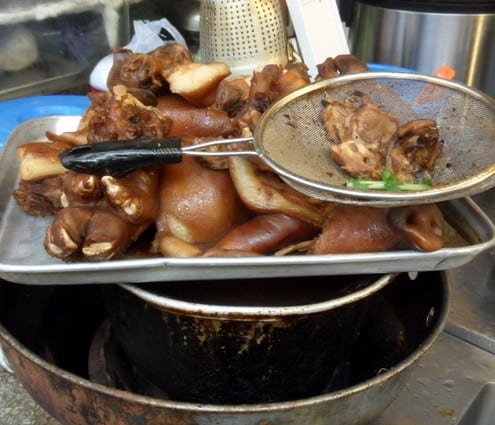 We decided to sample a few different stalls. We went for nokdu bindaetteok- a savoury pancake made from mung beans which tasted like a hashbrown. We also had some tteokbokki – spicy rice cakes in a red pepper sauce. Gimbap – sushi style vegetable rolls. We rather tentatively ordered some sundae – noodle and blood sausage served in an intestine…and finally some roasted pork – from a pigs ear.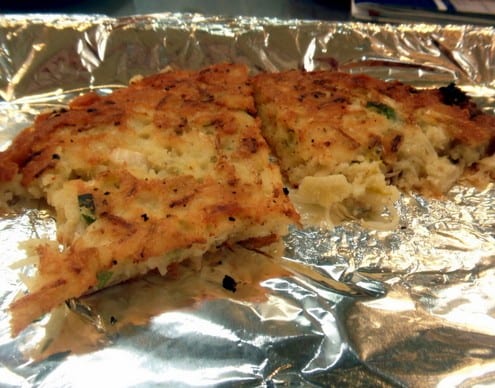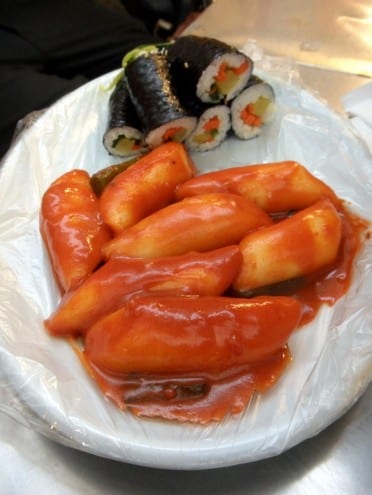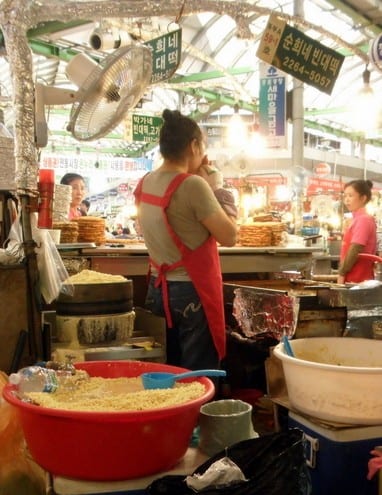 We washed it all down with some fermented rice wine – makkoli. Tom was the only one who really went for it with the blood sausage but it was really interesting to see the traditional foods in a bustling and busy market. The pictures don't do it justice! If you are ever in Seoul, you should definately check out this amazing food market.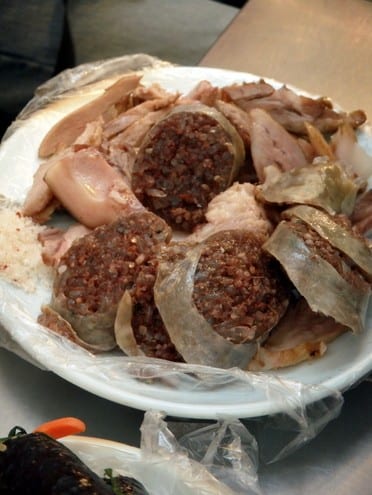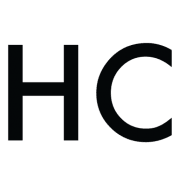 Lizzie Ellory-Hoare
Lizzie Ellory-Hoare is a passionate food blogger currently based in Harrogate, UK. An English baker from a young age, Elizabeth finds much enjoyment in tasting, reading about and cooking interesting and delicious food. Lizzie returned to England following working in South Korea where she began to share her foodie finds as she explored new cultures. She worked extensively in the kitchens at a well known Cafe Tearooms in Nth. Yorkshire and now trains young professionals in the catering and hospitality industry. You can follow her on her blog Lizzie's Tasty Journey.