PARTNER POST: Reinvent potato recipes to be fresher and lighter in the new year. Make it your resolution to try these dishes as nutritious packed lunch ideas.
Filled with nutritious potatoes and fresh spinach, this crispy tart is made with a crispy, buttery and cheesy crust. A beautiful appetizer or dinner party side.
By Manuela Mazzocco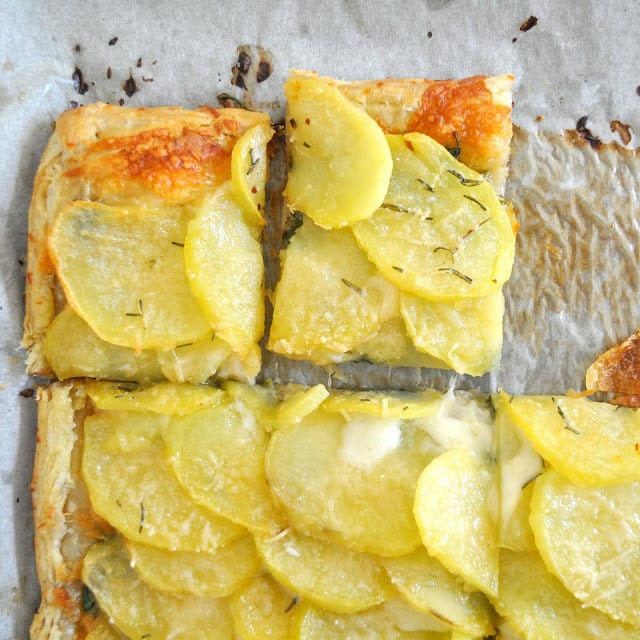 I present you with this light, vegetarian and deliciously healthy tart stuffed with tasty, oven-roasted potatoes, sautéed spinach and melted cheese.
Potatoes are such a fun and versatile ingredient. Naturally fat-free, sodium-free, cholesterol-free and, of course, gluten-free. Packed with fiber, and lots of important nutrients which, among other things, may help lowering your blood pressure, lower your blood cholesterol, and support your immune system. Potatoes are a great source of potassium, iron, vitamin C, and vitamin B6. Did you know that potatoes have more potassium than bananas, and more vitamin C than tomatoes?!? Simply amazing!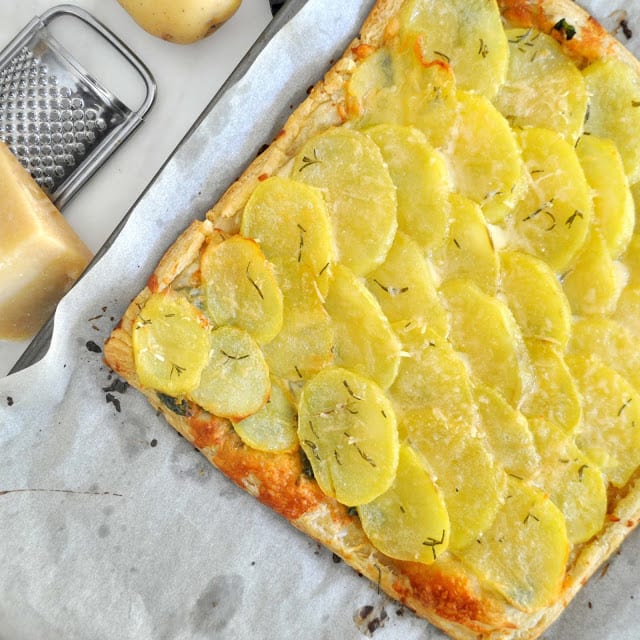 In my recipe today I used yellow potatoes. Soft and subtly sweet. Rich and buttery. Flavorful and incredibly tasty, especially when baked to perfection, with a sprinkle of fresh rosemary and a drizzle of extra virgin olive oil.
You can serve this tart as you would for a quiche, for brunch or as a light dinner with a big green salad. Either way, this step-by-step recipe will show how easy it is to make.
See Also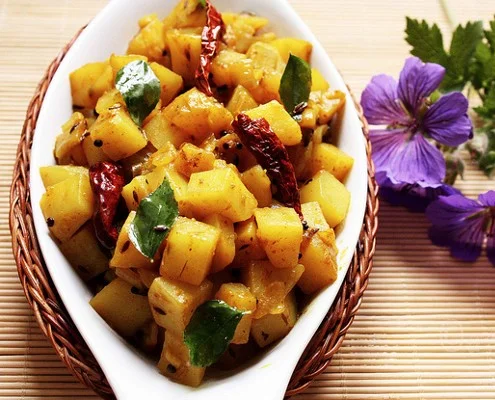 [fve]https://www.youtube.com/watch?v=zRY-WrOfQmw[/fve]
I used frozen puff pastry for the dough, which makes the job super-fast. Just thaw the pastry, partly bake the potatoes savored with rosemary, sauté the onions with fresh baby spinach, assemble the tart (don't forget the cheese!!) and throw in the oven. So easy, beautiful and delicious.
Here's another great way to use potatoes:
Print

Buttery Potato Spinach Tart
---
Author:

Manuela Mazzocco

Yield:

1

-

9

x9 tart

1

x
Description
Filled with nutritious potatoes and spinach, this crispy tart is made with a crispy, buttery and cheesy crust. A beautiful appetizer or dinner party side.
---
1

sheet of puff pastry – I used frozen puff pastry made by Pepperdige Farm (the box comes with two sheets,

8.7 oz

(245 gr) each)

4

medium yellow potatoes (about

1.5

lb (

680

gr) – I used Idaho potatoes)

2 tablespoons

of olive oil (divided)

1

rosemary sprig (chopped)

1

small onion sliced

3 oz

85 gr of fresh baby spinach

1/2 cup

50 gr shredded mozzarella cheese

1/2 cup

50 gr shredded sharp provolone cheese

3 tablespoons

15 gr freshly grated Parmesan cheese

one tablespoon

of milk (for the crust edges or

one

bea

ten

egg)
half tablespoon of butter (for the top)
salt
---
Instructions
Remove the puff pastry from the freezer and let it thaw at room temperature for about 30 minutes, while you prepare the rest of the ingredients. Preheat the oven to 375° F (190° C).
Peal and cut the potatoes into thin slices, about 1/10 of an inch (2 mm) in thickness.
Layer the potato slices on a baking sheet, covered with parchment paper (it will make it easier to clean the pan and to remove the potatoes without scratching the pan).
Drizzle with one tablespoon of olive oil, salt to taste and sprinkle with chopped, fresh rosemary.
Bake the potatoes for about 20 minutes until mostly tender. You will bake them a little more later.
In a large frying pan, sauté the sliced onion in one tablespoon of olive oil. Cook over medium-high flame for about three minutes, until golden and tender.
Add the baby spinach, and salt to taste. Let cook for a couple of minutes, until the spinach wilt down.
Unwrap the dough, and place it on a baking sheet lined with parchment paper. Fold up a little bit of the edge all around, maybe about 1/5 of an inch (5 mm). Spread the spinach/onion mixture evenly over the dough, leaving out the edge. Sprinkle the top with the shredded mozzarella and provolone cheese, or your favorite cheese.
Layer the potatoes on top. You can make a nice ordered layer like I did, or not! Careful not to burn your fingers, if the potatoes are still hot.
Sprinkle the top with freshly grated parmesan cheese, and a few slivers of butter.
Brush the edges of the dough with milk (or a beaten egg).
Bake in the oven at 375° F (190° C) for about 20 minutes, until golden and crispy.
Serve hot or at room temperature.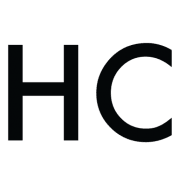 Manuela Mazzocco
Born and raised in Venice, Italy, Manuela now lives with her husband and two children in Los Angeles, California. In her blog, Cooking with Manuela, she strives to share her passion for Italian food. As a mom of two young boys, most of her dinner preparations are done while checking homework, quizzing for science tests, and looking for Lego pieces. Her step-by-step recipes help readers create delicious food while on a busy schedule. There is nothing as special as ending your day with your family or friends sharing a good conversation and a tasty homemade meal.