Brown butter and a balsamic glaze makes this layered potato cake an instant winner for a dinner side or packed up for lunch on the go.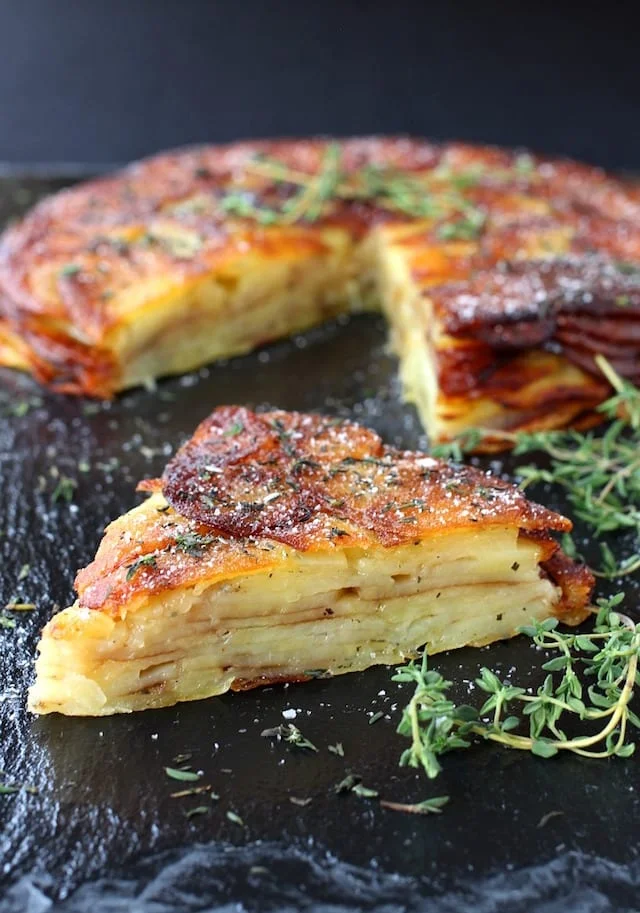 We cook a lot around our house.
And if it's too much for one day we pack it up to go. In our lunches or the kids lunches – our kids definitely win in the lunchroom for the best lunch box food! Not too many peanut butter and jelly sandwiches for them…it's usually something left over from the night before.
This Brown Butter and Thyme Potato Cake is a perfect example of a side dish for dinner turned into a light lunch the next day. And no need to worry about heating this one up, it's just as tasty cold, I promise you.
What makes this potato torte out of control good is the brown butter combined with the balsamic glaze. We looked at a lot of these torte recipes, sometimes called "Potatoes Anna" and they looked amazing but had TONS of butter. Not that anyone around here is opposed to tons of butter, but we wanted to try and lighten it up a little and that's where the balsamic glaze comes into play. It adds tons of flavor and it works perfectly in this recipe.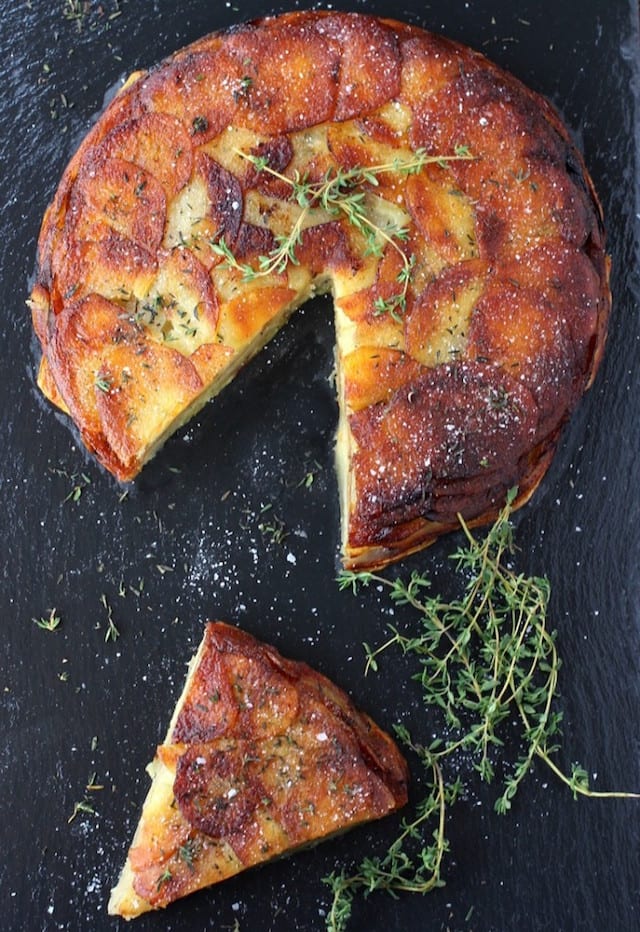 We go through so many potatoes in our house, it's good to know how good they are for you too! Did you know that one potato has more potassium than a banana? Potatoes are an excellent source of Vitamin C too – more than a tomato….and there are only 110 calories for a medium sized potato.
Serve it alongside dinner then pack it up for lunch the next day. Or before that, even with your eggs in the morning. So good you can't stop at one slice!
Print
Brown Butter and Thyme Potato Cake
Brown butter and a balsamic glaze makes this layered potato cake an instant winner for a dinner side or packed up for lunch on the go.
Author:

Dan George

Category:

Side
4

lbs. yukon gold potatoes

6 tablespoons

butter (divided)

3 tablespoons

fresh thyme (chopped)

¼ cup

balsamic glaze

1½ tablespoons

salt

1½ teaspoons

fresh ground black pepper
Instructions
Preheat the oven to 450 degrees.
Peel the potatoes then slice on a mandoline into 1/8″ slices.
Pour 3 tablespoons of the melted butter in a 10″ cast iron skillet over medium heat.
Start layering the potatoes into concentric circles in the skillet until you have a couple of layers down. Then sprinkle in some salt, pepper and 1 tablespoon of the fresh thyme.
Working quickly, add in another couple layers of potatoes, more salt and pepper and thyme and now a drizzle of the balsamic glaze.
Repeat with the potatoes, salt, pepper and thyme, then when you get about halfway down pour in the three tablespoons of melted butter.
Repeat with the reaming potatoes, glaze, salt, pepper and thyme until you're done.
Press down firmly with an 8″ dinner plate or cake pan and then transfer the skillet to the oven for 30 minutes.
Carefully remove the skillet to the oven and press down once again with the cake pan.
Return to the stove and cook another 25 minutes.
After the torte has cooled slightly, run a knife around the edges of the skillet and then flip out onto a large plate and cut into wedges. See note*
Notes
To flip the torte out of the pan, place a dinner plate on the top of the torte with one hand and grab the skillet with the other hand (use a hot mit!)
Then flip the skillet upside down and now the torte will be on the plate. Slide off to a cutting board to slice.
Dan George
Born and raised in New Jersey, Dan started the web site Mantitlement as a way to learn how to cook for the first time from his wife, Christie. Christie has always been the primary cook in the household and Dan got used to having her three-course, restaurant quality meals for dinner every night. Well, it was time he learned how to do some cooking on his own, and that's how Mantitlement got started. Dan believes that everyone is entitled to having great food and drinks at home...and he can show you how to make them with his collection of recipes!