Brown Rice Congee with Cumin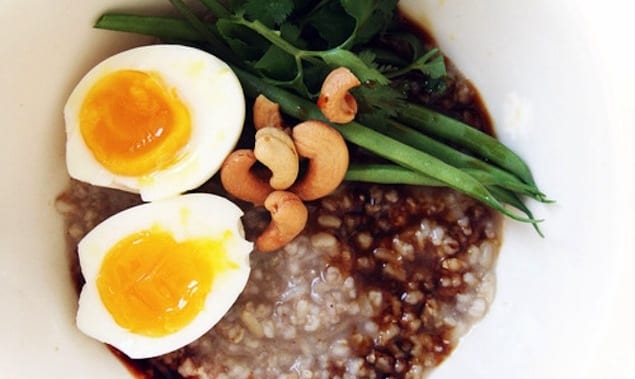 Congee, a traditional rice porridge eaten throughout Asia, is known to be the ultimate comfort food. Top with a soft boiled egg and available vegetables.
By Mariela Alvarez Toro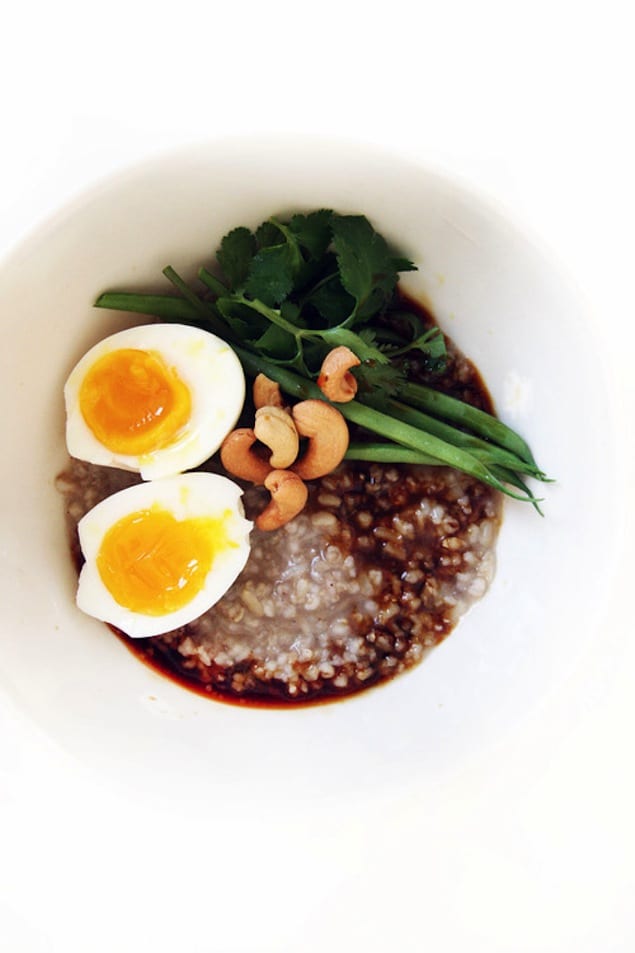 To make congee, rice is cooked slowly in lots of water over an hour and a half. Over this period, the rice will begin to break down into a thick porridge. This variation is infused with sesame oil and cumin, for extra earthy flavor undertones. As toppings, I chose to use cooked green beans, cilantro, cashews, and a soft boiled egg, but feel free to experiment with broccoli, radishes, bok choy, sautéed spinach, or any other leafy green for that matter. The combinations are endless! The key to success here is to drizzle everything with a splash of soy sauce for extra oomph. The soy sauce adds enough umami and salt to make this dish not only nourishing and comforting, but delicious and addictive.

Brown Rice Congee with Cumin
Congee, a traditional rice porridge eaten throughout Asia, is known to be the ultimate comfort food. Top with a soft boiled egg and available vegetables.
Author:
Mariela Alvarez Toro
Ingredients
1 cup brown rice
8 cups water
1 tsp. sea salt
½ tsp. sesame oil
1 tbsp. cumin powder
To serve:
Soy sauce, or Tamari
String beans, or vegetable or choice
Handful of cilantro
2 tbsp. cashews or peanuts, per person
1 soft boiled egg, per person
Instructions
Soak rice in fresh water for thirty minutes. Strain, then place in a large pot with salt and five cups of water. Bring to a boil, and then reduce heat to medium low. Cook for thirty minutes. Add sesame oil and cumin powder. Reduce heat to low. Add 3 cups of water over the next hour, stirring occasionally. Congee will be ready when rice breaks down into a thick consistency. (Should resemble rice pudding or risotto.)
To soft boil eggs, place eggs in a small saucepan with enough water to fully cover the eggs. Bring water to a boil. Remove from heat, cover, and cook for exactly five minutes. Remove from saucepan immediately and run eggs under cold water for at least a minute. Crack shells off egg and set aside until ready to serve. This technique should give you perfect soft-boiled eggs. The whites should have set completely, and the yolk should be runny.
To serve, place about a cup to of congee into a bowl. Garnish with cooked string beans, or any other vegetable of choice, a handful of cilantro, cashews, and a soft-boiled egg, sliced in half. Add a splash of soy sauce over congee, and eat immediately.
Mariela Alvarez Toro
Recently graduated with from Harvard University's Graduate School of Design. She has recently completed "People in Food-Space", an ethnographic study on the cultural production of taste in space. She has also examined post-soviet food production systems and housing projects in Havana, Cuba. Originally from Puerto Rico, Mariela has been living in the United States for eight years. She has involved herself in both teaching and practice, while writing on food at tastyplan.com. Her goal as a food writer is to cook creatively, using the best ingredients to find new flavor combinations every day.