Brown Butter Cookies with Salted Caramel Center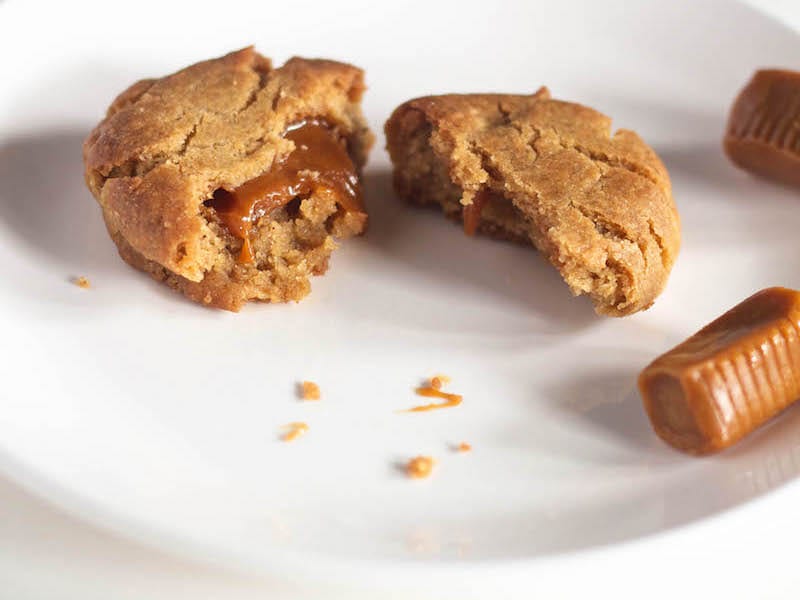 These salted caramel cookies are ridiculously easy to make. Stuffed with caramels these brown butter flavoured cookies ooze with molten caramel lava in every bite.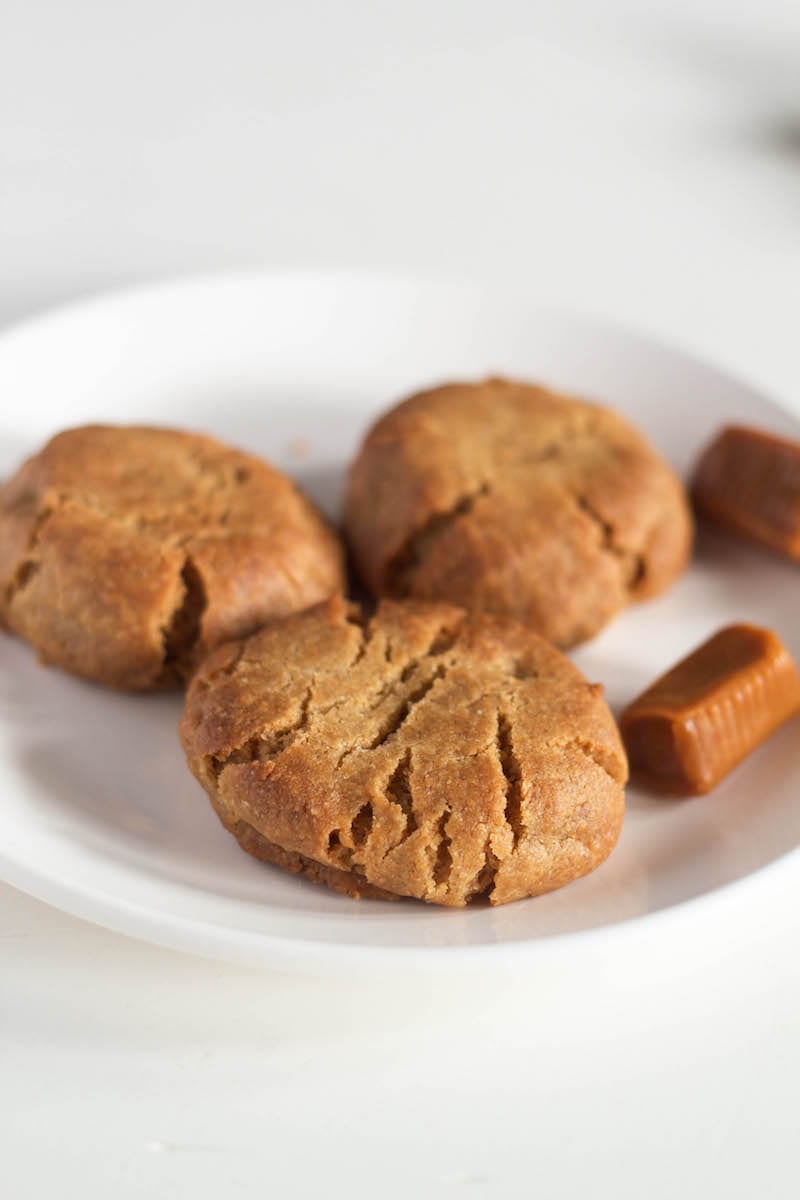 Simple cookies are one thing but stuffed cookies are a game changer, you guys! It's like the best of both worlds sandwiched into one. Imagine biting into a cookie thinking its just a plain old cookie and then realising that it clearly isn't? Like what you see? Yeah, that's what I'm talking about!
You can basically stuff the whole wide world inside a cookie! Like chocolate? Stuff it in! In this case, I've done the deed with butter toffees or what is more commonly known worldwide as soft – chewy caramels.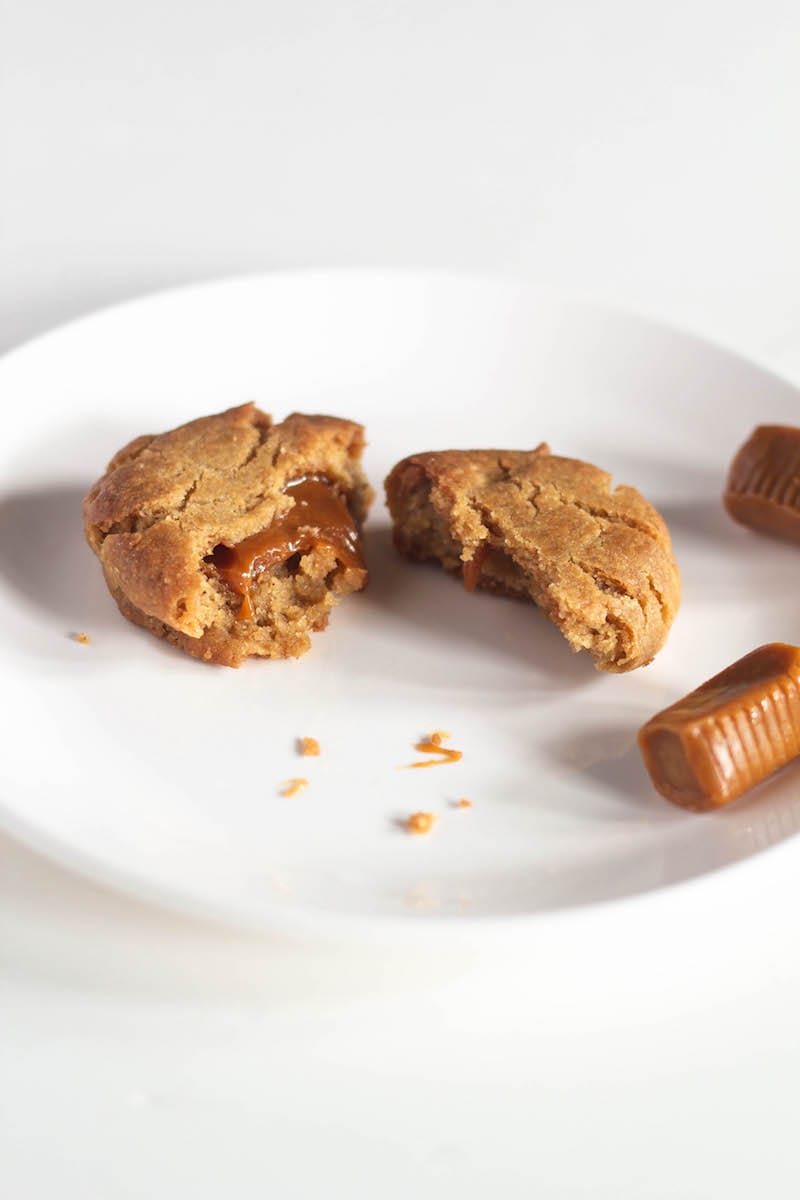 These cookies are so special to me because I literally fell in love with them right at the first bite! Seriously, I'm not even kidding! I wanted an oozy shot for the cookies so you could legit feel what I was feeling at that time! This oozy shot that you see in the photos is literally my second attempt because when I did it the first time, I straight out went to take a bite and then before I knew it, I'd lost all sense of my will power and the cookie was gone! Like completely demolished!
I know that these caramels by themselves are irresistible, right? Wrong! I have one more weapon that'll make you weak in the knees and I guarantee you'll be making these immediately. I've also added brown butter to these! what!!!!???
Oh yeah! These salted caramel cookies are bold and fearless and they have a personality of their own. I warn you though, it's going to be very difficult to resist these once they're in front of you! The bets thing to do is quickly gobble up one and give the rest away before the guilt trip begins!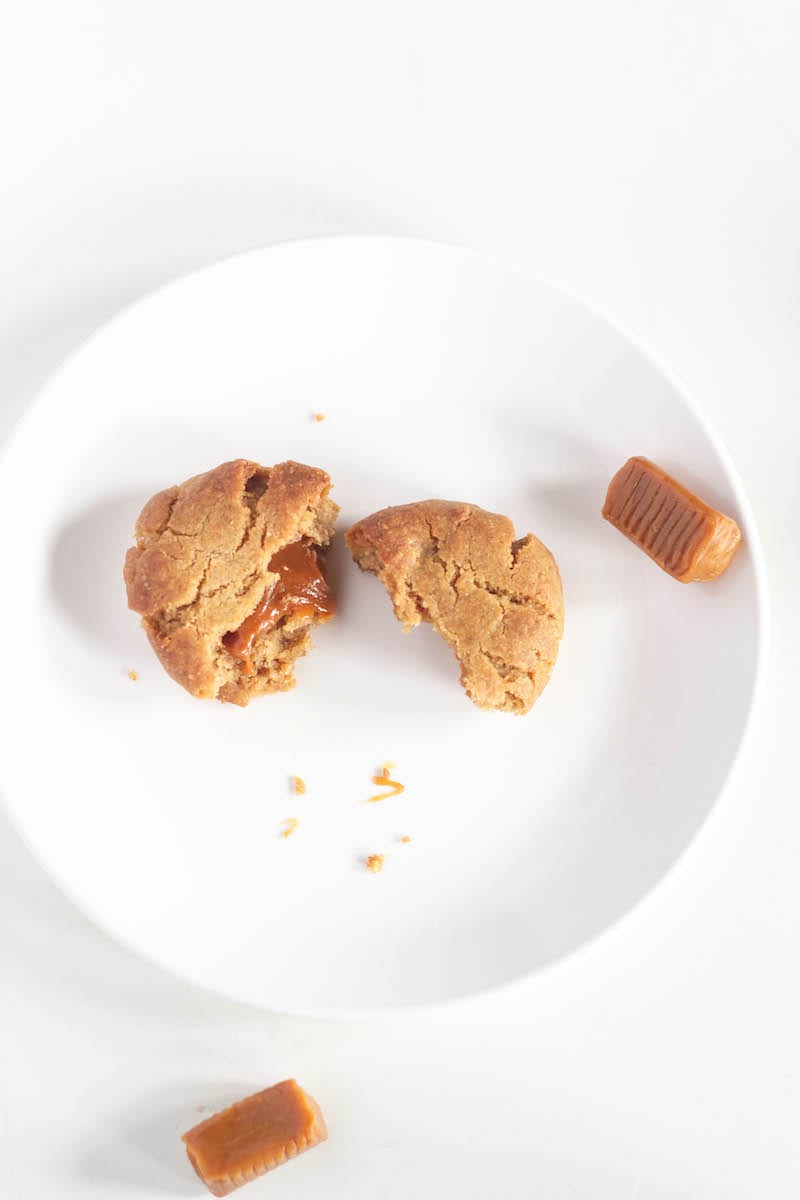 Brown butter and caramels are such a sinful combination, they're the perfect partners in crime. The nutty, bitter butter complements the buttery caramel so darn perfectly, it's a shame they don't get as much credit as they should! But you don't be one of those people who ignores this combination.
Also, in this recipe for the salted caramel cookies, I've used salted butter as my salty element. However, if you use unsalted, you can add a tiny pinch of salt to the dry ingredients.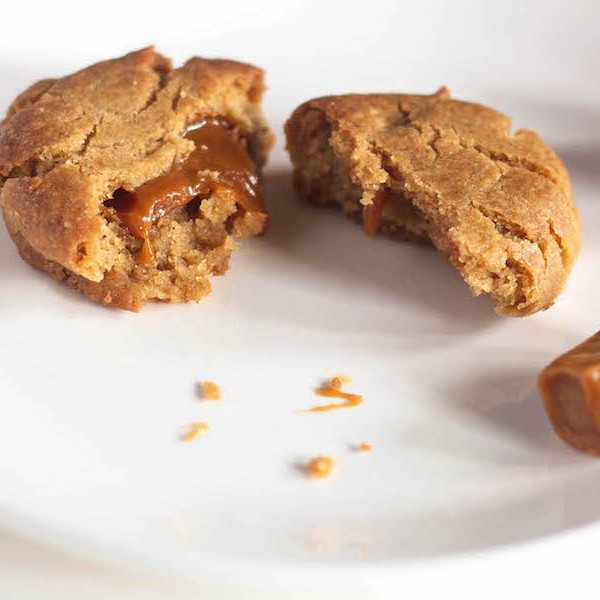 Samina Patel
Ingredients
50

grams

butter

browned

30

grams

caster sugar

30

grams

brown sugar

80

grams

all purpose flour

1/4

th teaspoon baking soda

1

tablespoon

milk

4 - 5

caramels / butter toffees

frozen
Instructions
Preheat oven to 180 degrees Celcius.

In a clean mixing bowl, add the brown butter and both sugars and mix well till combined.

Whisk together flour and baking soda to combine well and then add to the butter and sugar mix.

Mix well till it comes together.

Add milk to make the dough pliable.

Knead it briefly only till it comes together.

Measure out 1 tablespoon of dough twice. Flatten both balls evenly and thinly.

Place a caramel / butter toffee on one flattened dough and cover with the other. Roll until a uniform round ball forms.

Repeat with the rest of the dough.

Place the dough well away from each other since they do spread a little.

Bake in the oven for 14 - 15 minutes, turning them halfway through so they're evenly baked.

Transfer to a cooling rack to cool for at least 20 - 25 minutes before tucking in.
Samina Patel
Just a simple girl with a fancy camera and a well greased cake tin.