Broccolini Eggs Benedict with Meyer Lemon Hollandaise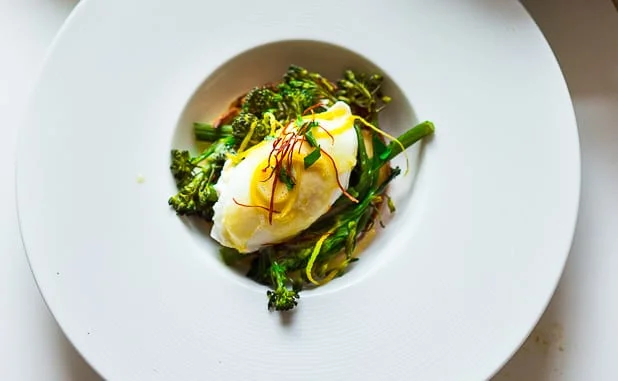 Conquer brunch with a delicious stack of broccolini topped with a pillowy egg and Meyer Lemon Hollandaise spooned over top.
By Sylvia Fountaine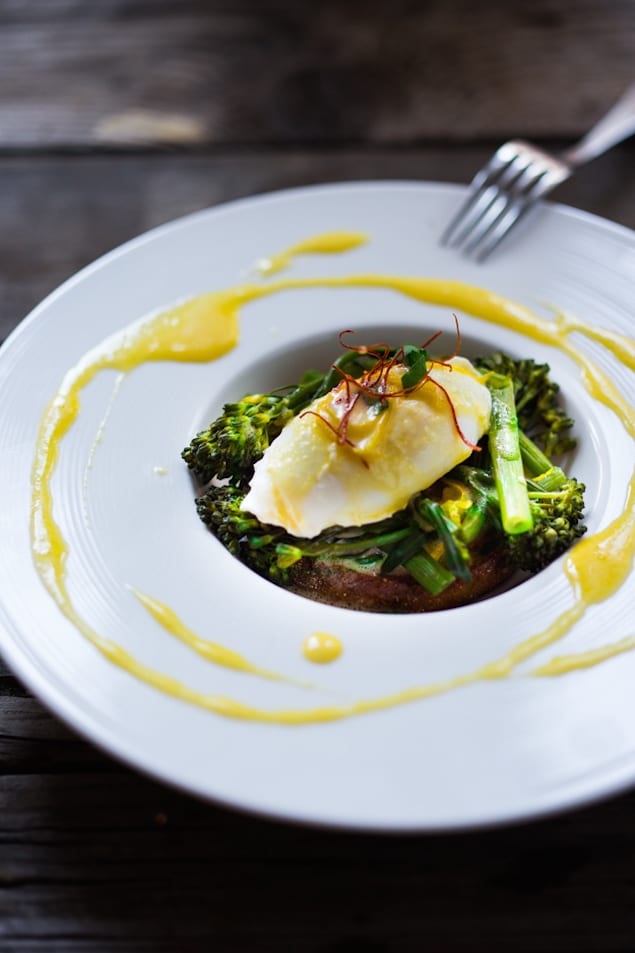 I'm always on the lookout for a good version of Eggs Benedict without the ham. This one has a delicious stack of steamed broccolini topped with a pillowy egg and Meyer Lemon Hollandaise Sauce spooned over top–which makes for a truly decadent and special brunch. However- it can be simplified and made significantly more healthy by simply serving up the eggs over roasted broccolini (or steamed), sans the bread and the hollandaise, making it gluten free. The hollandaise, is truly divine, an indulgence for sure. This was inspired by a small plate chef Tony Brown created at Ruins a few weeks ago… obviously I loved it.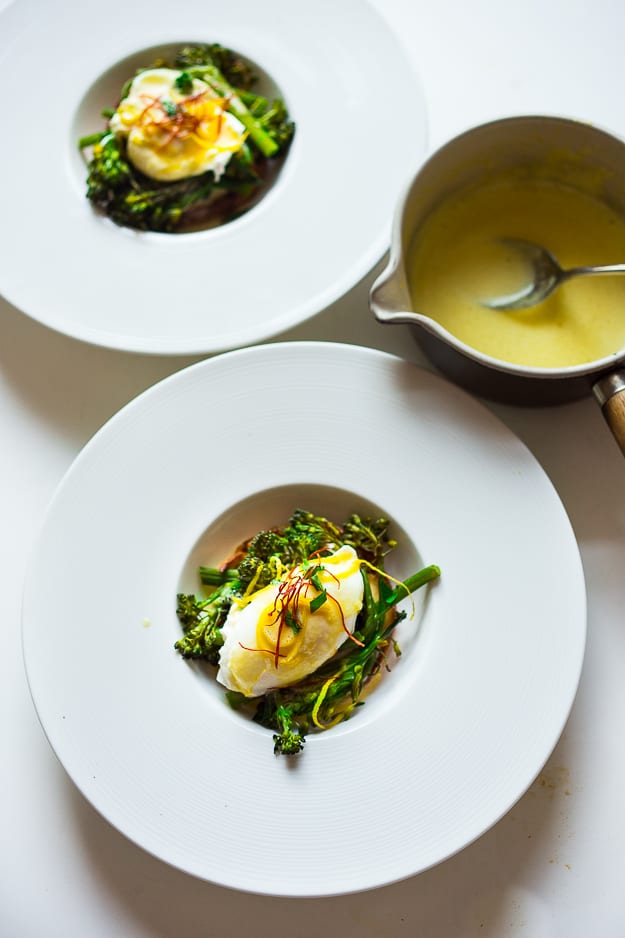 Broccolini is similar to broccoli but with smaller florets and longer, thiner stalks– which works well in this recipe. The broccolini can be roasted or steamed. Steaming seems to work better in the Benedict, allowing it to become a little more tender, and easier to cut through with a knife, keeping the Benedict more in tact. Also, steaming requires no oil, reducing the calories some. And you won't miss it with the Hollandaise sauce.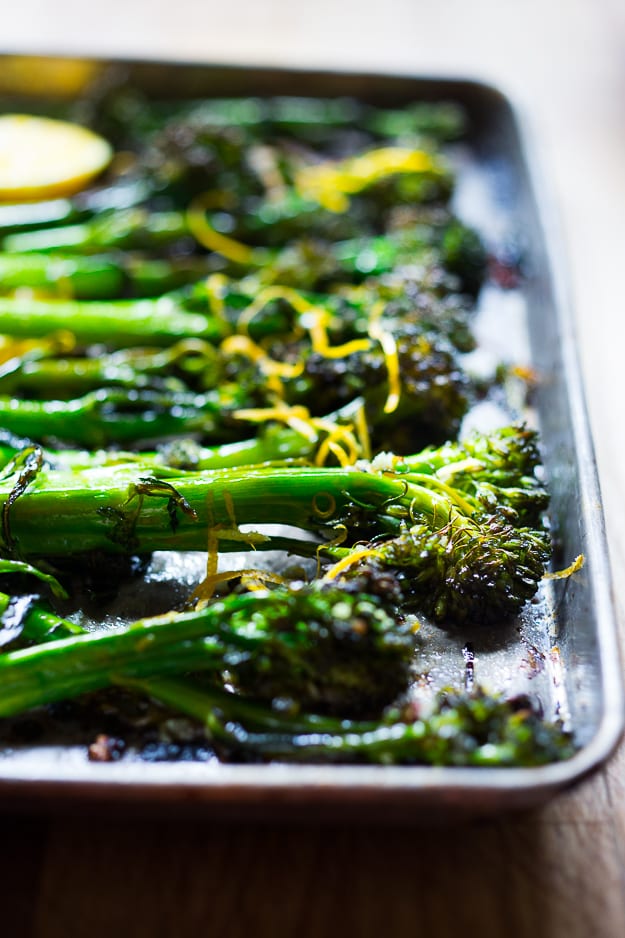 If roasting, toss with olive oil, salt pepper, lemon zest and 1 or 2 cloves of minced garlic ( optional). Spread out on a sheet pan, and roast at 400F until fork tender, turning after 15 minutes.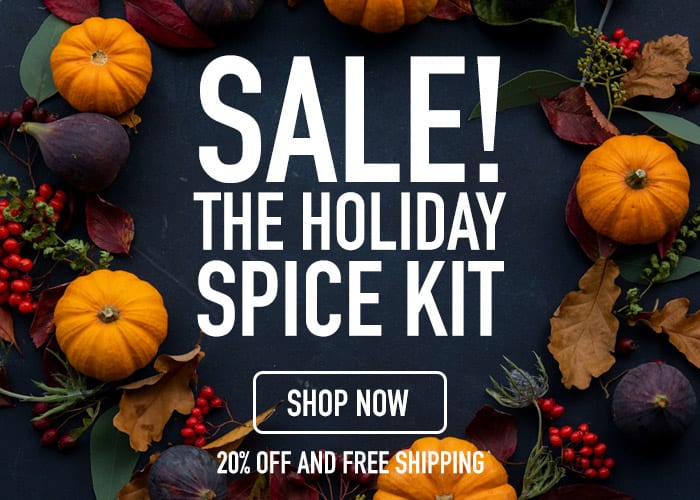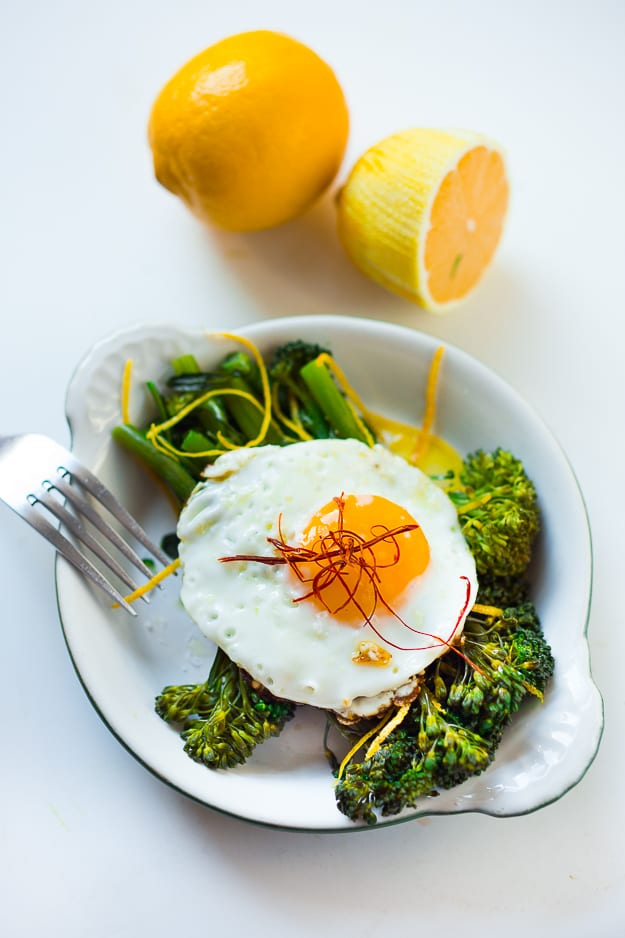 Simply top the roasted broccolini with a poached or fired egg, season with flaky sea salt, chili pepper or " chili threads" found in Asian markets, and enjoy eating veggies for breakfast!!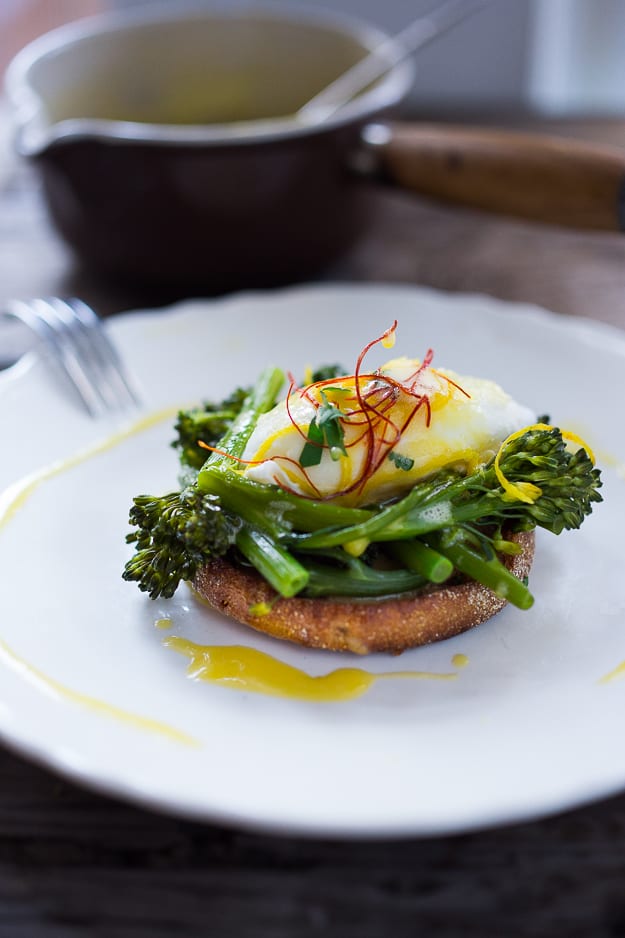 Find more flavorful recipe for breakfast or brunch here.
Broccolini Eggs Benedict with Meyer Lemon Hollandaise
Conquer brunch with a delicious stack of broccolini topped with a pillowy egg and Meyer Lemon Hollandaise spooned over top.
Recipe Type:
Breakfast, Brunch
Ingredients
4 eggs- poached or fried
8 ounces broccolini
2 English muffins- toasted
1 lemon
olive oil
Salt and pepper to taste
Meyer lemon hollandaise sauce ( see below)
OPTIONAL --garnish with flaky sea salt, pepper, chili "threads" ( or chili flakes, or Aleppo chili pepper), lemon zest and fresh chopped Italian parsley.
Meyer lemon Hollandaise sauce
4 egg yolks
½ C butter, melted
1 ½ Tablespoons meyer lemon juice ( or regular lemon juice)
Pinch salt, pepper and cayenne
Instructions
If making the full eggs benedict, with the bread, steam the broccolini until fork tender. ( If just doing the broccolini topped with eggs ( no bread) try roasting the broccolini- toss w/ a little olive oil, salt, pepper, lemon zest, minced garlic- spread out on a sheet pan and roast in 400 F oven until tender.)
Make the Meyer Lemon Hollandaise Sauce ( see below)
Poach or fry the eggs
Toast the english muffins.
To Assemble: place the english muffin on the bottom, then broccolini, season with salt, top with egg, spoon hollandaise over top and around, season again with flaky salt, pepper, chili "threads" or chili flakes ( or Aleppo chili pepper) lemon zest, Italian parsley
Serve immediately!
Meyer lemon Hollandaise sauce
Vigorously whisk the egg yolks and Meyer lemon juice together in a stainless steel bowl and until the mixture is thickened and doubled in volume. Place the bowl over a saucepan containing barely simmering water (or use a double boiler,) the water should not touch the bottom of the bowl. Continue to whisk rapidly. Be careful not to let the eggs get too hot or they will scramble. Slowly drizzle in the melted butter and continue to whisk until the sauce is thickened and doubled in volume. Remove from heat, whisk in salt and pepper and cayenne. Cover and place in a warm spot until ready to use for the eggs benedict. If the sauce gets too thick, whisk in a few drops of warm water before serving.
Sylvia Fountaine
Caterer and chef of Feast Catering Co., my blog Feasting at Home is where I share wholesome, seasonal recipes we cook at home.