Broccoli Rabe and Ricotta Calzones are a filling and delicious meal just waiting to be enjoyed. Make a wonderful Italian meal right at home!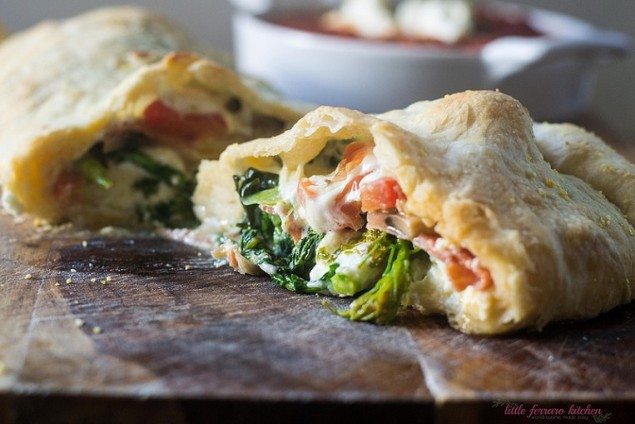 Childhood memories quickly flood as I am reluctant to turn that pizza dough over and make the pizza into a calzone. You see, I am a constant. I don't like change, yet I like challenge and this comes both in my personal life..and well..in cooking.
Pizza is on a regular basis in the Ferraro house, and we're pretty picky with how we like it too. extra sauce, (for me), thin crust, high heat and that's the way we do it every few weeks.
See Also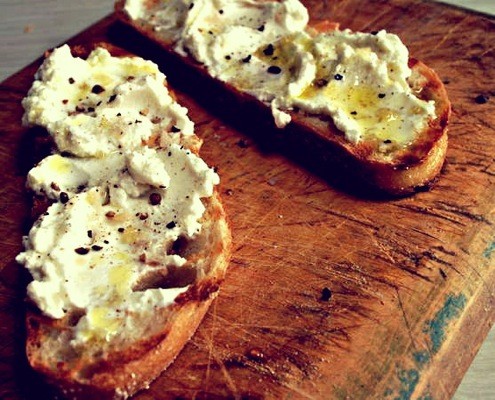 Confession. I semi-homemade this. At $3 a pop, I'm going to splurge and buy the already made fresh pizza dough from the local shop (No Pillsbury here, but I won't judge). Keep it simple people, take it out of the package and leave it on the counter for about an hour to get to room temperature. This will also help the dough relax and make ti easier to roll out. Then…the fun begins. Get your toppings and fill 'er up, baby! My only suggestion (and peeve), don't include the sauce in the calzone, save that for the side. This is a calzone after all, and any good soul East Coaster knows to save it for the side.
Print
Author:

Samantha Ferraro

Yield:

2

calzones

1

x
Category:

Secondi
1

package pizza dough (about

10 oz

, some are different)

1/2 cup

flour (for rolling out dough)

1/2 cup

full fat ricotta cheese (divided)
Small bunch of broccoli rabe (large stems removed or cut in half)

2

garlic cloves (chopped)

1/2 cup

whole milk mozzarella cheese (shredded)

1/4 cup

freshly grated Parmesan cheese
Salt and pepper (to taste)
Olive oil (for drizzling)
Marinara sauce (for dipping)
Additional fillings:
Cooked prosciutto or speck
Tomato slices
Red pepper flakes
Instructions
First things first turn that oven on to 450 degrees F and get it HOT. If you have a pizza stone, add that to the oven and let it get hot for at least 20 minutes. If not, use the bottom side of a baking sheet and place in oven to get hot.
Then, make the broccoli rabe. In a skillet, drizzle with olive oil and add chopped garlic. Cook on medium heat until garlic caramelizes, about 2-3 minutes. Then add broccoli rabe and season with salt and pepper. Cook until it begins to wilt but still has a crunch to it and is a bright green color., about 4-5 minutes. If the stems are really thick, I'll place a lid over the skillet for a minute to help steam. When done, turn off and set aside to cool to room temperature.
Next, lightly flour a clean surface and cut pizza rough in half, so you'll have about 5 oz each. Use a rolling pin and toll out the dough to about an 9 inch oblong circle. You're going to fold it, so it doesn't have to be a perfect circle.
Then on half of the side, leave a bit of a border of dough, to have room to crimp. Spread a thin layer of ricotta cheese, then add broccoli rabe, grated mozzarella and Parmesan cheese. Drizzle with a bit of olive oil and lightly season with salt and pepper. Then pull over the other side of the dough and crimp the edges with a fork or your finger.
Use a knife to cut a few holes in the top of the calzone and place on pre-heated baking sheet or pizza stone. Cook at 450 degrees F for about 12-15 minutes or until the crust is lightly brown on both sides. When done, remove from oven and allow to cool for a few minutes before eating.
Serve with marinara sauce for dipping.
Samantha Ferraro
Samantha Ferraro is the food blogger and photographer for The Little Ferraro Kitchen. Samantha comes from a diverse background and is originally from Brooklyn NY, until she turned to the island life and moved to Hawaii. Now Samantha blogs about world cuisine recipes made easy in Southern California with her Italian husband and their dog Hula. When she's not blogging or making a mess in the kitchen, you can find her traveling the world for recipe inspiration.