This is Britain's version of the American cheeseburger, but it sits in country bread, instead of a bun, and has less off-the-wall toppings.
The patty melt is Great Britain's answer to the American cheeseburger. While both are essentially sandwiches stuffed with beef and cheese, the two are fundamentally different. First, the patty melt is housed within airy slices of country bread – not a bun. Second, toppings on a patty melt – outside of the traditional cheddar and caramelized onions – are entirely unacceptable. Thanks but no thanks, flavorless beefsteak tomato and limp lettuce.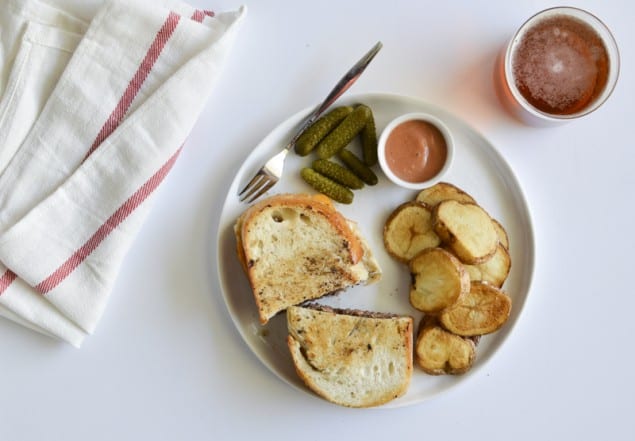 This particular patty melt is inspired by my favorite après-work destination in my Bushwick neighborhood, The Rookery. After heavy-lift weeks, my boyfriend and I head there on Fridays for drinks and patty melts. I'm not typically a big meat eater, but after a streak of difficult days, all I crave is a big hunk of juicy red meat. It must be some sort of primal instinct, the idea that I deserve to indulge in meat and alcohol after a long week of hunting and gathering (aka office work in exchange for a direct deposit).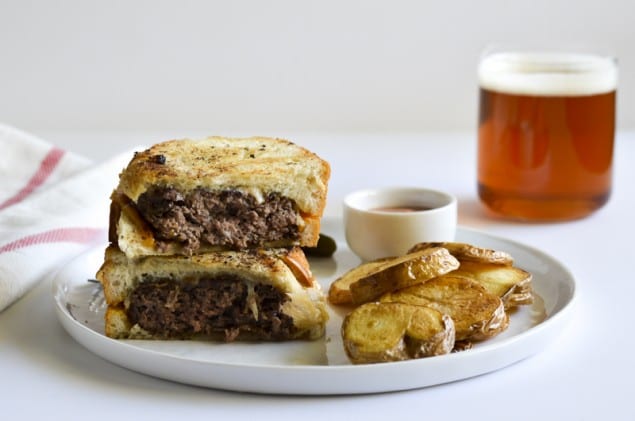 The Rookery's patty melt is unlike any other: it's not greasy, and does not come with caramelized onions. Instead, it is a large round of meat (more like a burger) wedged between two slices of thick bread. It comes with chips – fried, thick-sliced potatoes – and brown sauce (HP sauce), since the bar's staff is of British descent. To replicate this beloved sandwich, I decided to forgo caramelized onions in my recipe, too. Most patty melt recipes will tell you to swipe a bit of mayo on the outside of the sandwich before frying it, but I opted to cook mine right in that glorious beef fat. Enjoy.
See Also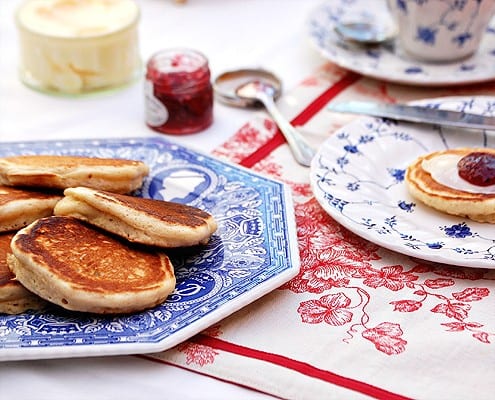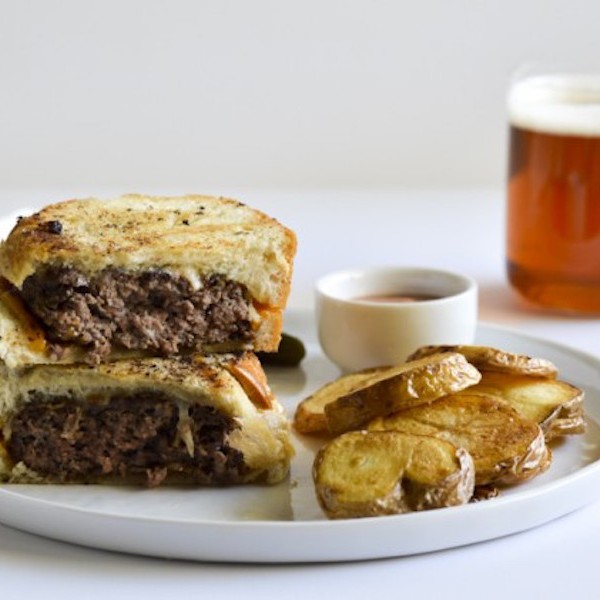 Alexandra Shytsman
Ingredients
For the patty melts
2

teaspoons

organic canola oil

divided

1

small yellow onion

finely diced

Coarse sea salt

½

pound

organic grass-fed beef

at least 15% fat

Freshly ground black pepper

4

slices

thick-sliced soft airy bread

I used a fresh Italian loaf

4

slices

cheese of your choice

I used cheddar and muenster
For the chips and special sauce
Organic canola oil

for frying

2

medium russet potatoes

scrubbed, dried and sliced ?" thick

Coarse sea salt

2

tablespoons

ketchup

2

tablespoons

mayonnaise

About ½ tablespoon hot sauce of your choice

to taste

Cornichons

to serve
Instructions
To make patty melts
In a large nonstick or cast iron skillet, heat 1 teaspoon canola oil over a medium-low flame. Add onion with a pinch of salt and cook until softened, stirring occasionally, 3-4 minutes.

In a mixing bowl, combine beef and onions and season generously with salt and pepper. Using your hands, mix until well incorporated. Divide mixture in half and form into 2 patties to match the size and shape of your bread slices.

Heat remaining teaspoon of oil in the same skillet over a medium-high flame. Cook patties until deeply caramelized, 3-4 minutes per side, occasionally pressing down with a spatula to keep patties flat. Remove patties from skillet and drain most of the fat from the skillet; return to the stove.

Sandwich each cooked patty between bread with two slices of cheese. Place sandwiches into the skillet and cook until cheese is melted, occasionally pressing on sandwiches with a spatula. Slice each sandwich in half and serve immediately.
To make chips
Heat 1/3" canola oil in a large skillet over medium heat. Add potatoes in a single layer (these will likely need to be cooked in batches). Cook until golden brown, 3-4 minutes per side. Transfer to a paper towel-lined plate and season with salt. Repeat with remaining potatoes.

To make dipping sauce, stir together ketchup, mayo and hot sauce.

Serve patty melts with hot chips, cornichons and special sauce.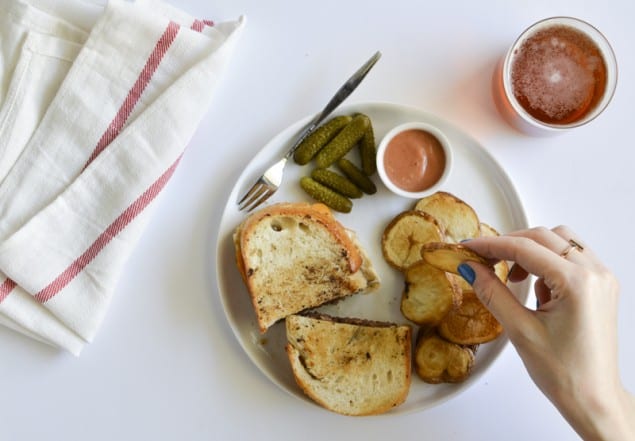 This recipe was originally published on The New Baguette.
Alexandra Shytsman
Alexandra Shytsman is a New York-based recipe developer, food writer, and photographer, and author of The New Baguette, a blog about plant-based cooking for beginners.