Honest Cooking tests out brewing in a small New York City kitchen and creates a Bikini Beer perfect for all seasons.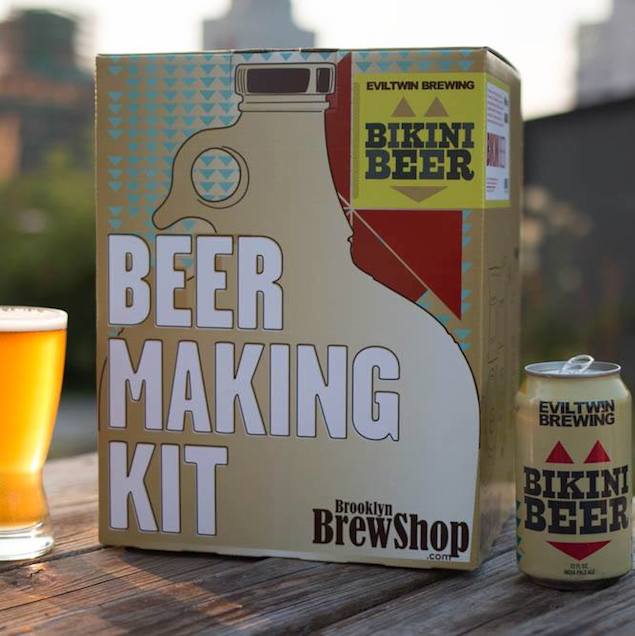 Brooklyn Brew Shop
As a space-hording New York City apartment renter I must admit that the thought of brewing beer in my galley kitchen once sounded loathsome. I never had any desire to run around gathering all the equipment needed to brew a time-consuming six pack that probably would not turn out correctly, given my lack of experience.
However, enter the Bikini Beer brew kit to change my mind and silence my woes. Creatively packaged in one convenient box that I could carry home on the subway, The Brooklyn Brew Shop has assembled a brewing kit with everything needed, minus the bottles, to make twelve beers all without taking over my entire kitchen. And so I dove headfirst into an afternoon of thermometer reading, mash straining, and delicious hoppy aromas.
Hip husband and wife duo, Stephen and Erica, founded Brooklyn Brew Shop as a fun and easy way to get people more in touch with the beer they were drinking. They believe in real beer with authentic ingredients and a story behind each bottle. Connecting drinkers to the mindsets and flavors of praised craft brewers has brought beer lovers closer to creating their favorite sips at home and perhaps even understanding their idols of the industry. Scaling the process down from giant tanks to a one gallon stove top process, Stephen and Erica have made brewing accessible to beer drinkers who would otherwise remain in the dark when it comes to the brewing process.
My kit contained the hops to recreate Evil Twin's fun-loving IPA Bikini Beer. The "Brooklyn-by-way-of-Denmark" brewer and founder of TØRST beer bar, Jeppe Jarnit-Bjergsø, has created an international cult following with his whimsical, pop culture-named beers bottled behind eye-catching labels and cans. While working on their second book, Make Some Beer: Small Batch Recipes from Brooklyn to Bamberg, Stephen and Erica connected with Jeppe for an interview and recipe to be included in the pages, but ended up building a friendship that went far beyond the book. When it came time to create a new craft beer-inspired kit, the Brooklyn Brew Shop team knew that the comical Jeppe had to be a part of it.
Let's be honest, Evil Twin beer fans are the ones that benefited most from the blossoming new friendship. Offering the so easily sip-able hops for the Bikini Beer in their brew kits, The Brooklyn Brew Shop has brought me that much closer to one of my favorite beer creators. Fast forward a little over four weeks after my suprisingly easy adventure in making my first beer to the middle of October. My calender pinged to gently remind me that it was time to try my bottled Bikini Beer.
I didn't care that it was a crisp sixty degrees outside with no swimsuits on the horizon, it was time to crack open a bottle and see if I had completely botched it. One sip proved that Stephen and Erica had done it just right, with Jeppe's help of course. They had wrangled a brew novice through their detailed instructions and online videos where I must have watch a certain twenty seconds a good ten times to make sure I was doing it just right. I gathered my trusty taste testers and fellow beer lovers to try my creation despite their mumbles about summer being dead and bikinis being passé, but there were no true complaints. Who does that when it comes to beer? We swigged away the afternoon with the bright, hoppy beer and decided that despite is warm-weather name we were so happy to have a few more bottles stashed away for our next day of Sunday football. Pleasantly sippable, akin to a patio pounder wine, the "sessionable" Bikini Beer generally comes in at 2.7% ABV. Who needs bikinis when you can drink a delicious, bright beer that reminds you of sunshine beneath a cozy, less revealing scarf? And to top it off, you can brag that you made it yourself.
Check out Brooklyn Brew Shop's complete selection of convenient brew kits here.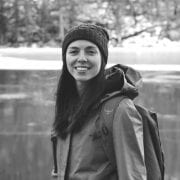 Annelise McAuliffe
Mandatory family outings to the Detroit farmers' market and nightly home-cooked meals cultivated Annelise's respect and curiosity for food. A graduate of The Culinary Institute of America, she spends her free time in New York City recipe testing, eating breakfast all day, and dreaming up international culinary adventures.