Burst of flavor tender & moist chicken marinated in yogurt & a hearty mix of aromatic spices cooked with rice to perfection.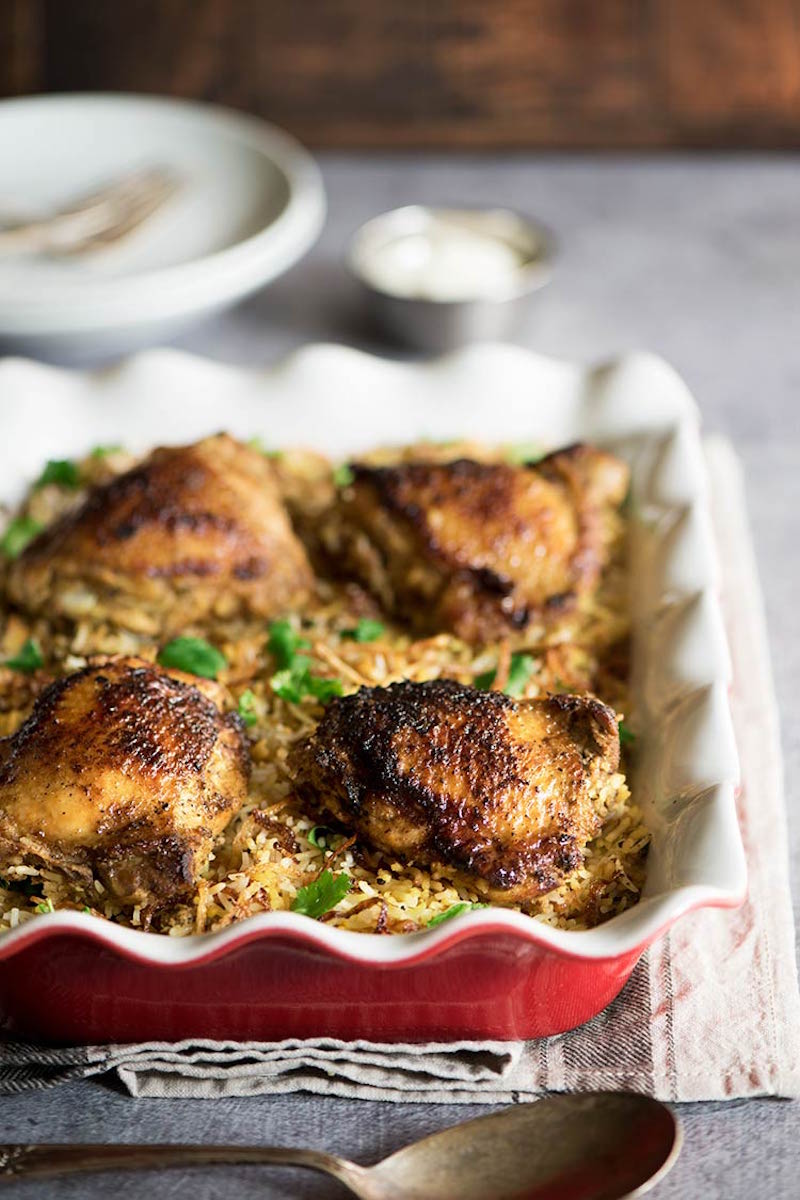 Just like the migrants who decided in the 15th century that Malaysia was the perfect place to settle down, Biryani too somehow found its way across Biryani too somehow found its way across shark infested, boiling-hot sulfuric acid that would wipe out your face clean off your skull and plenty of flesh preying freakish fish chomping on anything it get its teeth on oceans and ended up being a crucial part of Malaysian cuisine.
No, not the fish. Biryani.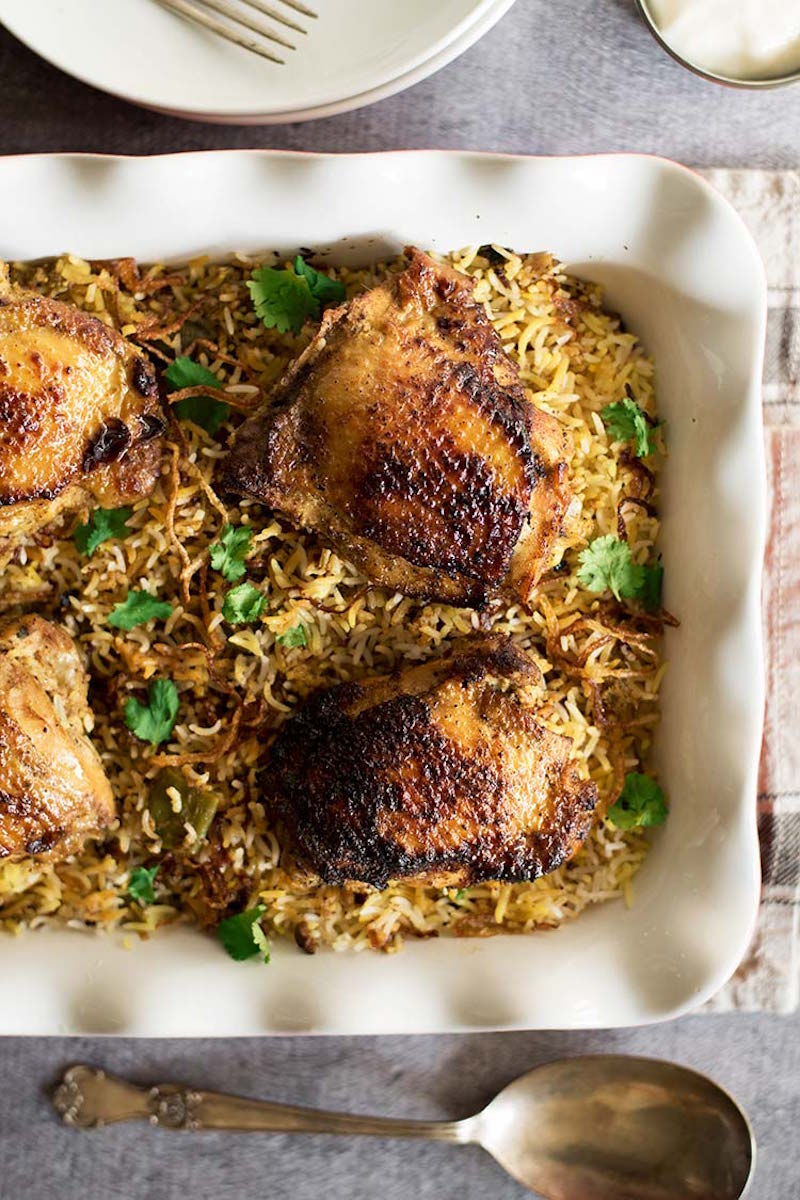 The most important thing to ensure when making biryani is plenty of space in the stomach region. I can't guarantee that you'll have the self control to stop binge eating biryani.
Like any chocolate dessert, the importance of the quality chocolate is tremendous. Same goes for biryani where the quality of the basmati rice is crucial. When biryani is cooked perfectly, you can literally (as how my mom would put it) "just eat the rice mouthfuls after mouthfuls".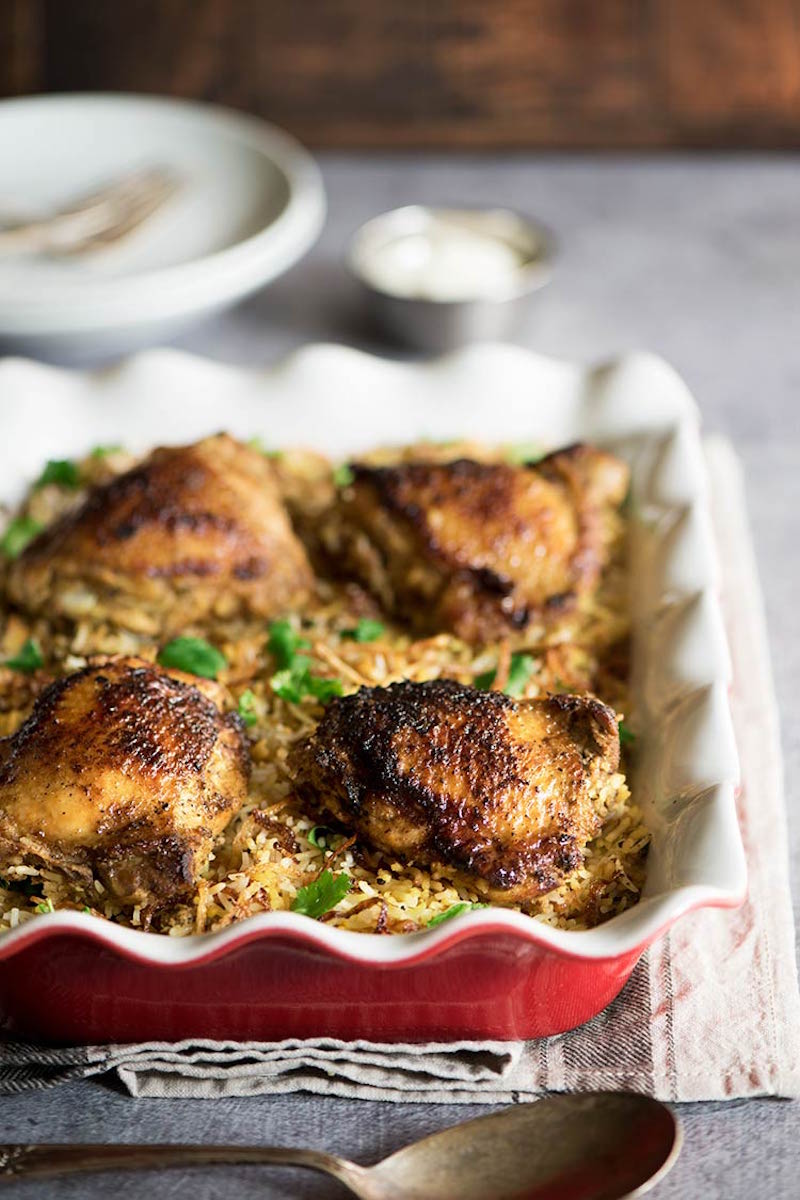 There are generally two ways biryani is made. Cooked (pakki) and raw (katchi). With cooked, as what the name implies, both the meat and rice are partially cooked, layered and then finished off in a vessel. With raw, both the meat and rice are not cooked before being layered. This recipe is the 'cooked' version.
Ya sure, there is a long list of spices, but honestly, when you think about it, all you need is the spices in your pantry. Then, biryani is exactly like making casserole. The meat and carb is cooked, layered and then have the oven finish the work for you. Easy peasy.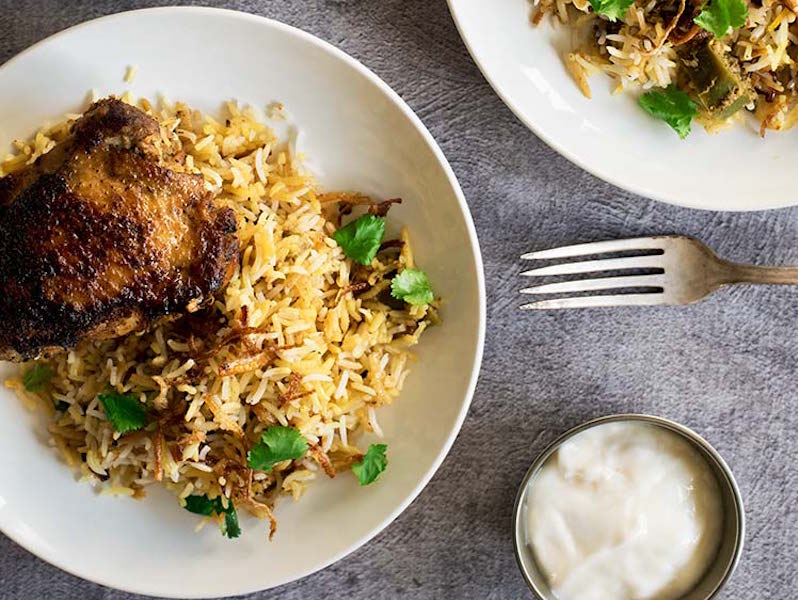 There are a couple of elements that carry its own weight with each playing a vital role in making this dish complete.
1. Yogurt helps to tenderize the meat.
2. Ghee (instead of oil) offers richness to the dish.
3. Crispy onions offers a mild sweetness and off the charts umami to the dish.
4. Saffron is the best natural coloring. Yes, it's pricey as hell but you only use VERY little.
5. Kewra or pandanas water perfumes the rice like no other.
6. Oil is added to the water when parboiling the rice to keep the rice from sticking together.
7. Chicken is browned first for color and it also gives an extra kick in flavor.
I urge you to give this 'seems like an impossible but it's really not' undertaking a try. Not only will you be dubbed a genius by friends and families, you'll shock even your own mind that the burst of flavor in this Chicken Biryani…. with tender and moist chicken marinated in yogurt and a hearty mix of aromatic spices cooked with rice to heavenly perfectioncame right out of your kitchen. Seriously. So good.
If you're very much into one pot/pan chicken meals, you're going to love these.
One Pan Malaysian Claypot Chicken Rice
One Pan Spanish Rice & Spiced Chicken
One Pan Jerk Chicken & Mediterranean Rice
If you like what you see, don't forget to subscribe and follow me on Instagram, Facebook, Pinterest or Twitter to get the latest post updates. See you there!
What is the most 'seemingly impossible' dish you've ever made?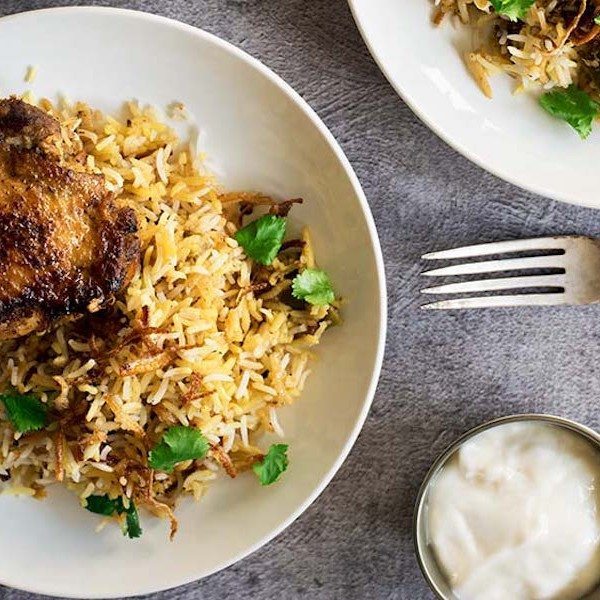 Ai Ping
Servings
2
1/2 lbs chicken thighs (6 pieces)
Ingredients
Chicken Marinade
Garam Masala

see notes 1:

3

star anise

2

cinnamon sticks

4

whole cloves

5

green cardamom pods

6

black peppercorns

1

tbs

fennel seeds

1

tsp

caraway seeds

1

tsp

poppy seeds

¼

tsp

mace powder

2

tbs

chili powder

2

tbs

ground coriander

1

tsp

ground cumin

½

tsp

ground turmeric

¼

tsp

ground nutmeg

2

medium onions

peeled

10

garlic cloves

peeled

2

" ginger

peeled

1

bunch cilantro

chopped

1

bunch mint

chopped

4

mild green chilies

roughly chopped

¾

cup

whole plain yogurt

1

tbs

sugar

2

tsp

salt
Fried Onions
1

large onion

thinly sliced (as uniform in size as possible)

1½

cup

oil
Rice
3

whole cloves

2

cinnamon sticks

3

green cardamom pods

1

tsp

caraway seeds

12

cups

3 qt water

2

bay leaves

3

tbs

oil

2

tbs

salt

1

? lb

or 3 cups basmati rice, washed well and soaked in water for 30 minutes

¼

cup

ghee

see notes 2

1

tsp

saffron threads

soaked in ½ cup warm water for 15 minutes

1

tsp

of kewra or pandanas water

optional

1

tsp

of rose water

optional
Garnish
Fried Onions

Cilantro leaves

Raisins

optional

Cashew nuts

optional
Instructions
Marinate Chicken

Optional: Lightly toast star anise, cinnamon, cloves, cardamom, peppercorn, fennel, caraway and poppy seeds in a pan.

Put the whole spices in a coffee grinder or high powdered blender and blend until fine. Mix in the mace powder, chili powder, coriander, cumin, turmeric, & nutmeg. Combine well and set aside. You've just made your own garam masala. Nicely done.

Put the onion, garlic and ginger in a blender and blend until smooth. Pour the onion paste, garam masala and the remaining ingredients for the chicken marinade over the chicken. Mix well. Marinate the chicken overnight.

Fry Onion

Over medium high heat, add the oil to a deep heavy-bottomed pan and deep fry the onions (in two batches) until brown and crisp. Set aside. Reserve oil for future use (see notes 1).

Brown chicken

Over medium high heat, add 2 tablespoons of oil (from the fried onions) to a pan. Remove chicken from the marinade (do not discard the marinade) and sear them for 3 minutes on each side or until browned/charred to your liking.

Parboil rice

Optional: Lightly toast the whole spices (cloves, cinnamon sticks, cardamom & caraway) in a pan.

Place toasted spices in a spice bag. You can skip this if you don't mind the spices mixed in the rice.

Over medium high heat, bring the water to boil along with the toasted spices, bay leaves, oil and salt. Once the water is boiled, taste the water (it should be slightly salty). Add more salt if necessary.

Add the basmati rice and let simmer uncovered for exactly 5 minutes. Rice only needs to be about 70% done. Don't let it overcook. Strain and set aside.

Assemble Chicken Biryani

Preheat the oven to 350 F.

In a casserole dish (13 x 9 x 2¼), drizzle 1-2 tablespoons of ghee. Add the chicken in one layer along with the marinade. Top with ? of fried onions, rice, another ? of fried onions, drizzle the remaining ghee, saffron mixture, rose water and pandanas water.

Cover the dish or pot with a heavy duty aluminum foil or tight fitting lid (best if sealed on the edges of the pot using a dough and lay something heavy on the lid). Bake for 45 - 60 minutes or until a meat thermometer inserted into the thickest part of the chicken reads at least 165 F.

When it's ready, let biryani rest for 10 minutes. Uncover, gently fluff and mix the rice and chicken. Garnish and serve immediately (optionally with raita, papadam, chutney or curry).
Notes
You can use store bought garam masala. Use ½ cup. Keep in mind that each brand's garam masala tastes different so the results will vary.

Best is to use ghee. For recipe, see below. If it's just too much for you, that ok. Use the oil from the fried onion.

To make ghee:

Add ¼ cup (2 oz) unsalted butter in a small pan. Over medium heat, melt the butter. It will then start to simmer. Change to medium low heat and cook for about 10 minutes. Discard the top layer (foam). The clarified butter (middle layer) should be golden in color and there should be brown pieces of milk solids at the bottom of the pan (to be discarded). Don't let the brown pieces burn. Let cool a little and strain using a mesh strainer or a cheesecloth.

If you're not a rice person, you will have plenty of rice leftover. Simpy enjoy the rice as a side dish for other meals. You can also freeze and consume it later too.

Use remaining oil from fried onions like you would any regular oil to cook other dishes. It imparts a depth of flavor like no other.

Ingredients:

a. Rice: Look for good quality basmati rice in Indian markets. If you're not in close proximity to one, online will be your best bet. This recipe makes plenty of rice because I love the rice. You can reduce if you want to.

b. Spices: I bought most my spices from Whole Foods and some from Mountain Rose Herbs.

c. Kewra water or pandanas water can be found in most Indian Markets.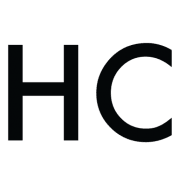 Ai Ping
Ai Ping is from Malaysia but also calls Taiwan and the U.S. her home. Though armed with an IT and business background, she still prefers cooking, photography & blogging. Her website, Curious Nut says it all with its motto 'exploring life through the lens'. She loves to eat and cook, eat and play, eat and explore and share the love with everyone.