Brazilian Coconut Truffles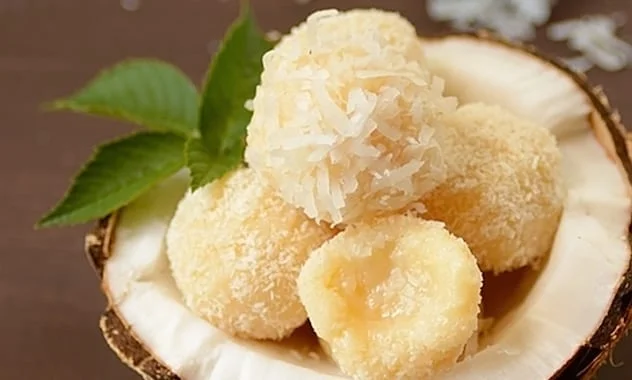 These Brazilian Coconut Kisses require only five-ingredients and are quick to make. They are a must-have for parties and an afternoon snack.
By Denise Browning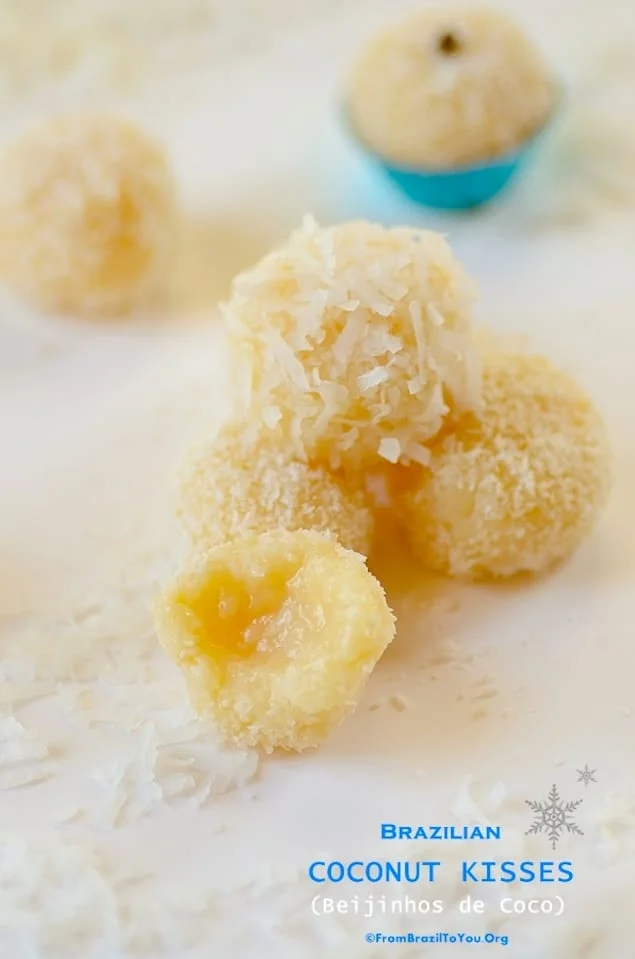 Ah, beijinhos de coco… I mean, Brazilian Coconut Kisses… They taste like childhood — so sweet!!! Make these five-ingredient, quick coconut fudge balls.
Brazilian coconut kisses (beijinhos de coco — also known simply as beijinhos or branquinhos) are traditionally made from a mixture of sweetened condensed milk, coconut flakes, and butter (sometimes egg yolks). After briefly cooking, they are rolled into balls, dredged in coconut flakes or sugar, and decorated with a single clove on top.
Does this sound familiar? The process of making them is similar to the ever popular BRIGADEIROS!!! Coconut kisses (beijinhos) are great to snack on, to serve at birthday parties and other events.

Brazilian Coconut Truffles
These Brazilian Coconut Kisses require only five-ingredients and are quick to make. They are a must-have for parties and an afternoon snack.
Ingredients
1 (14-ounce or 396 g) can sweetened condensed milk
1 cup sweetened coconut flakes, plus more for dredging
1 Tablespoon unsalted butter, softened (plus more for greasing a plate and your hands)
1 Tablespoon pure vanilla extract (optional)
Cloves for garnishing (optional)
Instructions
Mix the condensed milk, coconut flakes, and butter together.
Cook in a medium non-stick saucepan over medium heat, stirring constantly, until the mixture starts to show the bottom of the pan when you scrape it with your wood spoon (about 7 minutes). The coconut kisses mixture should be thick enough to reveal the bottom of the pan for a couple of seconds before the mixture levels out again.
When coconut kisses 'dough' is ready, remove from the heat, mix in the vanilla extract, and spread mixture onto a greased plate.
Let cool to room temperature before starting to roll them into balls with greased hands. Use a ½ Tablespoon as measurement. Then, dredge gently in the coconut flakes until totally covered.
Place into paper bonbon cups. Stick a clove atop (center) of each coconut kiss if desired.
Notes
You can use unsweetened coconut flakes instead, if desired -- especially for dredging the coconut kisses. Actually, I personally prefer small, unsweetened coconut flakes for dredging coconut kisses, for a more refined touch. The clove is only for decoration and must be removed right before eating! Store coconut kisses into a clean airtight container for up to 2 days at room temperature or in the refrigerator for up to 4 days.
Denise Browning
Denise Browning is a native Brazilian foodie, trained Chef, cooking instructor, restaurant menu/recipe developer, and former lawyer. She is also the author of From Brazil To You - a blog that features Brazilian, fusion, and international dish recipes, stories, and photography of Brazil. Her writing has appeared in Cia Brasil Magazine, while her photography is frequently featured on Foodgawker, TasteSpotting, and Foodepix. She lives in Texas with her American husband and two children.