Fudgy, loaded with chocolate and studded with blueberries, these vegan blueberry brownies are rich and delicious.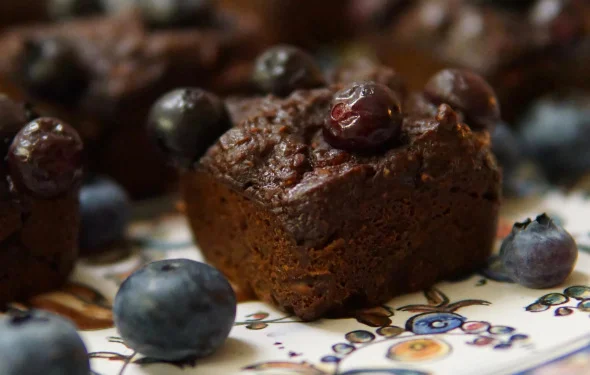 Meet my favorite new brownies!
Oh my, these are so good! Yet no sugar, no flour, no dairy, no oil, and totally yummy through and through.
Just fudgy, chocolatey goodness studded with blueberries for a rich delicious moment, perfect for celebrating anything, anytime!


Blueberry Brownies
Serves:
18 to 24 brownies
Ingredients
2 bananas
½ cup rolled oats
½ cup cocoa powder
¼ cup Medjool dates, pitted
2 teaspoons baking powder
1 teaspoon vanilla
1¼ cups fresh or frozen blueberries (if frozen, they do not need to be thawed first)
Instructions
Preheat oven to 350 degrees.
Into the bowl of a food processor, add all ingredients, except the blueberries. Process until the mixture is well combined.
Remove bowl and blade from the base. Divide batter evenly, filling either a silicone brownie-bites pan or a nonstick miniature muffin pan.
Dot the berries over the top of the brownie batter, pressing just slightly so that they stay in place. Bake for 14-18 minutes, or until brownie tops are slightly firm.
Remove from oven and place on cooling rack. Allow to cool, and enjoy!