These warm pull-apart cheese rolls are loaded blue cheese and the perfect fun appetizer.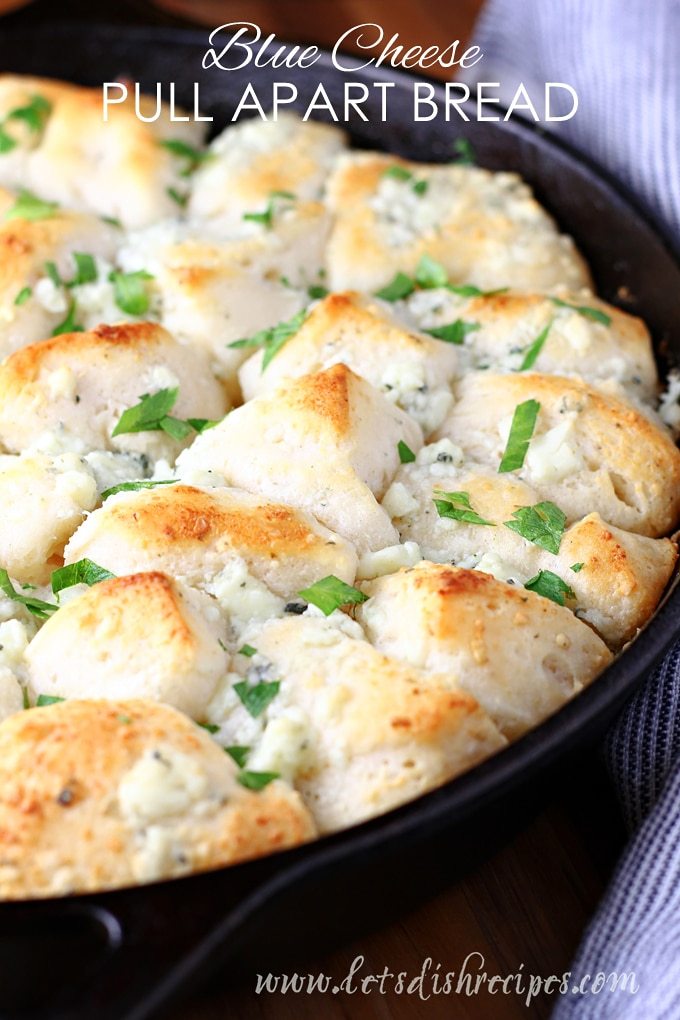 Made with just five simple ingredients, this savory, buttery cheese bread is so easy to make and always a hit!
If you're a fan of blue cheese, you're going to love this Blue Cheese Pull Apart Bread. Even if you're not a fan of blue cheese, you're going to love this bread.
I speak from experience. Blue cheese is not my favorite. But I couldn't get enough of the buttery, cheesy, pull-apart bread.
So if you're not a fan of blue cheese, don't dismay. I still think you'll love this bread. I mean, who isn't a fan of bread? Especially when it's smothered in butter and garlic?
Plus, this pull-apart bread is so easy to make, you're at least going to love that. Have I convinced you yet? Because I honestly could not stop eating this stuff.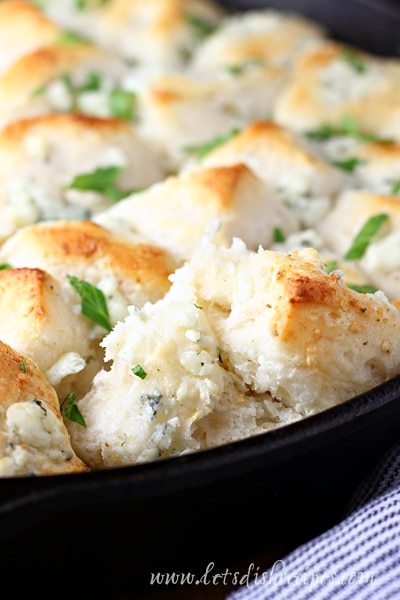 Yes, the recipe calls for a can of refrigerated biscuit dough. Don't judge. Just between you and me, I think canned biscuits are pretty darn good. Plus they make life so easy sometimes. Which is what I love about them most.
And when you smother all those canned biscuit pieces in butter and seasonings and cheese, they bake up into something truly delicious.
This pull-apart bread would be perfect with any kind of Buffalo chicken inspired dish. Hot wings, Buffalo Chicken Soup….you get the idea. But don't limit yourself. Because this bread would be perfect with just about anything.
If you're looking for a unique, delicious bread to serve with dinner, this Blue Cheese Pull-Apart bread is a must try!
Check out my other bread recipes here.

Blue Cheese Rolls
Ingredients
1 (16.3 oz.) can refrigerated Grands biscuits
½ cup butter, melted
4 ounces crumbled blue cheese
½ teaspoon garlic salt
1-2 tablespoons chopped fresh parsley
Instructions
Preheat oven to 400 degrees. Spray a pie pan with non-stick cooking spray.
In a medium bowl, combine melted butter, blue cheese and garlic salt and mix well.
Cut biscuits into quarters, and dip each biscuit piece into the butter and blue cheese mixture. Arrange biscuits in prepared pan. Pour remaining butter and cheese mixture over biscuits in pan.
Bake for 8-10 minutes, or until golden brown. Sprinkle with chopped fresh parsley before serving.