Prepared with a blood orange and thyme brine, this crispy-skinned chicken is simply delicious with an easy pan sauce.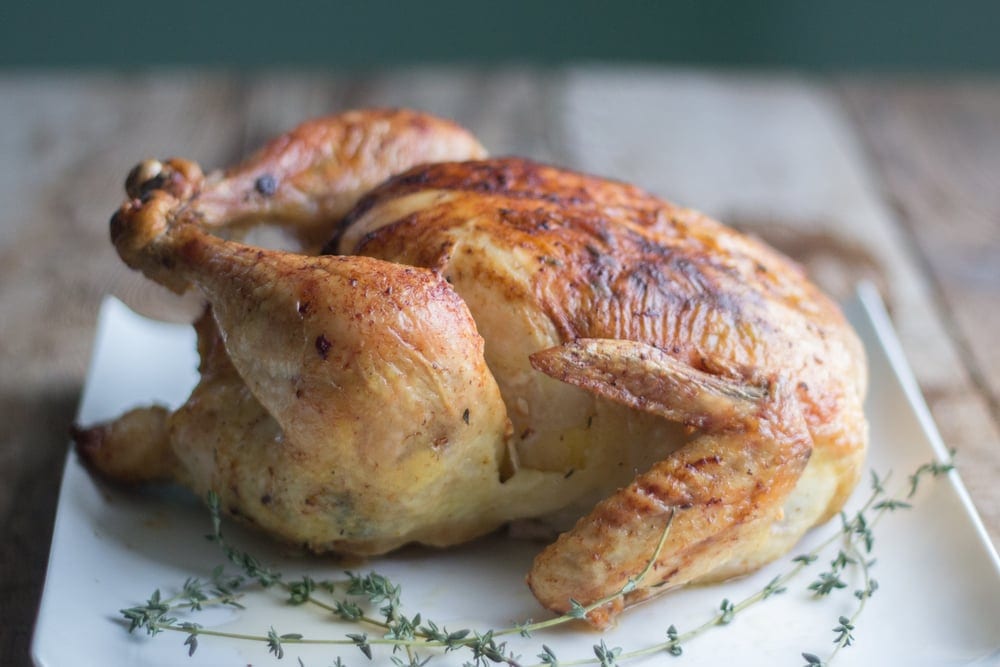 This recipe comes with great urgency because 1) blood oranges are back in season 2) the world doesn't have enough roast chicken recipes, but perhaps more likely 3) you might be hungry right now or considering dinner plans. Here we have a dry brined roasted chicken, the resulting pan sauce, and a sidekick of roasted blood oranges. Serve with wild rice, farrow, or salad greens.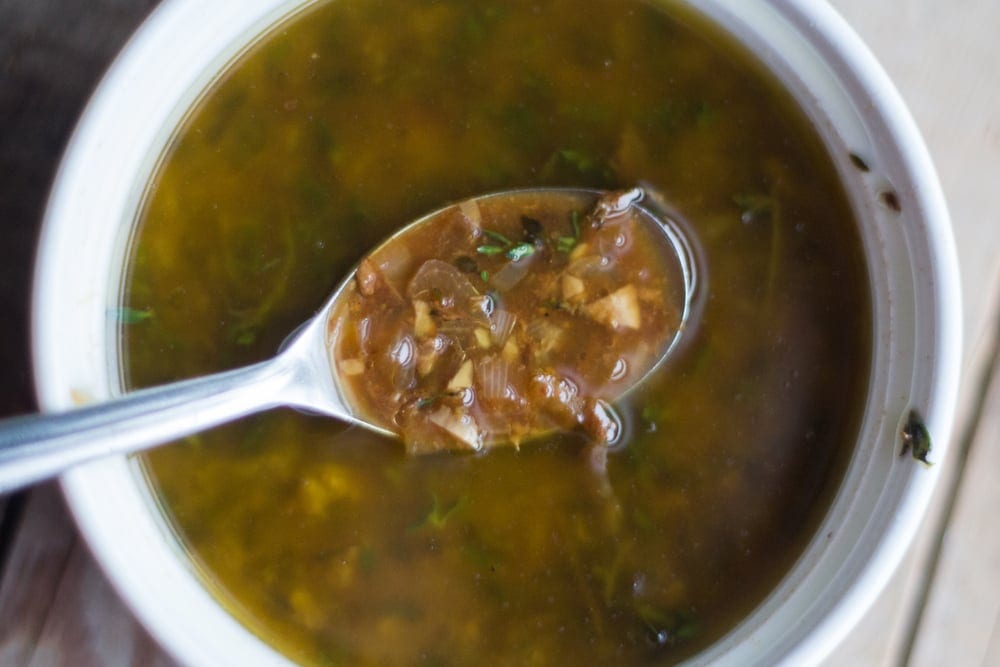 I'm all about brining chicken these days and this dry brine recipe using salt, garlic, blood orange zest, thyme and black pepper is too enthralling not to share. You can begin brining the chicken up to 3 days before roasting, but even a few hours will do wonders for crisping up the skin, packing flavor into the bird and sealing in the juices.
A roasted chicken inevitably means delicious browned bits stuck to the bottom of the pan. Deglaze them into a quick white wine and shallot pan sauce to serve with the chicken. Be sure to slice up a few extra blood oranges for roasting as well. Give them a sprinkle of salt and drizzle of olive oil, roast, then garnish with fresh thyme to accompany the chicken and pan sauce.
See Also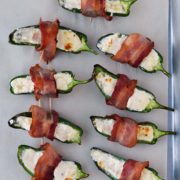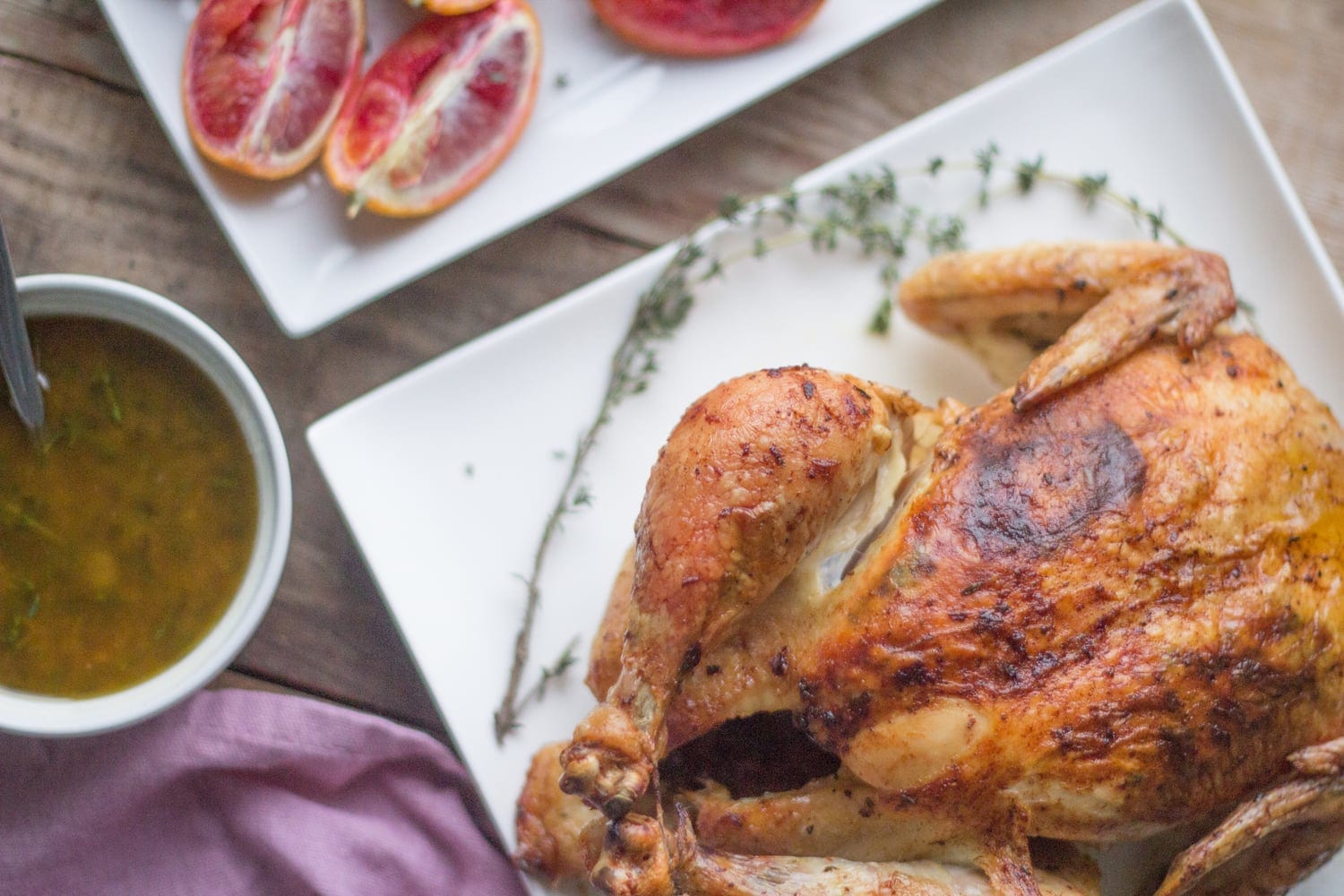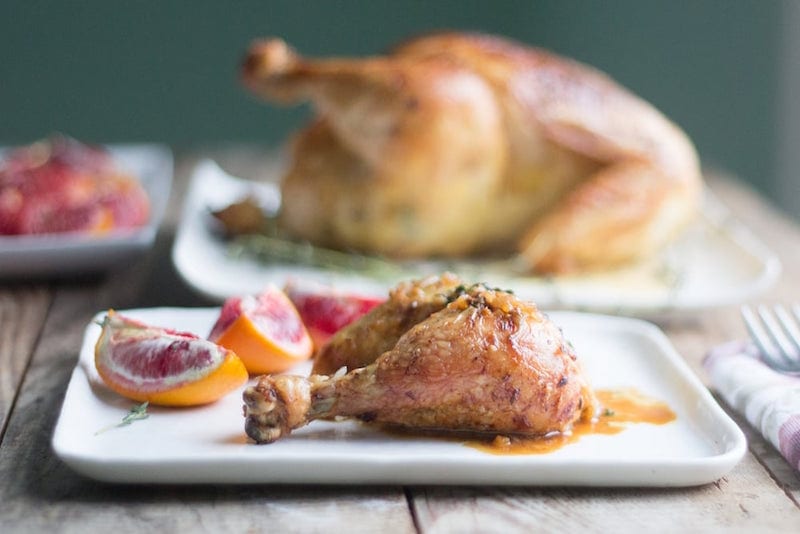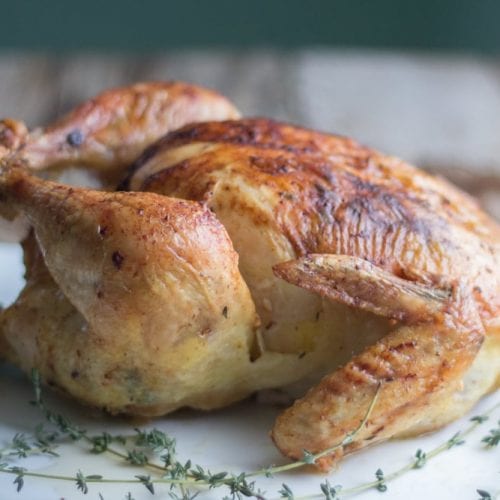 Blood Orange Roast Chicken
Mallory Leicht
Prepared with a blood orange and thyme brine, this crispy-skinned chicken is simply delicious with an easy pan sauce.
Ingredients
4-5

pound

whole chicken

3

teaspoons

salt

1/8

teaspoon

black pepper

2

tablespoon

blood orange zest

reserve the blood orange for roasting

2

tablespoons

thyme leaves

2

tablespoons

chopped garlic

4

tablespoons

unsalted butter

1

blood orange

quartered (use the one reserved from zesting)
Roasted Blood Oranges with Thyme
2

blood oranges

quartered

1/4

teaspoon

sea salt

1

tablespoon

olive oil

2

sprigs of thyme
White Wine, Shallot & Thyme Pan Sauce
pan drippings from roast chicken

1/4

cup

chopped shallots

1/4

cup

white wine

1/2

cup

chicken stock

blood orange juice

about 1 ounce to 1 1/2 ounces; use blood oranges from roast chicken

1

tablespoon

thyme leaves
Instructions
Stir together in a small bowl salt, black pepper, blood orange zest, thyme leaves, and chopped garlic. Spread the mixture onto a cutting board and use a knife to chop and further blend the brine together until it takes on a sand-like texture. Alternatively, pulse the ingredients together in a food processor.

Rinse the chicken, remove any innards and pat dry. Season the chicken liberally with the brine. Place the chicken in a shallow roasting pan, cover loosely with plastic wrap and let brine in the refrigerator for at least an hour, but up to 3 days.

When ready to roast the chicken, preheat the oven to 475 degrees Fahrenheit and remove the chicken from the refrigerator. Transfer the chicken to an oven proof skillet or shallow roasting pan just larger than the chicken. Stuff the cavity of the chicken with the unsalted butter and quarters of blood orange.

Roast the chicken until a thermometer inserted into the inner thigh reads 175 degrees, about 1 hour. Remove the chicken and set on a cutting board to rest before carving. Carefully remove the blood oranges from the chicken to use in the pan sauce. While the chicken is resting, make the roasted blood oranges w/ thyme and the pan sauce.
Roasted Blood Oranges with Thyme
Preheat oven to 450 degrees. Place quartered blood oranges on a baking sheet lined with parchment paper. Give them a sprinkle or sea salt and drizzle of oil oil. Roast for 15 minutes. Serve hot, garnished with thyme.
White Wine, Shallot & Thyme Pan Sauce
Once you've roasted the chicken, transferred it to a separate dish and are left with the delicious browned bits in the skillet or pan, pour out the clear fat except about 2 tablespoons, making sure to leave the drippings in the skillet. Bring to medium heat on the stovetop, add shallots and sauté, stirring often, about 3-4 minutes or until translucent. Deglaze with the white wine, using a wooden spoon to scrape up browned bits stuck to the skillet.

Stir in the chicken stock, blood orange juice and thyme. Cook and stir frequently until reduced by half, about 5 minutes. Season as needed.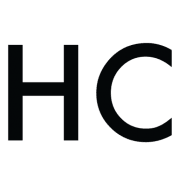 Mallory Leicht
Mallory is a food and beverage blogger and organizer of flavor-focused workshops with Chase the Flavors, a do-it-yourself resource with a Midwest perspective that celebrates savoring the special in every occasion with recipes and everyday inspiration in the kitchen, home, and beyond. Mallory is a librarian with a special interest in information access across new technologies, seed libraries, audiobooks, and non-dowdy cardigans. She loves to see the ways people use libraries to bring their dreams to life and believes that information access and education empower joyful, creative living. Beyond blogging and books, is coffee. Mallory keeps connected with the specialty coffee industry as a competitions committee member for the Specialty Coffee Association of America, helping judge deliciously inspiring coffee competitions.