SPONSORED: We get excited about good food and great ingredients, so we've teamed up with Divine Flavor to bring you delicious recipes made with their mini Tribelli peppers.
These Blackened Shrimp Tacos with Sweet Pepper Slaw are just the right combination of sweet and spicy and come together in under 30 minutes!
These Blackened Shrimp Tacos with Sweet Pepper Slaw are so easy, any night can be taco night! Easy to make and even easier to eat they are sure to excite your taste buds and have you dreaming about them night after night!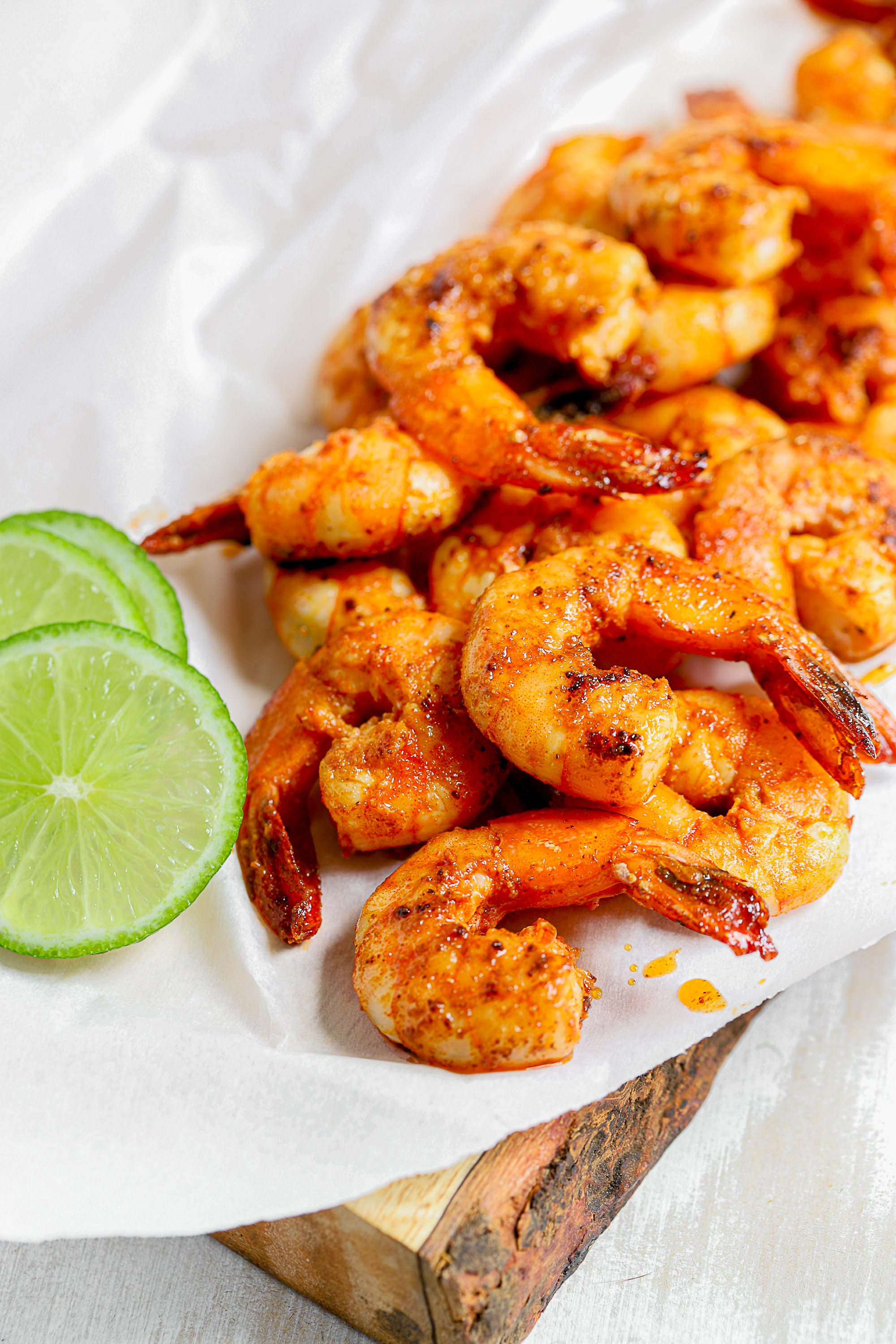 HOW TO MAKE PERFECT SHRIMP
Making delicious shrimp is two-fold, first how you season it and second how you cook it! This recipe has a flavorful blackened seasoning mix and below I'm sharing some tips for cooking perfect shrimp.
COOKING TIPS:
As shrimp cooks it turns from a blueish grey color to a whitish pink color. It cook SUPER quick – only about 2-3 minutes per side – so make sure you are watching it!
Shrimp will curl up a bit as it cooks, into a "C" shape. If it curls up more than that into an "O" shape it is probably overcooked.
To make your life easier, buy shrimp that is already peeled and deveined so you don't have to do this tedious, time consuming step.
If you use frozen shrimp, make sure it is completely thawed before cooking.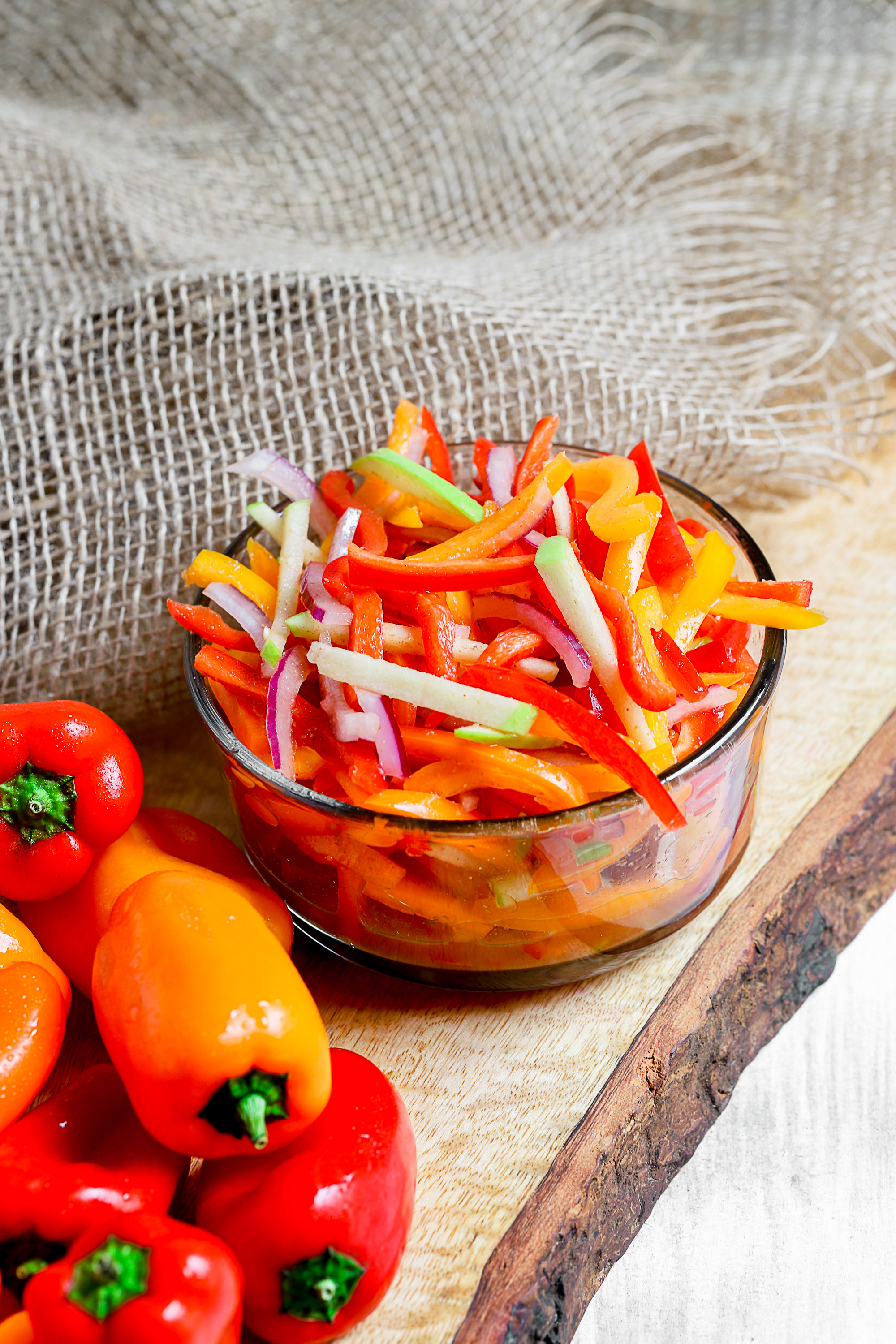 WHY SWEET PEPPER SLAW IS PERFECT IN THESE TACOS
This sweet pepper slaw is made with Divine Flavor Tribelli Sweet Peppers that are full of flavor and a hint of sweetness. They come in red, orange and yellow and once you add in the green apple and red onion the slaw makes the perfect rainbow! But, it's not only beautiful, it's also delicious! With the mild heat of the blackened shrimp the slaw pairs perfectly and gives the tacos a nice, refreshing crunch!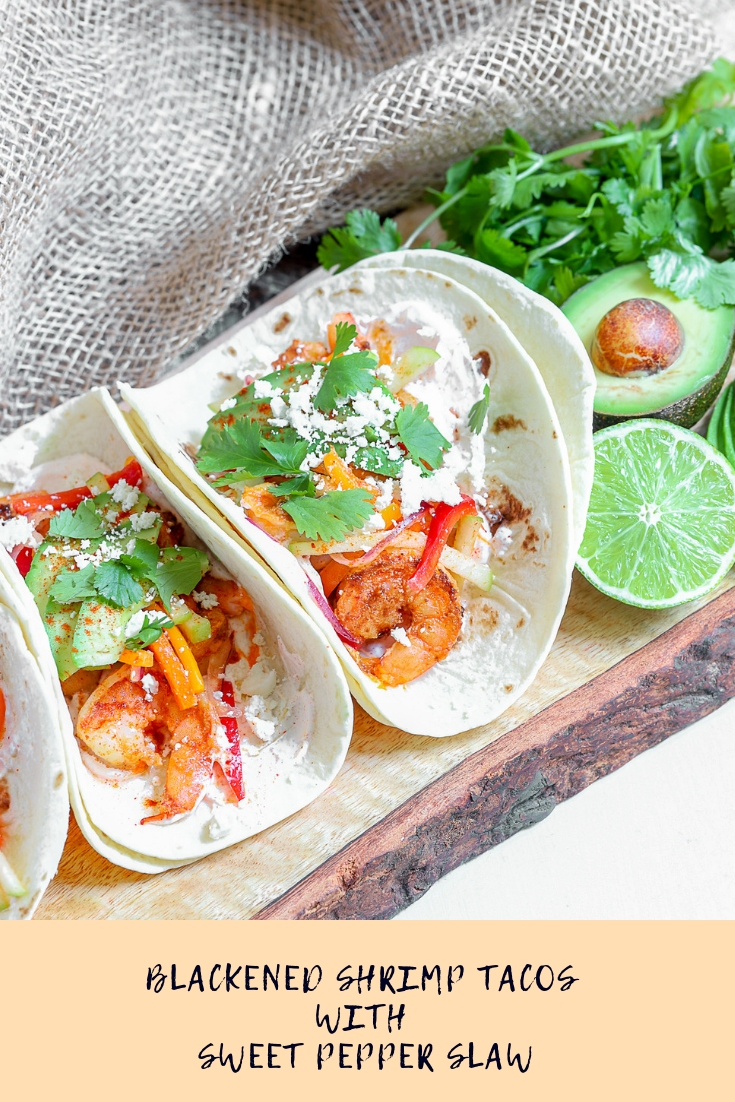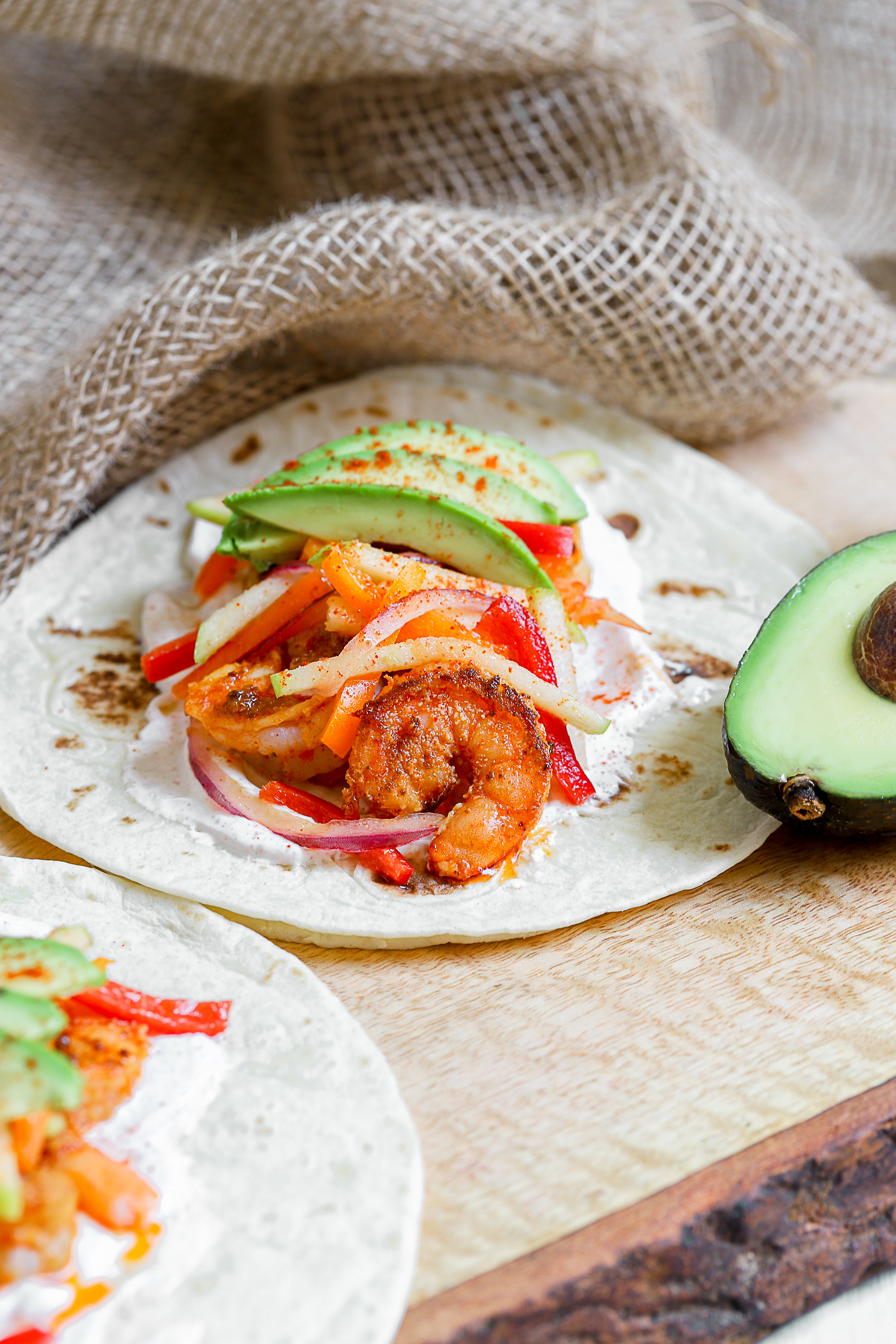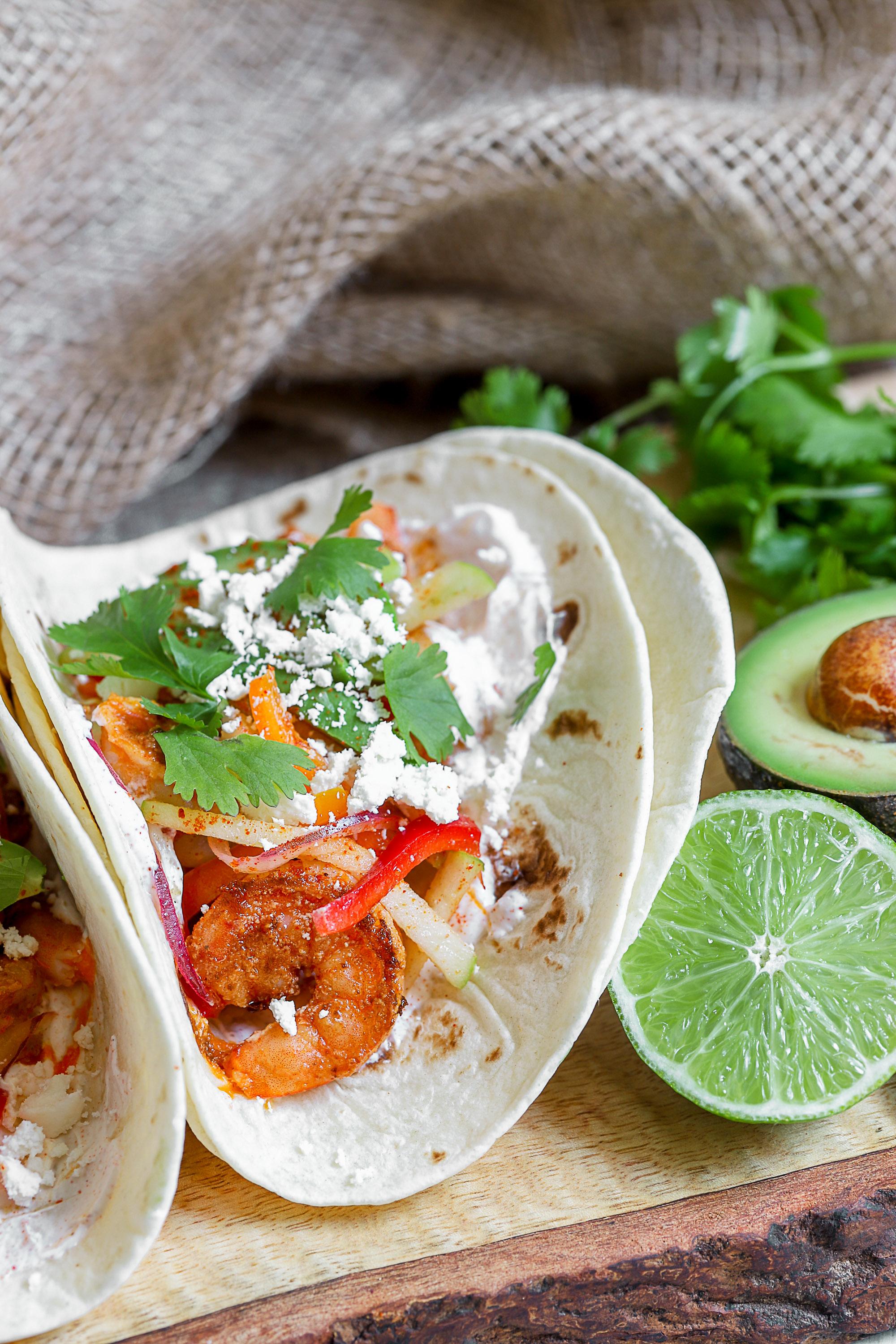 Print
Blackened Shrimp Tacos and Sweet Pepper Slaw
---
BLACKENED SHRIMP
SWEET PEPPER SLAW
SOUR CREAM SAUCE
SHRIMP TACOS
---
Instructions
BLACKENED SHRIMP
Add the shrimp to a medium sized bowl
Pour in the lime juice and add the spices, toss to coat
Allow the shrimp to marinate for 15 minutes
SWEET PEPPER SLAW
Add the sweet peppers, apples and red onion to a small bowl
Pour in the lime juice and olive oil, mix
Add the spices, mix
SOUR CREAM
Spoon the sour cream into a small bowl
Mix in the spices
SHRIMP TACOS
Heat a large skillet over medium heat
Add the coconut oil, allow to melt
Add the shrimp to the skillet, cook for 2-3 minutes on each side
Heat the tortillas in the microwave for 10-15 seconds to soften
Spoon a generous helping of sour cream onto each tortilla
Top each with 5-6 cooked shrimp
Top the shrimp with the the sweet pepper slaw
Sprinkle with cotija cheese
Garnish with avocado slices and cilantro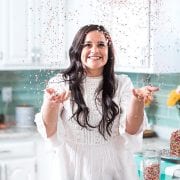 Laura Nockett
I'm Laura, a recipe developer, photographer, ice cream and avocado enthusiast and I'm so excited that you are here! My hope is that I can take some of the stress out of cooking and inspire you to get creative and have fun in your kitchen.