If you love fish and things that are blackened – well, welcome to heaven.
Text And Photos By Kristina Wiley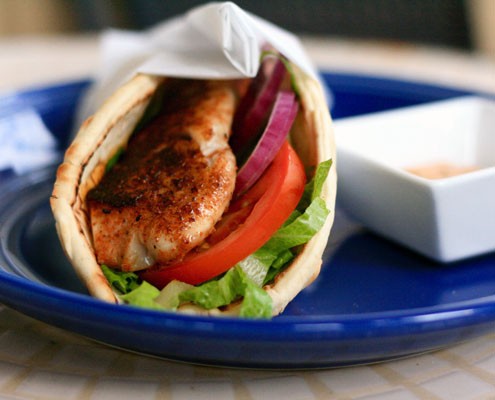 It's no secret that the hubs and I love to eat fish (hello, we are from Florida!). One of our favorite ways to make it is with a sprinkle of blackening seasoning and a quick sear in a pan. Super fast, and packed with flavor. Marinades or fancy coatings aren't always necessary (and I definitely don't always have time for them!).
Our favorite blackening seasoning is one called Chef Paul's Magic Redfish Blackening. It's delicious and is always great to have on hand.  It doesn't only have to be used on fish – we sprinkle it on chicken as well!
Note: Chef Paul did not ask that I promote his product, nor was I compensated in any way shape or form for doing so.  His Magic Redfish Blackening Seasoning is simply a product that I have used for years and absolutely love.
We didn't serve these sandwiches with any sides since the flatbread makes it a pretty filling dish in and of itself.  All I did was whip up a spicy tartar sauce to go on them:
You can make a homemade tartar sauce from scratch if you wish; but a quick shortcut that will do the trick is to buy pre-made tartar sauce and 'doctor' it up. I add a few tsp fresh lemon juice, plus some sort of spice (cayenne, sriracha, blackening seasoning – or  a mix of all 3) to personal taste. It's a quick simple way to pump up an otherwise bland sauce!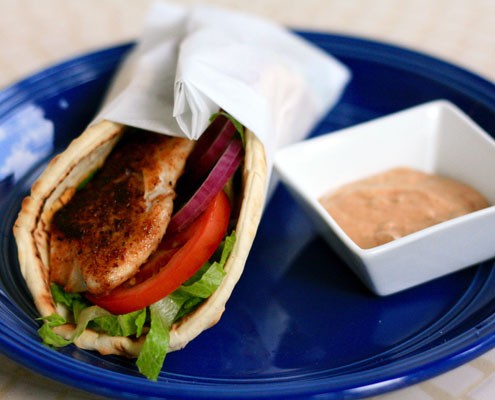 Print
Blackened Fish Flatbread
Easy and Delicious Blackened Fish Flatbread
Author:

Kristina Wiley

Prep Time:

10 mins

Cook Time:

10 mins

Total Time:

20 minutes

Yield:

2

-4

1

x
For the Fish:

1

lb of mild local fish
Blackening Seasoning of Choice (we use Magic Redfish Blackening Seasoning)
Salt
Pepper

1

TBS Butter

1

TBS Canola Oil
For the Simple Spicy Tartar Sauce:

1/3 cup

Tartar Sauce

2

–

3

tsp of Lemon Juice
Cayenne, Sriracha, and/or Blackening Seasoning to taste
Other:
Flatbread (Near the deli at the grocery store)
Chopped Lettuce
Thinly Sliced Red Onion
Thinly Sliced Tomato
Instructions
Heat butter and canola oil in a large skillet over medium to medium-high heat. Sprinkle a little salt and pepper one side of fish and then coat with blackening spice to desired preference (we coat ours pretty well as we LOVE the heat).
Place the fish, seasoned side down into the pan and quickly season the other side in the same way. Cook fish for roughly 3-4 minutes per side: 7-8 minutes in total (see above note regarding cooking times). Remove from skillet, tent with foil, and allow to rest for 3-5 minutes.
Heat flatbread in oven at 350° F until just warmed through (takes only a few minutes). Remove from oven and layer on the lettuce, tomato, red onion, and spicy tartar sauce to preference. Place fish filet on top, fold up the sides, and wrap one end in parchment paper or foil. Serve with a lemon wedge if desired.
Note: The hubs says that the rule of thumb for cooking fish is roughly 1 minute per ounce. For instance, an 8 oz piece of fish will need about 4 minutes on each side (8 minutes total).
Kristina Wiley
Kristina Wiley is the South Florida blogger behind the blog My Life as a Mrs. She is passionate about food, entertaining, and life. She writes about cooking as a joy that can be used to bring friends and family back together around the dinner table; be it quick and easy weeknight meals or full on multi course dinner parties.