Sweet with the rosemary sugar glaze and plump with fresh blackberries, these muffins go great with coffee, tea or milk. Serve them with butter or with a nice dab of goat cheese.
By Kathy Gori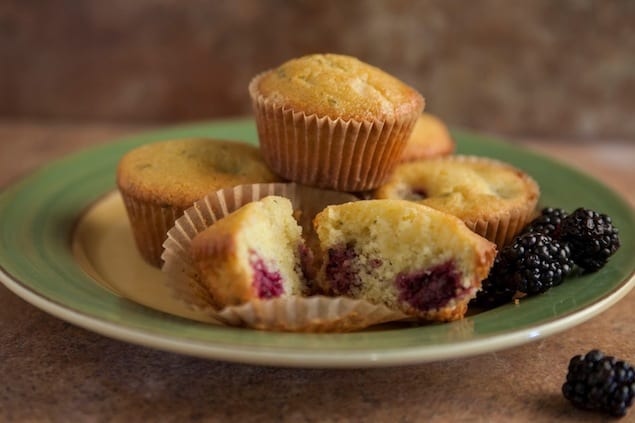 I don't bake muffins very often but I have a favorite Italian polenta cake recipe from the region in Tuscany where my family originates. I tweaked it a little and came up with something that I thought would make a great muffin for breakfast, dessert, tea, or any other time.
Blackberry Rosemary Corn Muffins
Blackberry Rosemary Corn Muffins are the perfect spring breakfast baked good.
Ingredients
3 sprigs of rosemary
⅓ cup of chopped rosemary
1 stick of unsalted butter
2 whole eggs and 1 egg yolk
1 cup fine cornmeal flour
¾ cup of flour
¾ tsp of salt
1 tsp baking powder
⅔ cup of whole milk
1 pint fresh blackberries
¾ cup of water
¾ cup of sugar
1 Tbs lemon juice
Instructions
Preheat the oven to 350 degrees.
In a large mixing bowl add: 1 stick of unsalted butter, 1 cup of sugar
Cream the butter and sugar together with an electric beater.
When it's nice and fluffy add in: 1 cup of fine cornmeal flour, ¾ cup of all purpose flour, ¾ tsp of salt,1 tsp of baking powder, 2 large eggs, and 1 egg yolk
Add in the milk
Beat the cake batter with an electric beater on the high setting for about 3 minutes. It will turn yellow.
Finely chop 3 sprigs of fresh rosemary.
Add the chopped rosemary to the batter. Mix it in well.
Add the fresh berries to the batter, Fold them in carefully so you don't mash them.
Place paper muffin cups into a muffin tray. Fill the muffin cups part way, the muffins will rise.
Pop the muffins into the center of the oven and bake them for 40 minutes.
While the muffins are baking: Chop more rosemary until you have ⅓ cup of it.
Add it to a small pan along with ¾ cup of water and ¾ cup of sugar.
Stir everything together well on medium heat until it comes to a simmer.
Then turn the heat down, and let it gently simmer for 10 minutes.
Then take it off the heat and let it sit for 30 minutes.
Strain the mixture through a sieve and pour it into a measuring cup.
Set it aside.
Take the muffins come out of the oven, when they're firm and golden. Brush the tops with the rosemary syrup.
Let the syrup soak in and then brush them again.
Take the muffins out of the pan and let them cool on a baking sheet.