A simple yet elegant clafoutis topped with creme anglaise infused with lavender. Food with a fancy French name is attainable.
By Mary Haymaker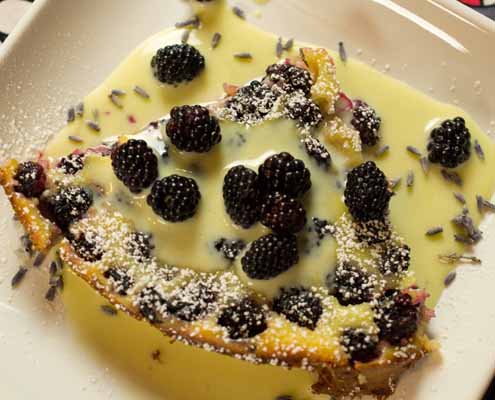 Last week I picked up some gorgeous blackberries from a local farm.  I was so excited about the fruit at the market and when I saw them there was no question in my mind that they would be mine. I picked them up for $3.00 and started plotting what they would become. Ultimately, I decided that they needed to become clafoutis….then, I remembered that I had some lavender in the pantry, purchased at a spice shop on a little mini-trip we took last week. I don't know why, but for some reason lavender and blackberry seemed perfectly paired to me.
Let me tell you a funny story about clafoutis (I'm getting to the pronunciation…that's part of the story!). For one of our anniversaries (maybe our 4th? 5th? Somewhere around that point in time) we received a gift certificate to a very swanky fine dining restaurant here in town.  When we got there, it was clear we were out of our element (we were super-young and not really what I would call "foodies" at this point in time).
This was the kind of place where the servers don't smile. They're all business (it should be noted that this is the only fine dining establishment I have visited in town like this). My husband ordered the Kobe beef, pronouncing it "Ko-Bee". Our server looked at him and said, "It's Ko-BAY." Wow. Nevermind that I have heard some chefs say Ko-Bee and others say Ko-BAY. It was clearly very important to this guy that we say it his way. Anyway, when it was time to order dessert, we decided to get the clafoutis. We had never heard of it, but it sounded nice. So, Philip says, "We'll have the….cla-FOO-tee." And the server says, "It's klah-foo-TEE." Um, okay. Sorry we're not down with your French pronunciations. So there you go. It's klah-foo-TEE.
See Also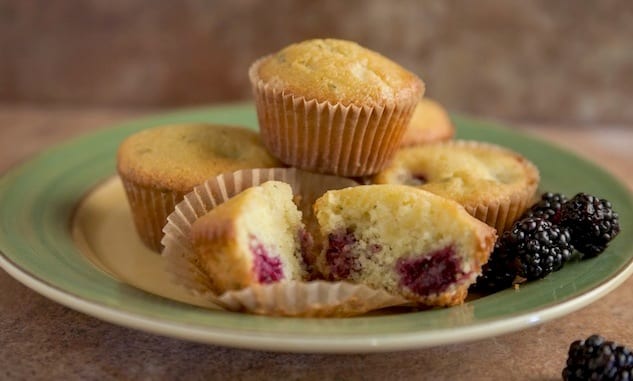 The pretentiousness of this story is made even more ridiculous when you consider that clafoutis (which can also be spelled clafouti) originated as a peasant dessert in France. It's amazing to me how so many dishes with fancy French names are so simple (and inexpensive!) but because the names are difficult to pronounce we allow fine-dining restaurants to elevate them to a degree that we find them inaccessible unless someone with a culinary degree is making them for us. French words may be difficult to pronounce, but French food is rarely difficult to prepare. Overwhelmingly, the perfection of many French foods is in their simplicity. Just buy Mastering the Art of French Cooking and you will see.
The original recipe actually calls for milk, but I had just used some local buttermilk in my cornbread that we had for dinner, and as I was reading the ingredients for my recipe I thought, "Why not?" Buttermilk always adds a delicious tang and depth of flavor to baked goods and if I have it available I will frequently substitute it for milk. Crème anglaise is essentially "English cream" and is a pourable custard sauce. Again, the name sounds fancy, but this was by far the least labor-intensive custard I've ever made. Thirty minutes start to finish and that included reading the recipe, actually making the crème, taking photos, and cleaning up after. The clafoutis? Besides baking, it took five minutes. Seriously. Five. And I made the batter in my blender. Food with fancy French names is well within your reach!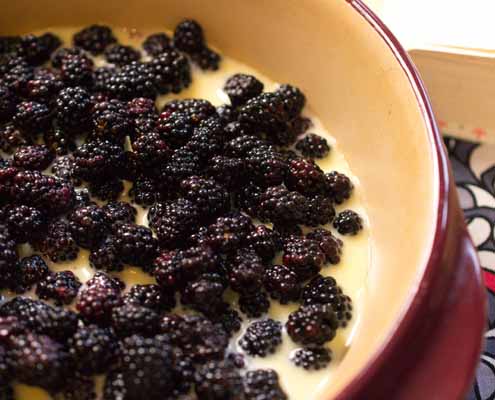 Blackberry-Buttermilk Clafoutis with Lavender Crème Anglaise
Author:
Adapted from Mastering the Art of French Cooking
Ingredients
For the crème anglaise: 2 egg yolks
¼ cup granulated sugar
½ cup + 2 tablespoons boiling milk
2 tablespoons food-grade dried lavender
For the clafoutis: 1½ cups blackberries, rinsed
½ + 2 tablespoons buttermilk
⅓ cup sugar
1½ eggs (I halved the original recipe, which calls for 3 eggs. I beat one of the eggs and poured half of it into a bowl)
1½ teaspoons vanilla
good pinch of salt
⅓ cup all-purpose flour, sifted
Instructions
For the crème anglaise: In a small mixing bowl, gradually beat the sugar into the egg yolks until the mixture is pale yellow and thickened and forms ribbons when the whisk is pulled out of it (2-3 minutes).
Very slowly pour the boiling milk into the egg/sugar mixture while whisking constantly. Pouring slowly will temper the egg yolks and prevent them from scrambling.
Pour the mixture into a small saucepan. Add the lavender. Turn the heat on medium and heat the mixture until it coats the back of a metal spoon (if you dip the spoon into the custard and pull it back out you will be able to swipe your finger through it and leave a streak in the custard and the rest will not run off of the spoon). If you have a thermometer, you can use it. Do not let the temperature go above 165 degrees. Since the milk was already hot, this will happen very quickly. You do not want the custard to simmer or boil.
Remove from the heat and let sit for about 10 minutes to "steep" the lavender, then strain through a fine-mesh sieve, cover, and refrigerate overnight. The custard will not be extremely thick. Makes about one cup; the recipe is easily doubled.
For the clafoutis: Place the buttermilk, 2 tablespoons + 2 teaspoons of the sugar, the eggs, vanilla, salt, and flour in a blender. Blend on the highest setting for one minute. If you don't have a blender, blend the eggs into the flour with a wooden spoon, add the other ingredients gradually, and strain through a fine mesh sieve).
Pour about ¼ inch of the batter into a quart-size baking dish. Pour the blackberries evenly over the top and sprinkle with the remaining sugar. Pour the rest of the batter over.
Bake for about one hour or until puffy and lightly browned (a knife inserted in the center should come out clean).
Serve warm topped with powdered sugar and crème anglaise.
Mary Haymaker
Mary Haymaker is a teacher by day and a cook, food writer, and photographer by night. She has lived in the Chattanooga, Tennessee area her entire life and is dedicated to supporting the growing local food movement there. You can read more of Mary's writing at her blog, chattavore.com.