Black Sesame Butter Cookies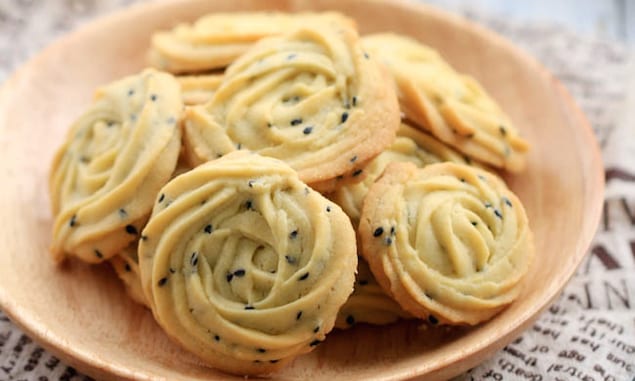 These simple black sesame butter cookies are made with common ingredients to create a melt-in-your-mouth treat that is perfect with afternoon tea.
By Elaine Luo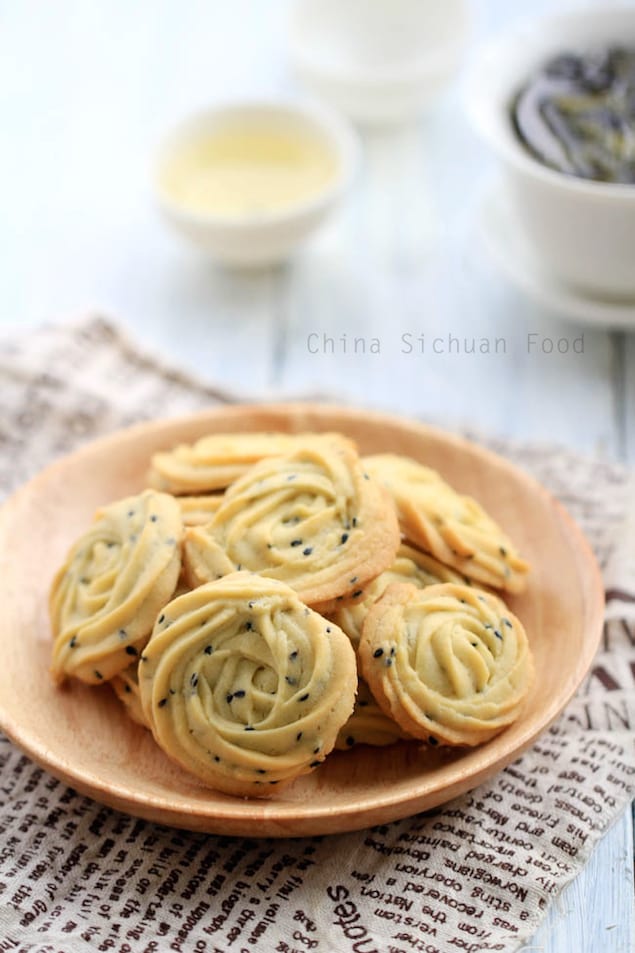 The basic butter cookie has gained great popularity in China in recent years, especially for Chinese New Year and some other Chinese holidays. Flavors are added based on our favorite tastes, like this black sesame butter cookie, or a Chinese almond cookie.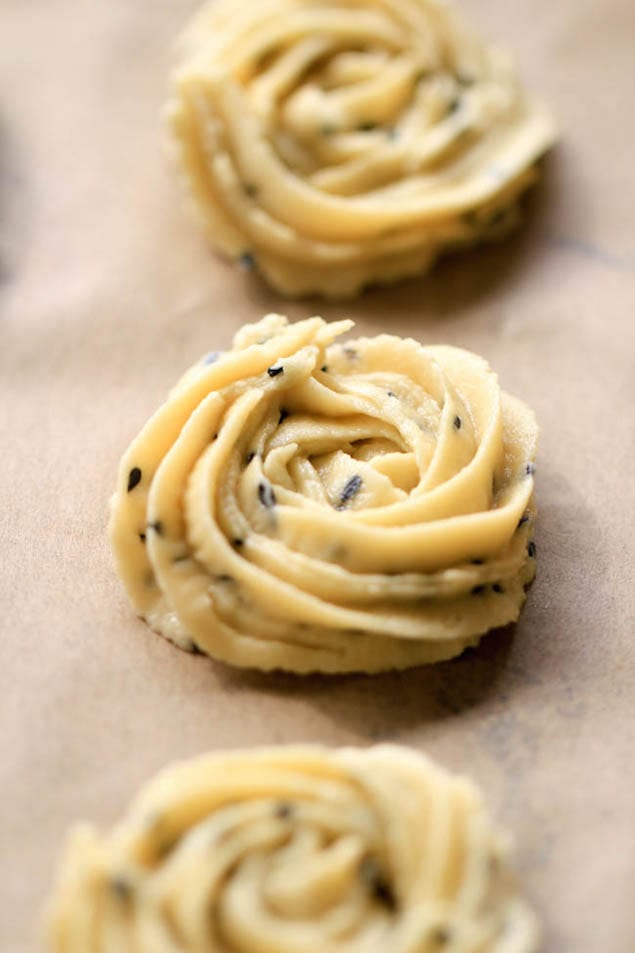 Black Sesame Butter Cookies
These simple black sesame butter cookies are made with common ingredients to create a melt-in-your-mouth treat that is perfect with afternoon tea.
Recipe Type:
Baking, Dessert
Ingredients
Making around 15 cookies
80g (2.8 ounces) unsalted butter (room temperature)
30g (1 ounce) icing sugar, sifted
1 egg yolk
Really small pinch of salt
25ml (0.8 fluid ounces) whipping cream
½ teaspoon vanilla extract (optional)
100g (3.5 ounces) low-gluten flour (cake flour or self-raising flour)
1 and ½ tablespoon toasted black sesame seeds or more as needed
Instructions
Mix sugar and salt with butter in a deep bowl and then cream with an electric mixer until very light and fluffy. This step is really important cause it will influence the texture if the final mixture and the taste of the baked cookie.
Add egg yolk, vanilla extract and whipping cream and whip until all the ingredients are well combined.
Sift the low-gluten flour in, garnish toasted black sesame and use a rubber spatula to combine the mixture well. And then transfer the mixture in a pastry bag assembled with coupler and tip. You can choose to use any tip that can make gorgeous swirled roses.
Firstly, get the baking sheet lined and pre-heat the oven to 175 degree C.
Start to pipe the rose cookies: hold the pastry bag vertically and start in the center and uniformly rotate the pastry bag while pushing the mixture with uniform force. Space the cookie around 4cm apart.
Bake in middle rack for 15-20 minutes. Check in the ending minutes until they get a slightly brown color. Wait for several minutes and then transfer to wire rack to cool down.
Keep all the cookies within air-tight container.
Elaine Luo
Food blogger from China. Love real and simple dishes especially Sichuan Cuisine.