This meaty soup stretches pantry staples like black beans into a hearty and filling meal.
By Sherron Watson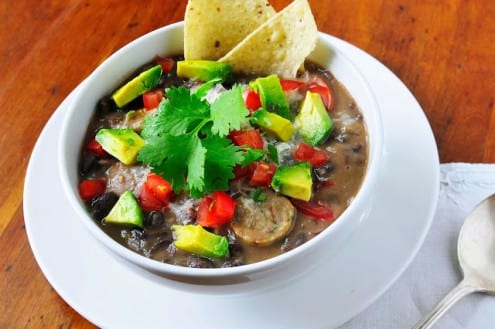 Black Bean, Ham Hock and Chicken Sausage Soup
This meaty soup stretches pantry staples like black beans into a hearty and filling meal.
Ingredients
2-15 oz. cans black beans, drained and rinsed
2 -16 oz cans of chicken broth
1 pound of smoked ham hocks (usually two hocks)
½ cup red onion, chopped
½ cup green bell pepper, chopped
2 cloves garlic, minced
½ cup olive oil
½ teaspoon salt
¼ teaspoon pepper
3 Chicken and Cilantro Sausage Links (optional)
3 cups of prepared rice (optional)
Toppings: diced tomato, avocado, sour cream, grated cheese, cilantro
Instructions
In a large pot add the first 9 ingredients.
Bring soup to a boil and then let simmer for 1 hour. The soup will thicken, veggies will cook and any meat on the ham hock will fall off.
Remove ham hock bones. Using a potato masher, mash soup a few times.
In a sauté pan, heat a small amount of oil. Slice the chicken cilantro sausages and fry on each side. Add to the soup. Serve.
Sherron Watson
Sherron Watson is a writer and photographer. Her passion for food started at a young age while working with her family in their restaurant business. A career in photography gave her the experience she needed to start capturing images of her favorite dishes. This led to the creation of her blog: simply-gourmet.com. She is currently a food writer for Capital Style Magazine in Annapolis, MD.