Los Angeles is bursting with British actors and chefs. Originally from London, Chef Brendan Collins gives us the lowdown on the best places for a bite of Brit cuisine.
By Belinda Gosbee
We've all noticed a surge of British actors around town and on our screens, hiding behind their impeccable American drawls. Those bleedingly talented folk are breaching LA from yet another angle as well: our food culture. Enter—from behind a thicket of English Birch trees—chef Brendan Collins, Nottingham's other favorite son.
This one, however, is not wearing green tights and a quiver of arrows.
After honing French culinary styles from age 15 and working in London's revered Le Gavroche by age 17, Brendan spent the next decade in some of UK's best kitchens. In 2002, he went full monty and crossed the pond to be Chef de Cuisine at Mélisse in Santa Monica. During this time, Melisse became double-Michelin starred, which Brendan followed up with an unmistakable stint at The Hall at Palihouse, gaining a fanatical following. And then, the Brit with an extra helping of cheeky humor, went on to open two LA restaurants of his own within a few years span. Although one shuttered since, Larry's—dishing out Cali-beachy eats near Venice Boardwalk—continues to be a buzzy spot.
His latest restaurant, Birch, is an homage to his English 'roots'. However, it's less British eats and more reflective of LA's melting pot, like his Rabbit Baklava with dates, white beans, pistachio and carrots or Monkfish Tikka Masala with quince chutney and lime pickles.
And even though he's been in Los Angeles for nearly 20 years, Brendan admits to missing a taste of home. So, where does this lad go when he needs a boost of British flair? Read on to find his favorite British eats, bars and vibe in LA: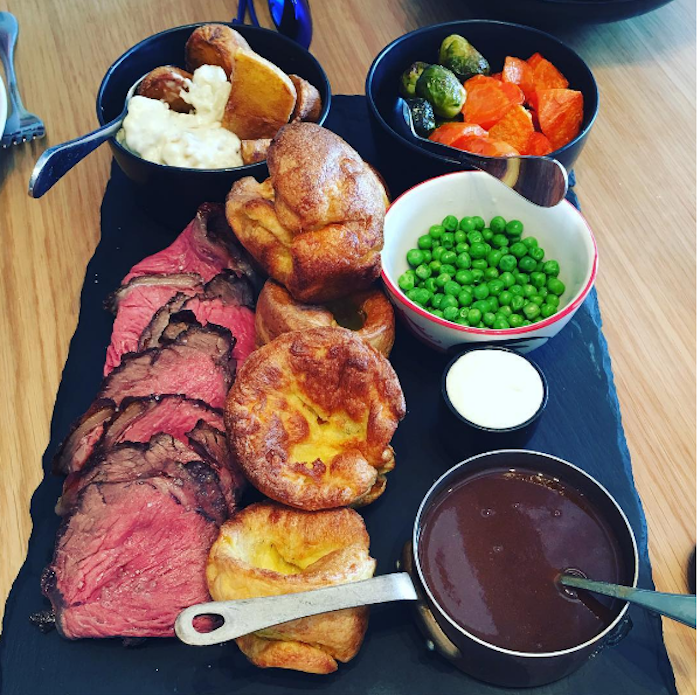 Sunday roast at Birch. Image courtesy of @steveshawphotos
Hollywood, $$$
Brendan Collins: Birch isn't a British restaurant. However, what we do that is quintessentially British is the roast on Sundays. We do it right – roast sirloin, peas, carrots, roast potatoes, Yorkshire puddings and a good and tasty meat gravy. Nothing beats it. Good British food is a labor of love. I work every Sunday at Birch to make sure the roast is right. It's very simple cooking and when you're doing things that simple, it has to be "touched" by the chef to make those small things just right.
Vegetarian Breakfast with Fried Bread. Image courtesy of @ye_olde_kingshead
Santa Monica, $$
BC: One of my favorite spots is the King's Head in Santa Monica. It's run by Brits, so you can see the details. Peter, the GM, is a good mate of mine and always makes you feel like you're at a home away from home. I have a couple of mates with kids the same age as my daughter and we've started a bit of a tradition where we go to the King's Head on Christmas Eve. The holidays are hectic for chefs, so I tend to leave everything to the last minute. We go just with the kids (no wives, they're all American) and after doing a bit of shopping, we have lunch – all very British. This past year we had meat pies and gravy, bought a stupid amount of English candy from the Ye Olde Kings Head Gift Shoppe next door, played darts, and had a couple of beers. It's always a good time and our little way of sharing our heritage with our kids.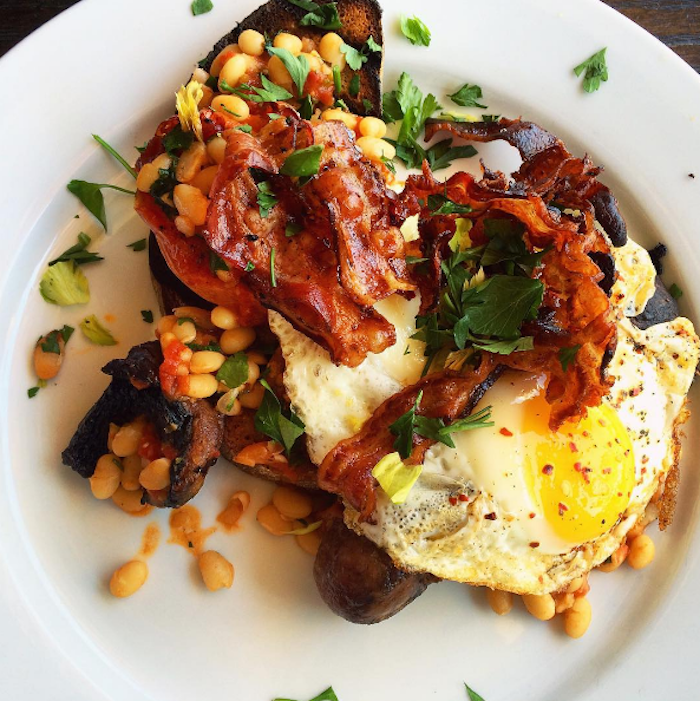 Full English breakfast The Pikey. Image courtesy of @lavalleygirl06
Hollywood, $$
BC: The Pikey on Sunset is another place I like very much. Their full English is nothing to be trifled at, a proper good plate of food.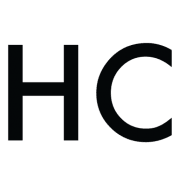 Citizine
Citizine is a lifestyle platform that highlights the culture of Los Angeles through the people who shape it. Create a Citizine profile and follow us on social media to keep up with the best events, places, and people taking LA by storm.