A simple comforting gluten-free dessert made with three wholesome ingredients enriched with the goodness of freshly ground cardamom.
By Rinku Bhattacharya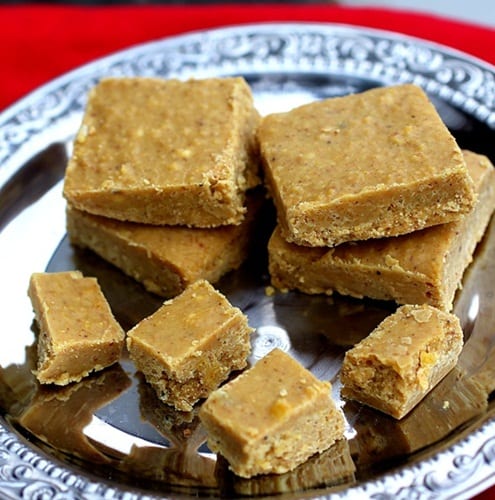 My mother-in-law lovingly roasts chickpea flour to golden perfection and then softly folds in the golden clarified butter and sugar with chopped almonds and shapes them in round balls of golden perfection, called Besan (chickpea flour) ladoos. A lovely dessert that is the hallmark of North India. The fragrance of roasting this chickpea flour is something that still reminds my children of her and they are excited about savoring her golden balls of perfection. Northern India makes its sweets with grains, rather than milk based desserts which tend to be a speciality of Eastern India.
The entire process of cooling and shaping these ladoos takes her a good hour, and her recipe is very generous in its indulgent use of ghee or clarified butter. This time of the year as we celebrate Diwali, it is time for an annual ode to sugar. I have modified her recipe leaving the essential elements intact by shaping them into flat squares or diamonds. You get almost all the indulgence, with somewhat less work. Essentially, I have reduced the clarified butter from her original recipe and cut out the time intensive process of shaping the dessert into balls. I also make these in extra batches for gift giving and the flatter shape travels better since it can be fitted comfortably into a box.
After all, what's in a shape? This recipe will still bring to your table the touch of nostalgia, the spirit of celebration and some of the brightness of the festival of lights. If you live in the New York area like me, chances are that you might have been impacted by the super-storm Sandy.
If like me you were without light for over a week you will be welcoming light into your home festive or otherwise with enthusiasm and happiness. here is however something that will brighten your late fall day with or without the Diwali lamps. This year, I have learnt even more to appreciate the simpler joys of life and am grateful that we did not have any damage to our house. The storm also taught us first hand about the voice and fury of nature.
Print
Besan Barfi – Chickpea Flour Fudge Diamonds
---
Total Time:

40 minutes

Yield:

1

0

1

x
Description
A simple comforting gluten-free dessert made with three wholesome ingredients enriched with the goodness of freshly ground cardamoms.
---
11/4

coarsely ground chickpea flour (sold as ladoo besan in Indian stores)

6

pods of green cardamom, peeled and ground

3/4 cup

clarified butter (ghee)

3/4 cup

powdered sugar
---
Instructions
In a heavy bottomed skillet, dry roast the besan for about 15 minutes, stirring to ensure even roasting and keeping the flour from burning. At the end of this process the mixture should be fragrant and a few shades darker.
Stir in the powdered cardamom and add in the ghee, stirring contanstly to ensure that it melts and the mixture is lump free.
Stir in the powdered sugar and mix well until it melts.
Cook for 3 to 4 minutes, until the mixture is thick and smooth.
Pour onto a greased plate and let the mixture cool for about an hour, at this point it is quite firm. Cut the mixture into squares and or diamonds and serve.
Prep Time:

10 mins

Cook Time:

30 mins
Rinku Bhattacharya
Rinku Bhattacharya, is a teacher of Indian Cooking and the author of the blog, Spice Chronicles. A busy working mother Rinku is committed to offering a practical approach of flavorful, everyday cooking often with an Indian Accent. An author of three cookbooks, Instant Indian, Classic Foods for Every Region of India made easy in the Instant Pot, Spices and Seasons, Simple, Sustainable. Indian Flavors and The Bengali Five Spice Chronicles. Rinku's passion for food starts with cooking and trying new recipes and extends to pairing and drinking wine with food and trying usual combinations by fusing various culinary influences. Rinku and her family are very committed to a sustainable lifestyle, and she uses mostly local produce for her recipes. She is joined in this effort by her husband who is an avid gardener and her children, Deepta and Aadi.