Are you in a lunch rut? For you or the kids, spruce up your packed lunches with these tips inspired by international bento boxes for breakfast or lunch.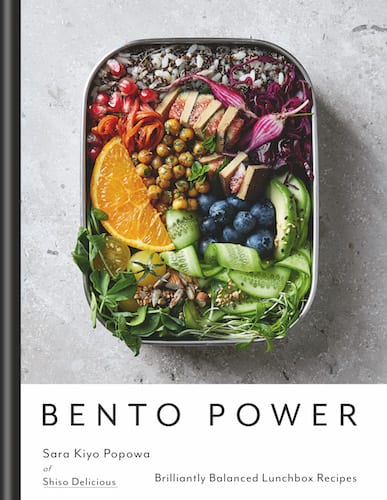 Sara Kiyo Popowa is a Japanese-Bulgarian raised in Sweden. Various cuisines and flavors are constantly dancing on her tongue and floating around her mind. Her creativity is abundantly clear in the vibrant pages of her new cookbook Bento Power: Brilliantly Balanced Lunchbox Recipes.
The recipes in this book have reignited our imagination around our packed lunches for the office or for the kids, just when we were getting stuck in a rut. The best part? Most of these lunches can fit in just one container, that means less dishes for you.
Check out these tips to creating a beautiful and filling bento box. And be sure to checkout the cookbook for all of the recipes!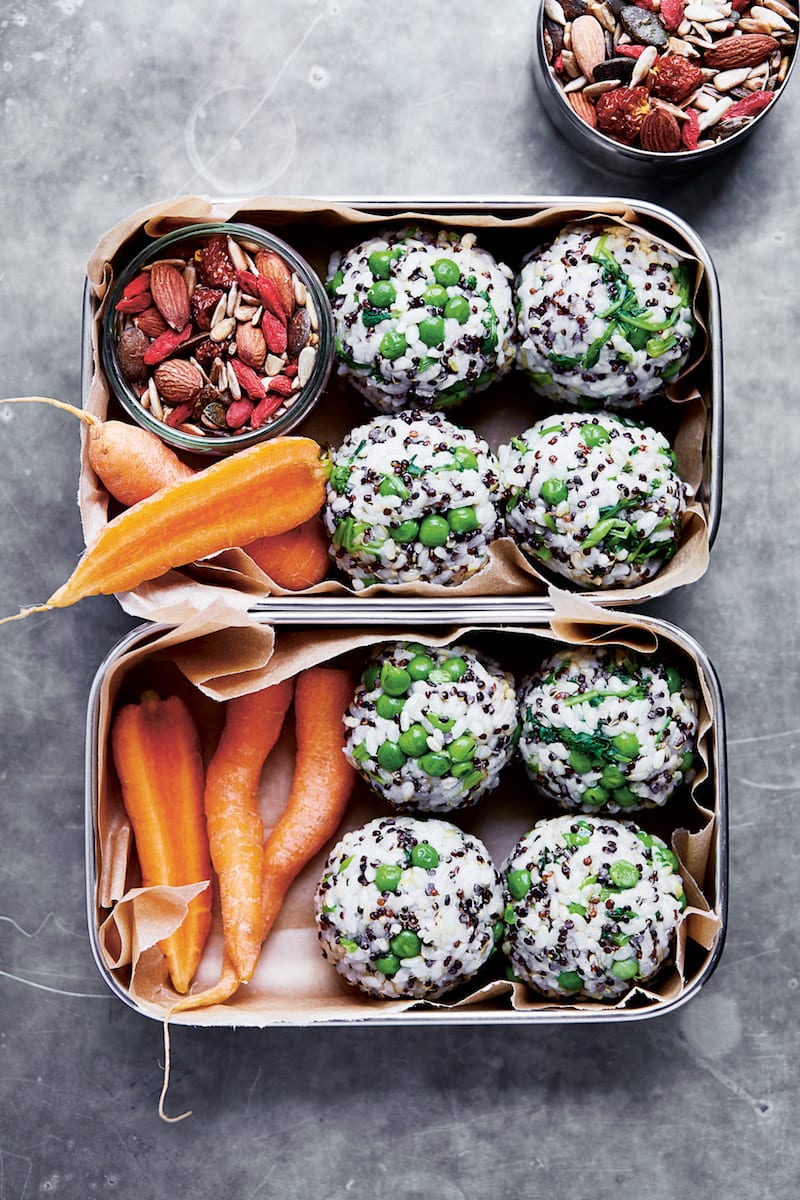 Mixed Blessings Onigiri Bento
5 Colors and 5 Qualities of Japanese Food
To bring more balance to your meals, try incorporating the 5 colors of a Japanese meals: white, black, red, yellow and green. The idea is that if you are sure to have these 5 color at every meal, not only will your bento box look beautiful and bring you joy, it should have a nice balance of nutrients. In her cookbook, Sara lists out common bento foods for each colors, in case you get stuck.
Get a Good Base
The first chapter of the book is all about bases or grains. While there are plenty of rice recipes, the book goes beyond that staple to include other grains and carbs.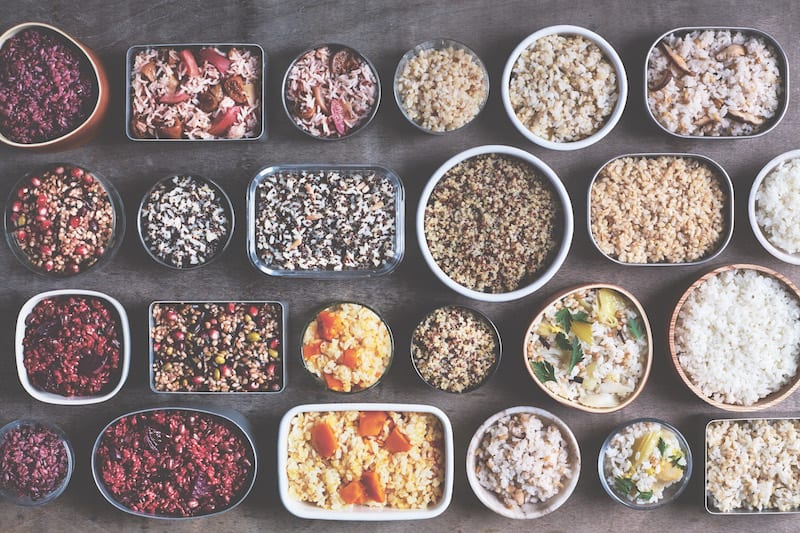 Try a Noodle Bento
Why have we never thought of this! If you have hot water for tea at your office, you can totally achieve this easy bento box. Simply pack up rice noodles with miso and veggies and then pour bowling water over top when you are ready to eat. Put the lid back on and let the noodles cook for a few minutes and then you have a beautiful, hot soup-like noodle dish.
See Also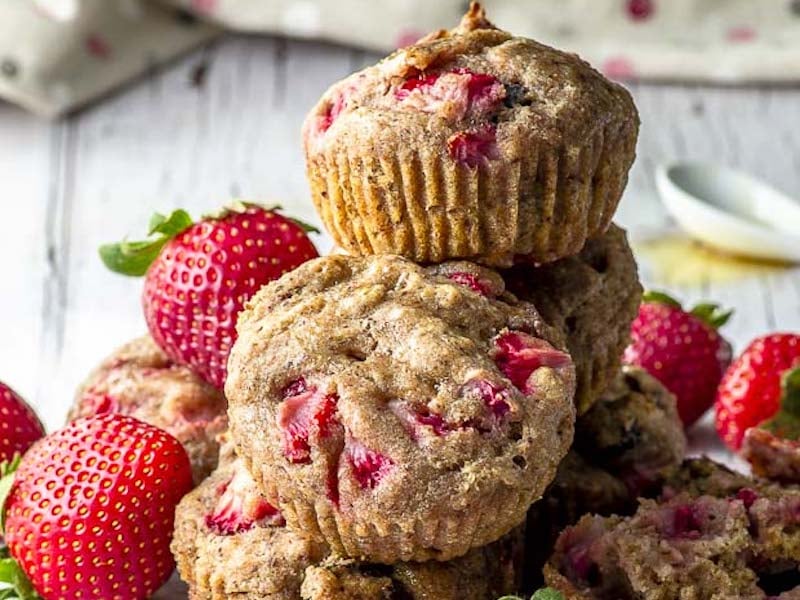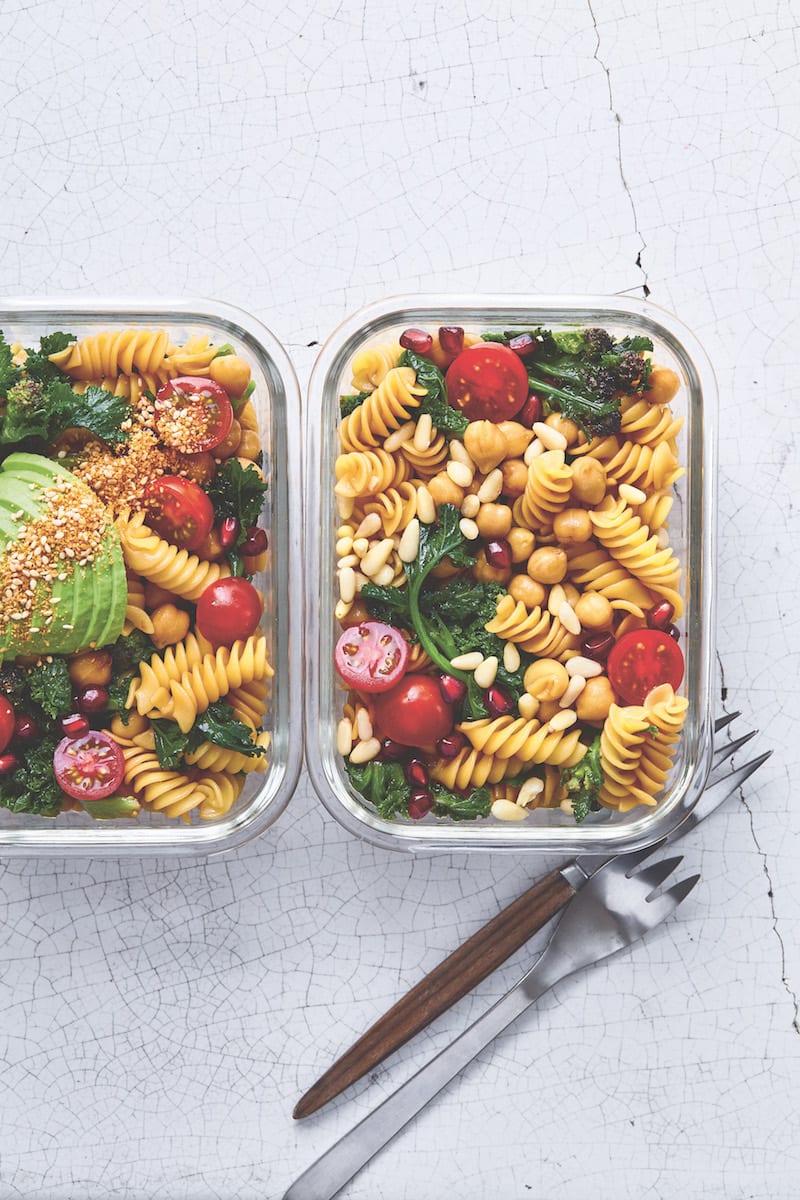 Pasta Surprise Bento
Rethink Shapes
When you get tired of the usual grain bowl, try shaping your rice balls or onigiri or sushi sandwiches. When a hard boiled egg gets old, make a tamago-yaki omelet. Sometimes just changing shapes or flavor profiles is enough to make things exciting again.
Packing a Bento
Traditionally, a bento box is packed with flavors and texture in mind, always in the same order. 1. Rice or grain fill up one half of the box. 2. Fill the other half with a bed of greens. 3. Top with your protein and any accompanying fruits and vegetables. 4. Finish with seasoned nuts. seeds, salts, herbs or furikake. That's it! Of course not all bento boxes contain all of these components, but this is a basic guide.
Print
Bento Box Goals: Tips for Delicious Packed Lunches
A complete meal in one ball of blessings! I'm taking full advantage of mixed grains here; the white rice makes the onigiri easy to shape, the brown rice and quinoa adds nutrients and filling power, and it's all finished off with nutritious watercress, seeds, and pretty peas! Sansh?is a Japanese spice with a unique, slightly tongue-tingling aroma, similar to Sichuan pepper (which it can be subbed with) that really perks up rice. Depending on their freshness, the peppercorns can be very potent, so try with a small amount first. If you can't find either of these spices, just use freshly ground black pepper.
Author:

Sarah Kiyo Popowa
Onigiri makes

5

x 3½-oz. balls (enough for

2

–

3

bento.)
Refrigerator life: Eat the same day.

½ cup

white Japanese rice

½ cup

brown short-grain rice
generous

1/4 cup

quinoa

1½ cups

water (to cook)

1

bunch (about 5½oz. of watercress (stalks included), thoroughly washed)

1/2 tsp

. flaky sea salt

10

–

15

grains of sansh?or
sichuan pepper (crushed)

1½ cups

frozen peas straight from the freezer
a few spoonfuls of zen pebble furikake (toasted sesame seeds, or green gomashio (pages 38 and 41), optional a small bowl of water and a small plate of sea salt, to shape the onigiri)
Instructions
To make the onigiri, wash the combined rice and quinoa directly in your cooking pot with cold water, trying to rub off as much of the cloudy starch as you can with your fingers. Discard the water and repeat twice. Drain completely, and add the measured water for cooking. Cover and bring to a boil, then simmer over low heat for 15 minutes. Remove from the heat and, without removing the lid, let stand for 5 minutes before using. While the rice cooks, quick-blanch the watercress. Place it, stalks and all, ina heatproof bowl and pour boiling water over to submerge. Leave for 2minutes, then drain in a strainer and cool completely under cold running water. Tightly squeeze it in your hands to remove as much water as possible. Chop finely and, while it's still on the cutting board, mix it with the salt and sansh?or sichuan pepper. Put the cooked rice and quinoa in a large mixing bowl and gently stir in the frozen peas—they will help cool down the mixture. It's ready to use when it's cool enough to handle with your bare hands. Gently fold in the watercress, plus optional seasonings to taste. Divide the rice into 5 equal parts. Wet, then dab your hands with a little salt (the salt both flavors and helps keep the rice fresh so don't skip this step) and gently but firmly squeeze each part of the rice into balls, wetting your hands in between each one. See overleaf for more detailed instructions. Pack a couple or so of the rice balls snugly in your bento box, or wrap each one in parchment paper or reusable wax wrap. Pack the carrot in any remaining space in the box, or in a separate pot, and put the
nuts and dried fruit in a small separate pot. Pack in a bento bag or furoshiki with a napkin.
Bento Power by Sara Kiyo Popowa © 2019 Kyle Books, and photographs © Sara Kiyo Popowa.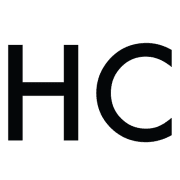 Honest Cooking
The Honest Cooking editorial team handpicks inspiring culinary stories to share with you that we think are beautiful. We strive to create an inspiring place for culinary exploration, salivating recipes, interesting personalities and stories.