If the smashed-style of burger is your favorite, then this recipe with BBQ sauce, bacon, and caramelized onions is perfect.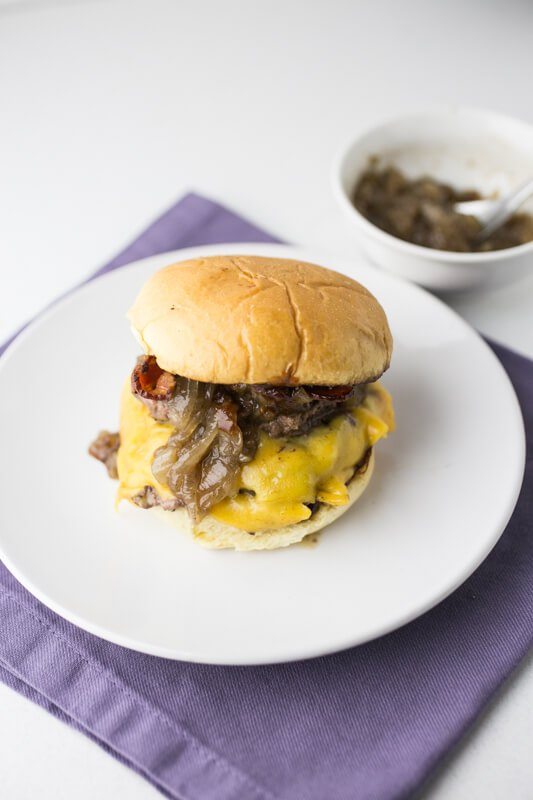 There was a time in my life where I was convinced that I would never be able to make a burger that was as good as the burgers that I ate in restaurants. There was also a time in my life – a LONG time – where I was deceived into thinking that the quickest way to ruin a burger was to (gasp) smash it.
Turns out that neither of these things are true. While I still love a great restaurant burger, there is no home cooked dinner that excites me more to come home and cook than one of these burgers. That's for two reasons: 1) they might be even better than a great restaurant burger; and (2) this dinner takes 15 minutes from start to finish, assuming that I made the caramelized onions ahead of time.
Upscale fast food chains like Shake Shack, Smash Burger, and the grande dame, In-N-Out, have, pardon the pun, smashed the notion that you shouldn't smash your burgers. All you need for a perfect smashed burger are: some good 80/20 ground beef, salt and pepper, a hot skillet (preferably cast iron), and a whole lotta pressure. Bonus points for a squishy potato roll (Martin's is my preferred brand) and a fantastic burger sauce. Other toppings are optional, and I always err on the side of simplicity with my toppings.
This BBQ bacon smashed burger is quick, simple, and delicious, and you will need two napkins to eat it. That, my friends, is the sign of a great burger.
Click here for the homemade BBQ sauce recipe.
Print
BBQ Smash Burgers
If the smashed-style of burger is your favorite, then this recipe with BBQ sauce, bacon, and caramelized onions is perfect.
Author:

Mary Haymaker

Category:

Main
1

pound 80/20 ground beef (divided into 8 portions (I use a kitchen scale to weigh out

2 ounce

portions))
salt and pepper

2 tablespoons

unsalted butter

4

potato rolls (I get the smaller ones, not the big Mamma Jammas with sesame seeds on top)

1/2 cup

BBQ sauce (store-bought or use my recipe below)

4

slices American cheese (I like the kind that isn't wrapped in plastic, like Land O'Lakes)

4

slices bacon
caramelized onions
For the BBQ sauce
Click the link above for the BBQ sauce recipe.
Instructions
If you are making your own BBQ sauce, whisk the ingredients together in a small bowl. Cover and refrigerate until ready to use.
Roll the ground beef into balls and salt and pepper both sides of each ball.
Place a 10-12 inch cast iron skillet over medium heat and melt one tablespoon of butter. Brown the cut sides of two of the potato rolls. Remove to a place and repeat with the remaining butter and potato rolls.
Place each potato roll on a plate and spread both cut sides with BBQ sauce.
Increase the heat on the skillet to medium-high. Place 4 of the balls of ground beef in the hot skillet and smash with a flat spatula or even a clean trowel, using another spatula to increase the pressure, until the patties are as thin as you can get them. Cook for 1-2 minutes, until browned and slightly crispy. Flip the burgers and cook for another minute or two.
Top two of the burger patties with cheese and place the other patties on top. Allow the cheese to melt and remove to two of the prepped buns. Repeat the cooking process with the remaining ground beef.
Top the burgers with bacon and caramelized onions and serve immediately.
Notes
Prepping the buns before you begin cooking the burgers allows you to get the burgers from the pan to the table as quickly as possible!
Mary Haymaker
Mary Haymaker is a teacher by day and a cook, food writer, and photographer by night. She has lived in the Chattanooga, Tennessee area her entire life and is dedicated to supporting the growing local food movement there. You can read more of Mary's writing at her blog, chattavore.com.