Barbecue Side: Tomato And Green Bean Salad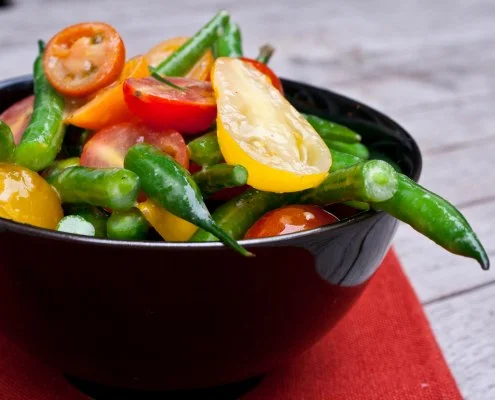 Even if you've already fired up the barbecue for the next couple of months, a good salad side is always a great companion.
Text And Photo By Ewa Sack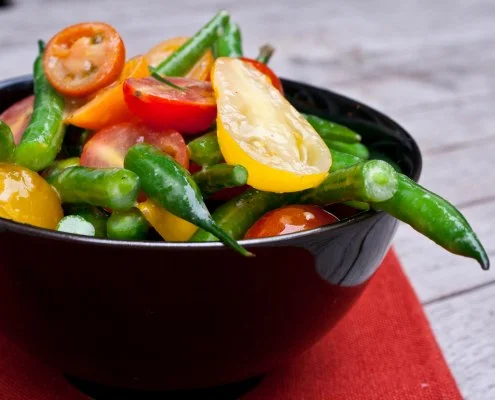 As days are getting longer and we all start to barbeque outside we all crave for those summer salads that go well with a piece of steak or a lamb burger.  This simple and classic salad is perfect during a summer night.   Every time I make this I always get asked for the recipe and it could not more simple to make.  The bottom line is that the real secret of super-fresh food is that you don't need to do a lot to it to make it delicious. This salad belongs into that category.

Tomato and Green Bean Salad
Even if you've already fired up the barbecue for the next couple of months, a good salad side is always a great companion.
Ingredients
10 oz green beans
14 oz red and yellow cherry tomatoes
2 green onions
1 tbsp Dijon mustard
1 tbsp apple cider
2 tbsp olive oil
1 tbsp sea salt
Pinch of freshly ground pepper
Instructions
Prepare the vegetables by topping the tail head of the green beans by hand of by knife and then cut them into 3 pieces (1 ½ inch pieces). Then blanch the green beans. To do this you put the green beans into boiling water for about 3 minutes and then throw them into a bowl filled with ice water, remove and let them dry.
Then cut the cherry tomatoes into halves and chop the green onions and set aside.
Make the dressing by combining Dijon mustard, apple cider, olive oil, salt and pepper.
Toss the cherry tomatoes and green onions in with the dressing; this can sit for a while.
Do not add the green beans until just before serving or they will discolor from the acid in the vinaigrette.
Ewa Sack
Ewa was born in Sweden, raised in Asia and now lives in the United States. She has a passion for international flavor and all things related to food. She shares her recipes and her evolving fascination with the global artistry of culinary delights through her blog Delishhh.