A delicious take on the classic banana cream pie, this time served in a tart and topped with fun toppings likes a Banoffee Pie.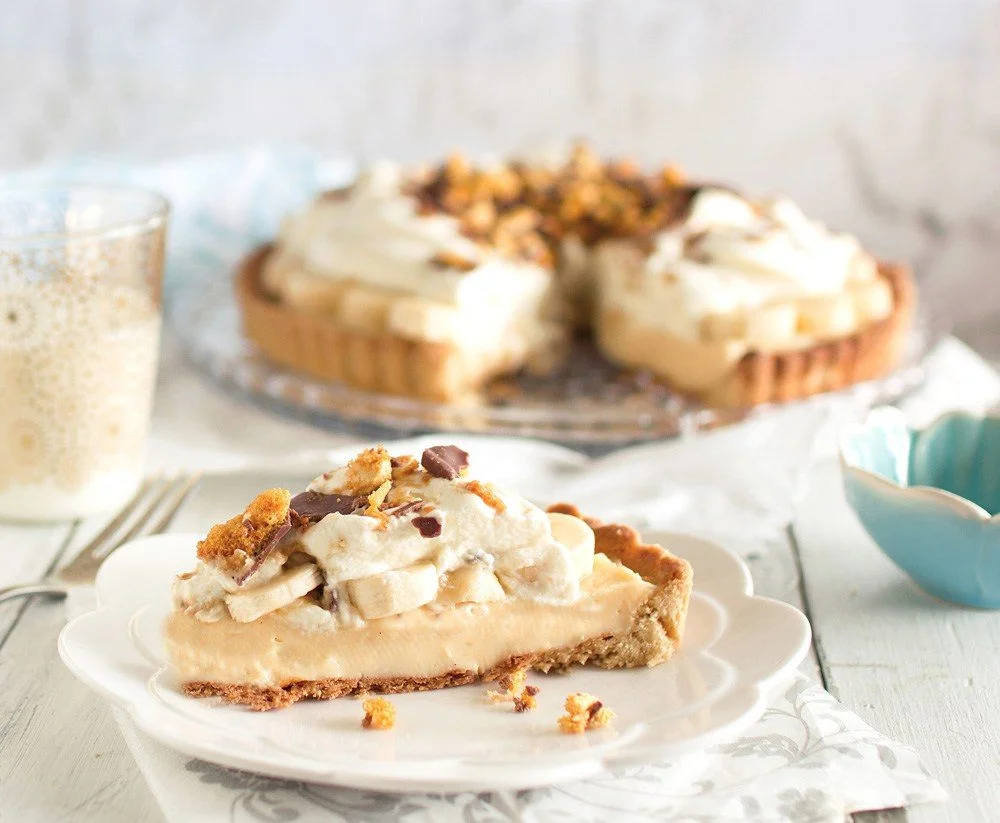 Here's one of those quintessential American desserts that we've all heard about – Banana Cream Pie. It's not something we tend to see here in New Zealand, though we are quite partial to its cousin, Banoffee Pie with its combination of bananas and caramel.
So, this was a first for my family and boy oh boy, did we love it! Big brother said he'd happily have it every second week! And, the great thing about Banana Cream Pie is that you can literally do that, given bananas are always available. We loved the combination of crunchy shortbread crust, thick vanilla pastry cream, fresh bananas and billowing whipped cream, And, I couldn't resist scattering a crushed Crunchie bar (chocolate covered hokey pokey bars) on top for a bit of pizzazz.
I wanted to ensure the pie was authentic, so I borrowed the recipe from one of my favourite American baking sources – Joy of Baking. I was initially a little hesitant to use a shortbread crust, thinking it would be too sweet, but I was totally wrong. In fact, we were all surprised to find the pie wasn't really sweet at all so, as it turns out, the Crunchie bar on top was a good call!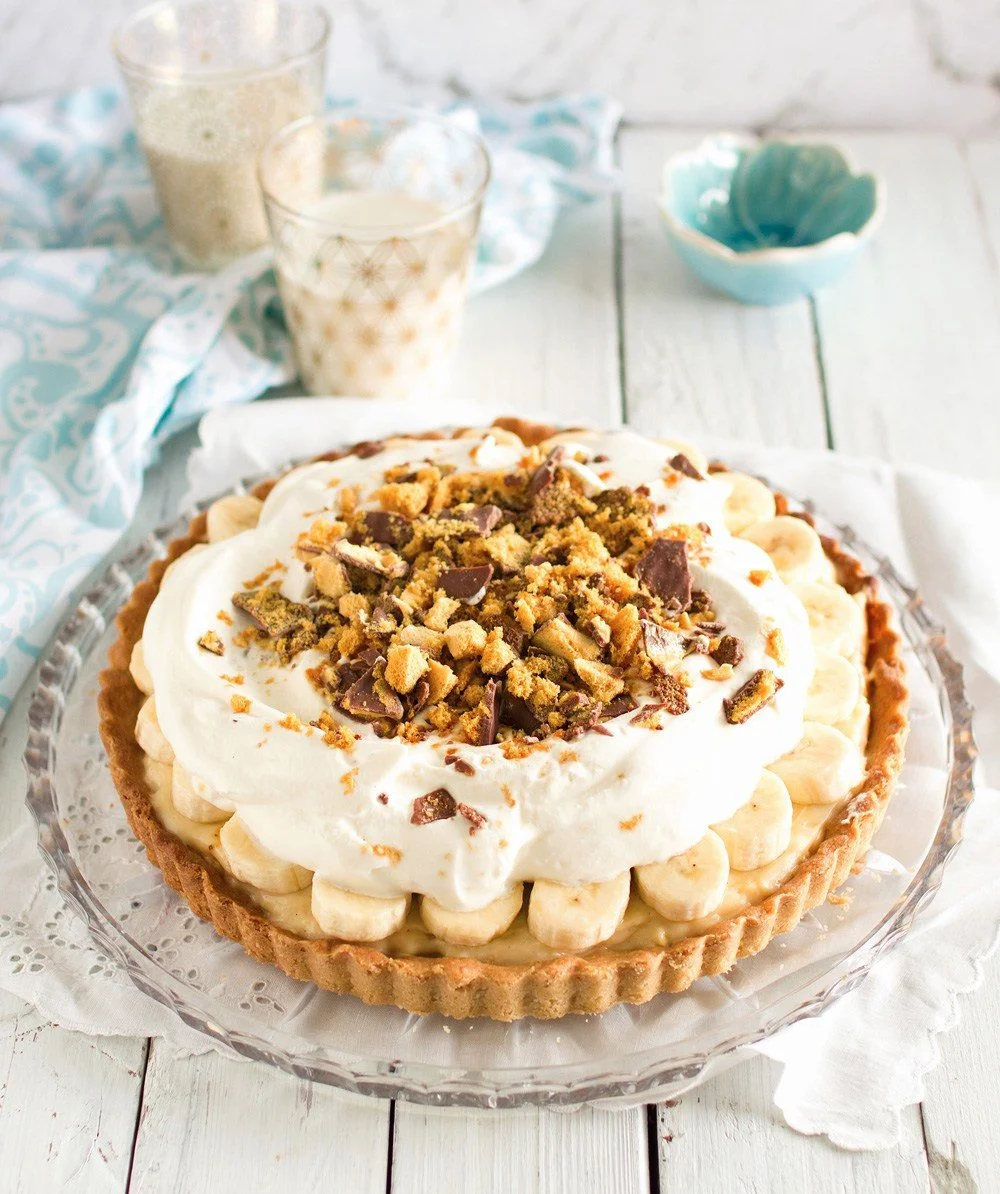 I do have a couple of notes to make regarding the recipe. There only seemed to be enough pastry dough to just cover an 8 inch shallow tart pan, so you may want to increase the amount you make if you want a deeper or wider crust. I found the same thing with the pastry cream – there didn't seem to be very much of it. As it happened, I found the pastry cream to be way too thick anyway, so I thinned it down with an extra half cup or so of milk while it was cooking which gave me that extra bit of filling. Again, if you have a deep tart pan, you might consider increasing the pastry cream component.
Even though there are a few steps to making this delicious pie, each step is a doddle and you really can't go wrong. It doesn't take too long to make either, especially if you make the crust the day ahead as I did. All I did on the day I served it was make the custard, slice up some bananas and whip the cream. Easy peasy.
Given how well this show-stopper of an all-American dessert went down, I'll definitely be making it again and I have no hesitation in recommending it to those of you who haven't yet had the pleasure of sampling it. Enjoy!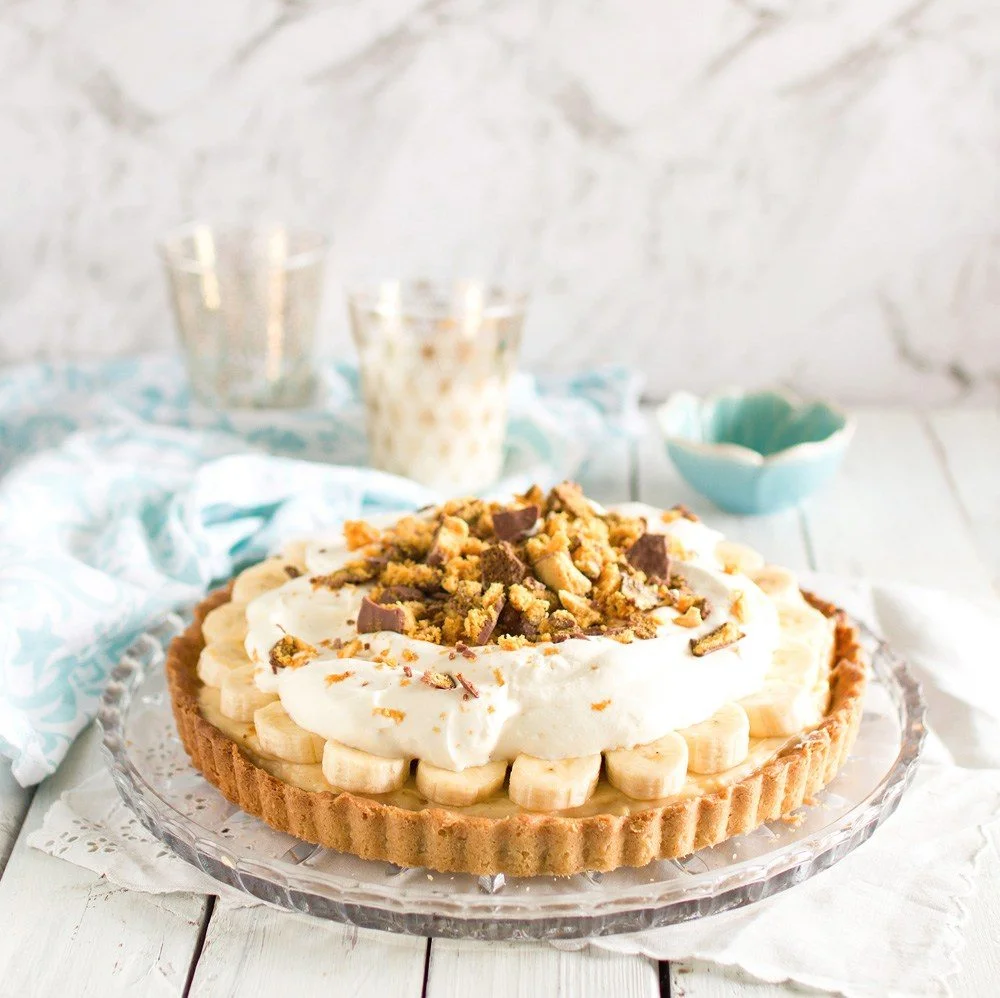 Click here for the shortbread crust recipe.
Print
Banana Cream Tart
---
For the Shortbread Crust:
Click the link above for the recipe.
For the Pastry Cream:
1

–

1/4

cups 300 ml whole milk (I used

1

–

3/4

cups)

1

vanilla bean (split lengthwise and seeds scraped (or

1 teaspoon

pure vanilla extract or vanilla bean paste))

3

large egg yolks

1/4 cup

50 grams granulated white sugar

2 tablespoons

20 grams all-purpose flour

2 tablespoons

20 grams cornstarch (corn flour)

2

–

3

large bananas (peeled sliced)
For the Whipped Cream:
1 cup

240 ml cold heavy whipping cream (contains 35-40% butterfat)

1

–

2

tablespoons 10-20 grams icing sugar (confectioner's sugar), to taste

1/2 teaspoon

pure vanilla extract
To assemble:
1

Crunchie bar or other preferred confectionery (or shaved chocolate, or extra banana slices)
---
Instructions
For the Shortbread Crust:
Click the link above for the recipe.
For the Pastry Cream:
Add milk and vanilla bean and seeds to a medium sized saucepan and over moderate heat, bring to scalding point (just before it boils).
While you're waiting for the milk to heat up, add the egg yolks and sugar into a medium sized heatproof bowl and mix together.
Whisk the flour and cornstarch (corn flour) together and then add to the egg mixture, mixing until you get a smooth paste (this will be quite thick).
When the milk has heated up, remove it from heat and take out the vanilla bean (this can be washed, dried and placed in your sugar container to make vanilla sugar). Add the milk slowly to egg mixture, whisking constantly to temper the eggs. (If you get any bits of cooked egg, you can strain the mixture through a sieve).
Pour the egg mixture into a medium saucepan and cook over medium heat until boiling, whisking constantly (I found the mixture to be extremely thick, so I added another half cup of milk at this point to thin out the mixture). When it boils, whisk mixture constantly for another 30-60 seconds to ensure the cornflour gets cooked out.
Remove the pan from heat and pour into a clean bowl. Immediately cover the surface with plastic wrap to prevent a skin from forming. Cool to room temperature before using (you can put it in the fridge if you're in a hurry). If not using right away refrigerate until needed, up to 3 days. Give it a brisk whisk before using.
For the Whipped Cream:
Beat together the cream, icing sugar, and vanilla extract until it yields soft peaks (you want it softly billowing, not stiff).
To Assemble:
Spread pastry cream evenly over cooled crust. Top with sliced bananas (I lightly spritzed the sliced bananas beforehand with lemon juice to keep them from browning).
Spread the whipped cream over the bananas. Add the topping of your choice (either more banana slices, some shaved chocolate, or crushed confectionery as I did).
Store in the refrigerator for at least 2 hours to chill.
Susan Knaap
I'm Susan - food lover from the best little country in the world - New Zealand. I'm an 'accidental' cook who fell into it, hook, line and sinker when I turned the big 5-0. Not exactly sure why it happened; perhaps some previously defunct piece of DNA came good. Anyhow, I'm making up for lost time and spending countless hours in the kitchen cooking up a storm. Desserts are my Archilles heel, followed closely by good old-fashioned baking - it's good for the soul; not so much for the waistline!