You will totally fall in love with these Baked Red Velvet Donut Holes with Cream Cheese Glaze, because really, what's better than an excuse for eating red velvet at breakfast?
By Chris Cockren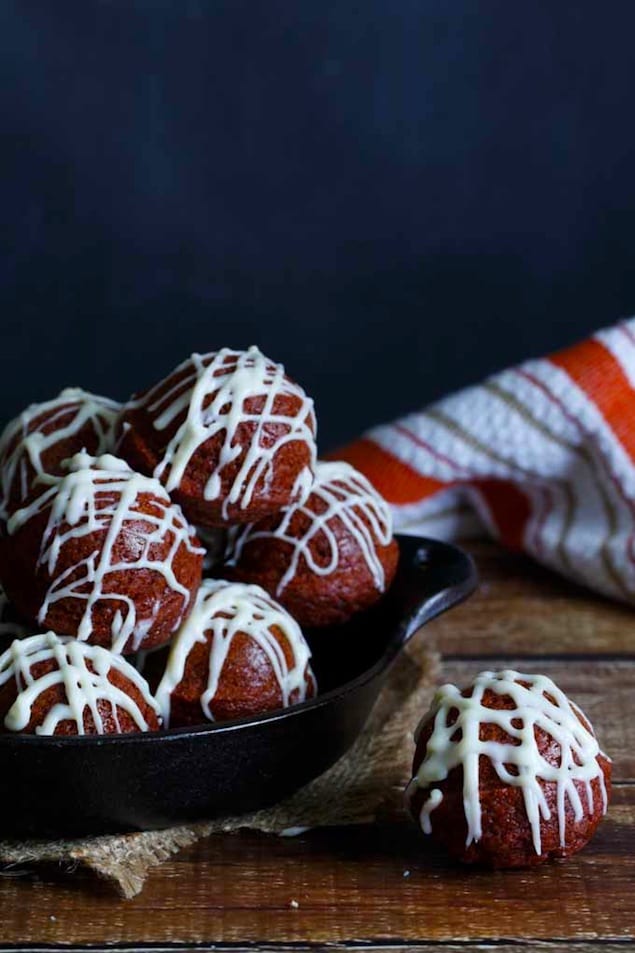 So guess what the secret was to making sure these bad boys stayed moist? Greek yogurt. Making baked donuts literally only takes 10 minutes of prep. And everyone has 10 minutes. These bad boys have been slightly adapted from the awesome and super talented Kelly at Life Made Sweeter.

Baked Red Velvet Donut Holes
You will fall in love with these Baked Red Velvet Donut Holes with Cream Cheese Glaze, because what's better than an excuse to eat red velvet at breakfast?
Ingredients
1 cup cake flour
3 tablespoons cocoa powder
¼ cup white granulated sugar
¼ cup lightly packed brown sugar
½ teaspoon baking soda
½ teaspoon baking powder
¼ teaspoon Kosher salt
1 large egg, lightly beaten
⅓ cup plus 1 tablespoon buttermilk
2 tablespoons unsalted butter, melted and cooled
2 tablespoons Greek yogurt
½ tablespoon olive oil
1 teaspoon vanilla extract
¾ teaspoon distilled white vinegar
½ to 1 teaspoon red food coloring (depending upon strength of coloring)
Glaze
¼ cup cream cheese, softened
½ cup powdered sugar
2 tablespoons heavy cream or half and half
½ teaspoon vanilla extract
Instructions
Preheat oven to 350°F. Lightly grease donut hole pan with nonstick cooking spray and set aside.
In a medium mixing bowl, combine flour, cocoa powder, sugar, brown sugar, baking soda, baking powder, and salt until well incorporated.
In your stand mixer or a large bowl with hand mixer (or go all old fashioned and just use a whisk), combine buttermilk, egg, yogurt, and vinegar on low speed. Add in butter (make sure it is cooled).
Once thoroughly combined, slowly incorporate dry mixture and mix until just combined. Don't overmix. Stir in enough red food coloring until desired color is reached.
Spoon batter into a large ziploc bag and use a scissor to cut about a ½" piece off one corner to create a makeshift disposable pastry bag. Fill each well in the donut hole pan approximately ¾ full. Alternatively, use a spoon to fill donut pan and smooth out batter.
Place in preheated oven and bake for 9-12 minutes, until a toothpick inserted into doughnut comes out clean. Remove from the oven and allow to cool in the pan before inverting onto a wire rack to cool completely.
Once completely cool, drizzle with cream cheese glaze and devour.
Glaze
Mix all ingredients together until well combined and smooth. Let rest for about 10 minutes to allow flavors to meld. If mixture is too loose, add a bit more powdered sugar. If too stiff, add a little more cream.
Chris Cockren
Chris is a New York based food blogger that loves bringing friends and family together through food. On his blog, Shared Appetite, Chris chronicles his culinary adventures of eating his way in and around NYC, as well as cooking and entertaining at home.