Crab cakes are an easy summer meal that can be baked, broiled, fried or pan sautéed. Serve with aioli and a side of asparagus.
By Amy Casey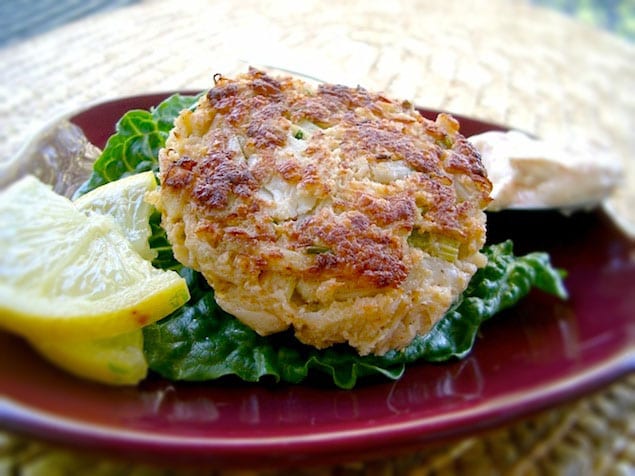 As summer nears and trips to the beach are frequent, my cooking reflects more recipes that feature seafood. One of the finest creatures from the sea to enjoy on a sunny summer day is crab. A dish like crab cakes comes to mind when I think of using crab as the main course for dinner. But I like to buck tradition and add a twist to classic recipes. Instead of traditional crab cakes, I add some spice to dinner and make Chipotle Lump Crab Cakes.
Making crab cakes has many advantages. They are quick to prepare for the busy cook. Most of the ingredients for a tasty crab cake can be found in a well-stocked kitchen. Refrigerated, canned and cooked crab is readily available year-round so the painstaking job of picking the succulent crab meat is already done.
I start with lump crab meat for my crab cakes. When I am watching my budget, I use a combination of lump and the less expensive special crab meat to cut down on costs. Carefully pick through the crab for any bits of shell or cartilage being careful to keep the not break up the large pieces of meat. Nothing ruins a perfect crab cake more than biting into a crunchy piece of crab shell.
Combine all the ingredients for the crab cakes except for the crab. That way it is easy to gently toss the lumps of crab with the remaining ingredients without breaking of the tender chunks of meat. To form uniform crab cakes, use a measuring cup as a guide. I use a one-quarter cup measure for appetizer size portions and a one-third cup measure for larger entrée sized crab cakes.
Crab takes center stage in the recipe, and I keep filler ingredients like breadcrumbs to a minimum. After forming the cakes, at least 30 minutes in the refrigerator insures that the ingredients bind together and do not fall apart when they are sautéed. I have made crab cakes up to a day in advance and stored them in the refrigerator when I know I will be short on time when making dinner the following day.
Crab cakes can be baked, broiled, fried and pan sautéed. Through my crab cake recipe testing, I found that the most flavorful crab cakes are pan sautéed in butter and olive oil. The combination of the two ingredients forms a slightly crunchy golden brown crust that delicately seals in the crab flavor.
See Also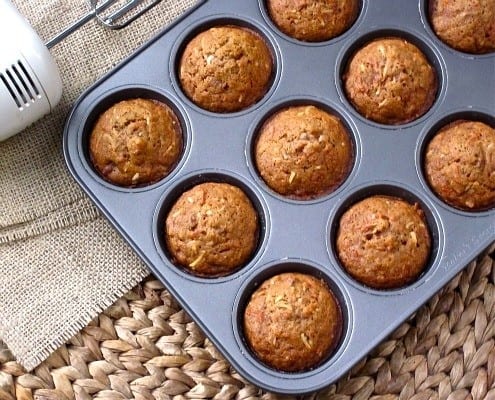 All that is needed to serve the Chipotle Lump Crab Cakes is a bed of mixed greens and a small dollop of the spicy aioli. A side such as roasted asparagus completes the entrée and completes the meal.

Chipotle Crab Cakes
Crab cakes are an easy summer meal that can be baked, broiled, fried or pan sautéed. Serve with aioli and a side of asparagus.
Ingredients
For crab cakes
⅓ cup finely diced red pepper
⅓ cup finely diced onion
⅓ cup finely diced celery
2 tablespoons mayonnaise
2 teaspoons Worcestershire sauce
½ teaspoon garlic powder
½ teaspoon chipotle powder
1 teaspoon Dijon mustard
2 tablespoons chopped fresh parsley
1 egg
½ cup panko
1 pound jumbo lump crab meat, picked over for shells or cartilage
1 tablespoon butter
1 tablespoon olive oil
For spicy aioli
¼ cup mayonnaise
¼ cup plain nonfat yogurt
¼ teaspoon chipotle powder
Mixed greens for serving
Instructions
In a bowl, combine the first 11 ingredients. Gently mix in the crab meat being careful not to break up the pieces of crab. Using a ? cup measure, form mixture into 8 crab cakes. Place on a baking sheet and refrigerate for at least 30 minutes.
Heat a large sauté pan to medium high. Add the butter and olive oil to the pan. When the butter begins to foam, add the crab cakes and fry for about 3 – 4 minutes per side or until golden brown. Remove from pan to a serving platter. You may need to fry the crab cakes in 2 batches depending on the size of your pan. Add more butter and olive oil as needed.
To make the spicy aioli, combine the mayonnaise, yogurt and chipotle powder in a small bowl.
Serve crab cakes on a bed of mixed greens with the spicy aioli.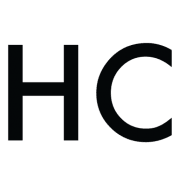 Amy Casey
Amy Casey, of northern New Jersey, is a food columnist for the New Jersey Herald and cookbook author. She has developed a wealth of recipes as a personal chef and also while cooking for her own family of five. See more of her recipes in her just published cookbook for e-readers Dinner for a Year – 52 Easy and Delicious Recipes to Spice Up Your Family Menu Planning.