Baked Eggs on Wilted Spinach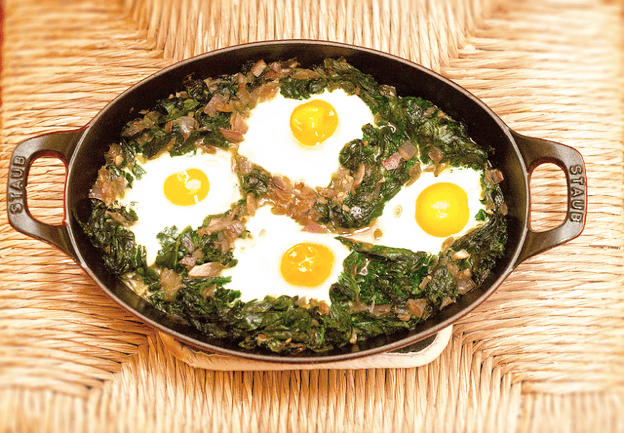 Stemming spinach goes remarkably fast (especially as compared to other greens), no knife needed. Simply fold in half along the stem and zip the leaves off.
By Sara Clevering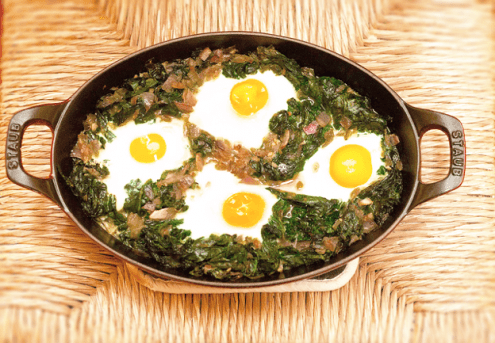 I use two bunches of spinach, and my kitchen scale malfunctioned when I tried to weigh the stemmed leaves, but assuming your bunches are 12 ounces each you'll probably end up with 8 ounces of leaves. It's not a make or break proposition so no worries. Make sure to wash your spinach well–it traps dirt remarkably well. The first time I made this there was an unwelcome grittiness to the meal, so I learned my lesson.
Baked Eggs on Wilted Spinach
Stemming spinach goes remarkably fast (especially as compared to other greens), no knife needed. Simply fold in half along the stem and zip the leaves off.
Ingredients
3T olive oil
1 red onion, minced
2 cloves garlic, minced
½t aleppo pepper (or more, or substitute some other dried pepper)
salt and pepper
2 large bunches of spinach, stemmed
4 eggs
Optional: Greek yogurt to garnish
Instructions
Preheat the oven to 310F.
Heat the olive oil over medium low in a large skillet. Add the onion and sautee until soft, about 10 minutes. Add the garlic, aleppo pepper, and spinach and continue to cook until the spinach is wilted. Adjust for salt and pepper. Transfer to a baking dish (or use your skillet if it can be transferred to the oven; unless you are using a lot of spinach an 8 inch skillet is probably the best size).
Crack each egg into a separate cup (or crack two eggs gently into two cups if you are more daring). Make wells in the spinach mixture and gently pour an egg into each indentation.
Bake for about 25 minutes at 310–though allow extra time as I've had it take even 10 minutes more at times. (I'm guessing depending on the temperature of the eggs).
Serve with greek yogurt, if desired.
Sara Clevering
Sara sees cooking and baking as a delicious way to connect with the past and travel the world from her kitchen. She is commited to preparing homemade, unprocessed meals for her family and is always looking for tricks to fit this into a busy schedule. Sara is currently in the Boston area after several years living in London, Spain, and the Czech Republic, and travelling extensively in Eastern and Western Europe, always making sure to experience local culture through food. She also blogs with her sisters at www.threecleversisters.com